Whether you are looking to remodel your kitchen or build a brand new one, you'll want to do as much research as possible on the particular style you have in mind before starting your project.
Maybe you're unsure what style you want to go with and want to browse some ideas. That's fine as well! The more research you do and the inspiration you draw from examples, the better position you'll be in to get the right look.
Kitchen styles vary widely, depending on current trends, geography, or personal tastes. What follows is a list of some of the different styles of kitchens available today, many of which have a long history and tradition.
While kitchens can express individual tastes, certain standard features define specific periods or design styles. Let's look at these features and styles now in greater detail.
Modern
Modern kitchens are characterized by clean geometric forms that are intentionally lacking ornamentation. Surfaces are sleek, crisp, and linear. Layouts tend to be more open, emphasizing form and function.
Modern color schemes tend to use light, neutral colors, though accent colors can often be used to add some pop. White marble or light shades of granite or quartz are standard in modern kitchens.
Cabinetry tends to be more open, and shelving is often used instead of standard cabinets. Hardware is usually simple with crisp edges; sometimes, no hardware is used for a sleeker, more minimalist look.
Because of the clean edges and lack of ornamentation, modern design seems to lack warmth. Sometimes wood is combined with modern materials to soften the feel and provide warmth.
Contemporary
Contemporary kitchen design is often used interchangeably with modern. While the two share many similarities in terms of a clean, minimalist aesthetic, a few differences distinguish one from another.
Contemporary design is constantly evolving. It represents current trends in design based on the concept of modernity. Modern design, on the other hand, is specific to a specific time period during the early to mid-1900s. It never changes.
Metallic accents are combined with light neutral colors, wood, synthetic resin plastics, and recycled materials mixed in Portland cement. Stainless steel has been the metal of choice in contemporary design. However, brass is gaining in popularity as well.
Like modern kitchens, contemporary kitchen layouts tend to be more open, emphasizing functionality. Cabinetry is sometimes open, and shelving is often used with cabinet units.
Traditional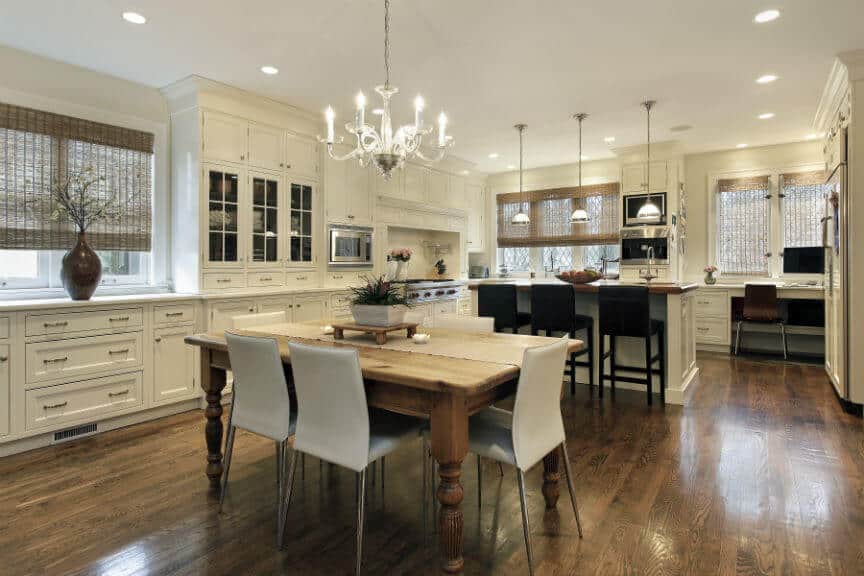 Traditional kitchens offer a more formal and classic look, reminiscent of American and European homes of the 1700s, 1800s, and early 1900s. This kitchen style tends to be very elegant and ornate with a more formal layout.
Cabinets are typically made with rich wood materials such as mahogany, cherry, and walnut. They are also coated with glazes or antique finishes rather than natural ones. Moldings and trims are usually highly ornate.
Appliances and fixtures are, for the most part, antique in style and made with distinctive finishes. Hardware can often be made from rugged metals such as copper and brass, though stainless steel can be incorporated if the detailing is traditional.
Traditional kitchens usually have a neutral palette, with warm beige and deep cherries dominating the space. Countertops are typically made of luxurious materials such as marble, quartz, and granite.
Craftsman
The craftsman style originated in the early 20th century as a response to the highly decorative and ornate furniture of the time. The style repudiates ornamentation and instead favors quality craftsmanship in its place.
The craftsman style in kitchens translates to furniture with simple straight lines and minimal to no ornamentation. High-quality construction in cabinetry is emphasized as well, as is functionality.
Craftsman kitchens provide a warm feel. Simplicity and comfort are also central to the design philosophy. Wood, including countertop applications, is the most commonly used material in craftsman-style kitchens.
Wood elements are never painted. Natural or stained woods are typically used instead. The wood most commonly used in craftsman-style cabinetry is oak, maple, or pine. Hickory kitchen cabinets are also used.
The wood tones are usually complemented by surrounding materials in earth tones, such as wood browns, greens, and rusty orange. Handcrafted tiles and hardware are also typical of craftsman kitchens.
Mediterranean
Mediterranean kitchens capture the European Mediterranean's warm, sunny, easygoing nature. By incorporating warm, earthen hues, Mediterranean kitchens aim to capture the feel of the region.
Natural untreated dark wood and handmade, hand-painted mosaic tiles are commonly used to add some visual interest. Unlike other styles that incorporate more linear forms, Mediterranean kitchens make ample use of curvilinear shapes and ornate patterns.
Wrought iron is the metal of choice in Mediterranean kitchens. Often used on cabinet doors or chandeliers, wrought iron has become synonymous with the Mediterranean kitchen style.
In terms of wall surfaces, exposed brick, and stucco are commonly used in addition to dark stained woods. Exposed wooden ceiling beams are also symbolic of Mediterranean kitchens.
Farmhouse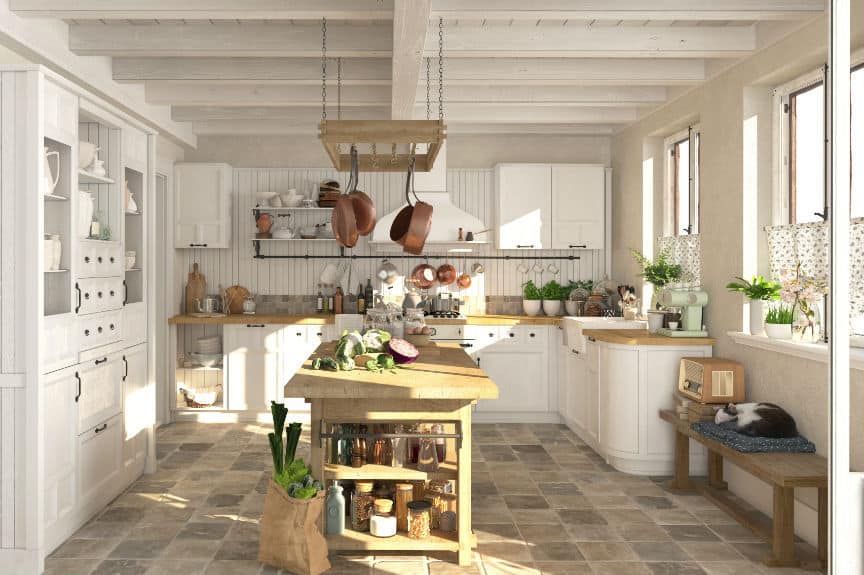 Farmhouse kitchens combine centuries-old styling with elegant rustic detailing. Both practical and unassuming, farmhouse kitchens tend to offer stylistic allure with an emphasis on functionality.
Open shelving is commonly used in farmhouse kitchens to give them a more open feel and make them more roomy and accessible. Glass-door cabinets can have a similar effect.
Exposed kitchenware, including pots, pans, and other cooking utensils, are often placed out in the open for easy access and as part of the kitchen décor.
Another prominent feature of the farmhouse-style kitchen is beadboard on walls and other kitchen surfaces. Relatively inexpensive, beadboard can have a significant effect on creating a farmhouse look.
Farmhouse sinks, as their name would suggest, are a central part of the farmhouse kitchen style. Deep sinks are generously proportioned with an apron that projects beyond the countertop. Rustic-style faucets are often used in conjunction to add to the effect.
Free-standing cabinets are also associated with farmhouse kitchens. They can improve functionality while at the same time helping to give the kitchen the desired look. Hardwood flooring, often distressed wood, can also help add to the vintage style.
Lighting fixtures can be ceiling-hung or flush-ceiling mounted, typically featuring metallic materials such as copper or wrought iron and sometimes galvanized metal for a more worn look.
Farmhouse color schemes tend to be soft and muted. White is commonly used for cabinets and walls, but light gray, powdery, and greyish blues or even lighter yellows and cream colors can also work.
Cottage
Cottage kitchens share many standard design features with the farmhouse style. They tend to be colorful with vintage-inspired features. Wicker furniture and accessories with patterned fabric are often used in cottage kitchens, a hallmark of the style.
Cottage-style kitchens offer a relaxed and unpretentious feel compared to more formal styles. They hearken back to simpler times and carefree living, where the kitchen was the home's focal point.
Cottage kitchens also tend to be more utilitarian and practical in nature. Open shelving is typical since it allows cooks quick access to dishes, cooking utensils, and other accessories.
Beaboards are synonymous with cottage style. The groove style of paneling adds immediate architectural interest. Color palettes are light and airy, including white, soft yellow, light blue, or light beige hues.
Another characteristic of cottage kitchens is the furniture-style cabinet details. Freestanding armoires were used before fixed cabinetry, and often modern cottage kitchens use bun feet and corbels under cabinetry to evoke that feeling.
Countertops are typically natural wood, and hardwood flooring is standard as well. Farmhouse-style sinks are used in cottage-style kitchens, with extra-deep bowls to accommodate large pots and stacks of plates.
Coastal
Coastal kitchens capture the cool beach vibe of coastal regions. Light hues, ample lighting, and an open, airy kitchen layout create a serene coastal feel. Neutral colors are commonly combined with blue hues to create a cool and calming effect.
Typically, cabinets are painted in a light neutral color, white in particular, and shades of blue are used as highlights on backsplashes, countertops, smaller furniture pieces, accessories, ceilings, and floor tiles to create the illusion of seawater.
Tiles with waves or seashells can help create that distinctive beachy feel common in coastal kitchens. Accessories and decorative items with sand, seashells, or starfish can also help enhance the look.
Wood elements, including driftwood and ship deck, can be combined with other beach motifs to recreate the characteristics of the coast. Movable furniture pieces, such as high chairs, are often wood-made.
Rustic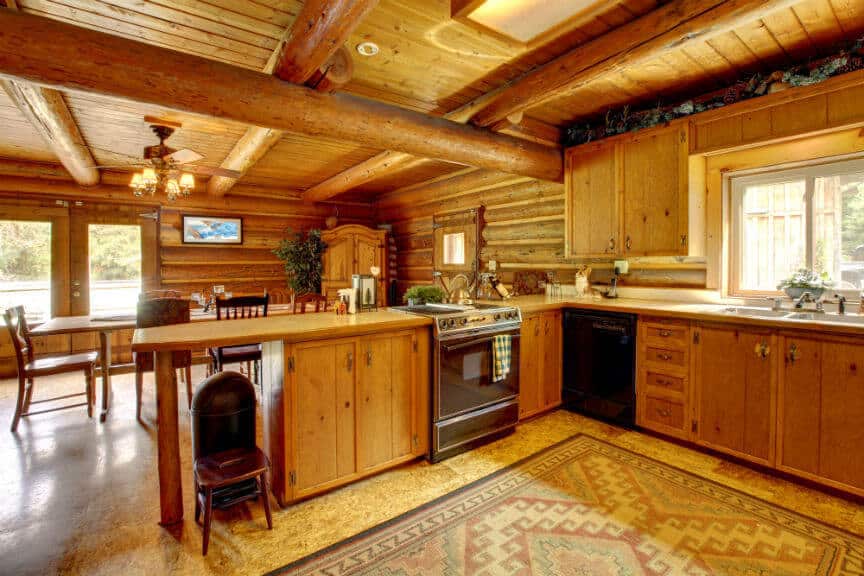 The battered, worn-out appearance of cabinetry, flooring, furniture, and accessories defines rustic kitchens. These purposeful design features are meant to authenticate the rustic design motif.
Rustic kitchens typically use reclaimed wood, antique metals, wrought iron, and vintage glass. Often, rustic kitchens can resemble mountain lodges or log cabins. Ceilings and floors are commonly made of weathered wood.
Earth tones and neutral color combinations with very little contrast are typical of rustic kitchens. The standard colors used are browns, rust orange, deep reds, forest greens, dark yellow hues, and off-white or tan.
Wood types used in rustic kitchens include pine, hickory, or alder. Stains are sometimes used to add warmth to cabinetry or furnishings, though a more natural look can be achieved with a clear varnish to help protect the wood.
The rustic theme can vary depending on the region. Designs often incorporate local features, history, and geography, creating a greater sense of authenticity. Southwestern, Central Plains, Mountain West, and Appalachian are among the more familiar regional styles in the United States.
Country
While country kitchens can also be rustic, they tend to include a broader range of design elements. In fact, modern features often make their way into country-style kitchens, as do more traditional design elements.
You'll often see a mix of the two combined with materials and decorative elements related to the countryside. Color combinations in country kitchens also vary widely, with vibrant hues and warm neutrals used throughout.
Woodworking and wooden furnishings are standard in country kitchens. Oak is the most used type of wood used. It is often stained in various colors, from cherry for a more formal look to white for a more casual, simpler feel.
Distressed wood can work well, as can antique icons that help enhance the look. Handcrafted furniture and accessories also help to keep the look authentic. Open shelving is typical to allow antique bowls and dishware to show.
Beadboard is standard, as well as wooden cabinetry with tarnished brass. Exposed copper pots hanging from a wrought iron rack and antique cooking appliances on the wall can help complete the look.
Closing Thoughts
While having a cohesive look that closely adheres to a particular style can result in great design, there is no reason you can't get creative and experiment with ideas and materials as long as they complement each other well.
Part of the fun of creating a design for your kitchen is experimentation. If you're going for the country look, salvaged antiques you find while traveling or at garage sales can become centerpieces in the space.
You don't necessarily have to stick to one particular style, era, or color. You can make it work as long as you connect different items and styles with a single common thread. If you select different styles, sometimes you can use color to tie them together.
Pick your pieces and materials strategically to help accent the room but not overwhelm it. As with any other room, avoid clutter. Most importantly, have fun personalizing your kitchen to suit your individual style.