Affiliate Disclaimer: This page may contain affiliate links.  As an Amazon Associate, we earn from qualifying purchases. We may also earn commissions if you purchase products from other retailers after clicking on a link from our site.
Having a well-decorated entryway table will make for a stunning first impression when guests enter your home. There are many ways to decorate your table to give yourself and anyone that walks into your home welcoming vibes that provide a sense of comfort. It's all about balance and flow while adding the touch of class.
Common ways to decorate a table near your front door are using greenery, a mirror, or art. Typically the colors and accents placed on the entryway table should flow with your home's style. Many people also use the entryway table to display a festive look to set the mood for seasons and holidays.
If you want to know more about the many ways you can grab the attention of your visitors with an attractive entryway table, keep on reading. This article will explore how you can decorate the table next to your door to make a statement and compliment your home's style.
1. Include Trendy and Classic Entryway Table Pieces
Many homes have a table next to their front door, typically called an entryway table. For many years, the traditional decor pieces you'd see on these tables are lamps, a floral arrangement in a vase, or a large mirror mounted above the table. However, decorating entryway tables has evolved with creative ways to display your style for a welcoming entrance.
The following are trendy and classic decor ideas for your entryway table:
Use plants.
Add a statement mirror.
Display wall or phrase art.
Add a few candles.
Use a stack of books.
Add a statement or accent lamp.
Display photos.
Use crates and baskets for multi-layered tables.
Go Green for a Refreshing Entrance
Houseplants are becoming more common in households after numerous studies have proven plants create a calming, relaxing, and less stressful atmosphere while improving cognitive abilities. So, adding a little greenery to your entryway will compliment the first impression you want to make as you and your guests enter the threshold of your home. Entryway tables should be simple and without clutter, so don't overdo it by adding an abundance of plants.
For example, use a stylish planter or vase as a side piece or centerpiece and include other items like a group of three different size candles and a mirror leaning against or mounted on the wall.
During colder months, you should move your plants to a different location to prevent a health decline from doorway drafts.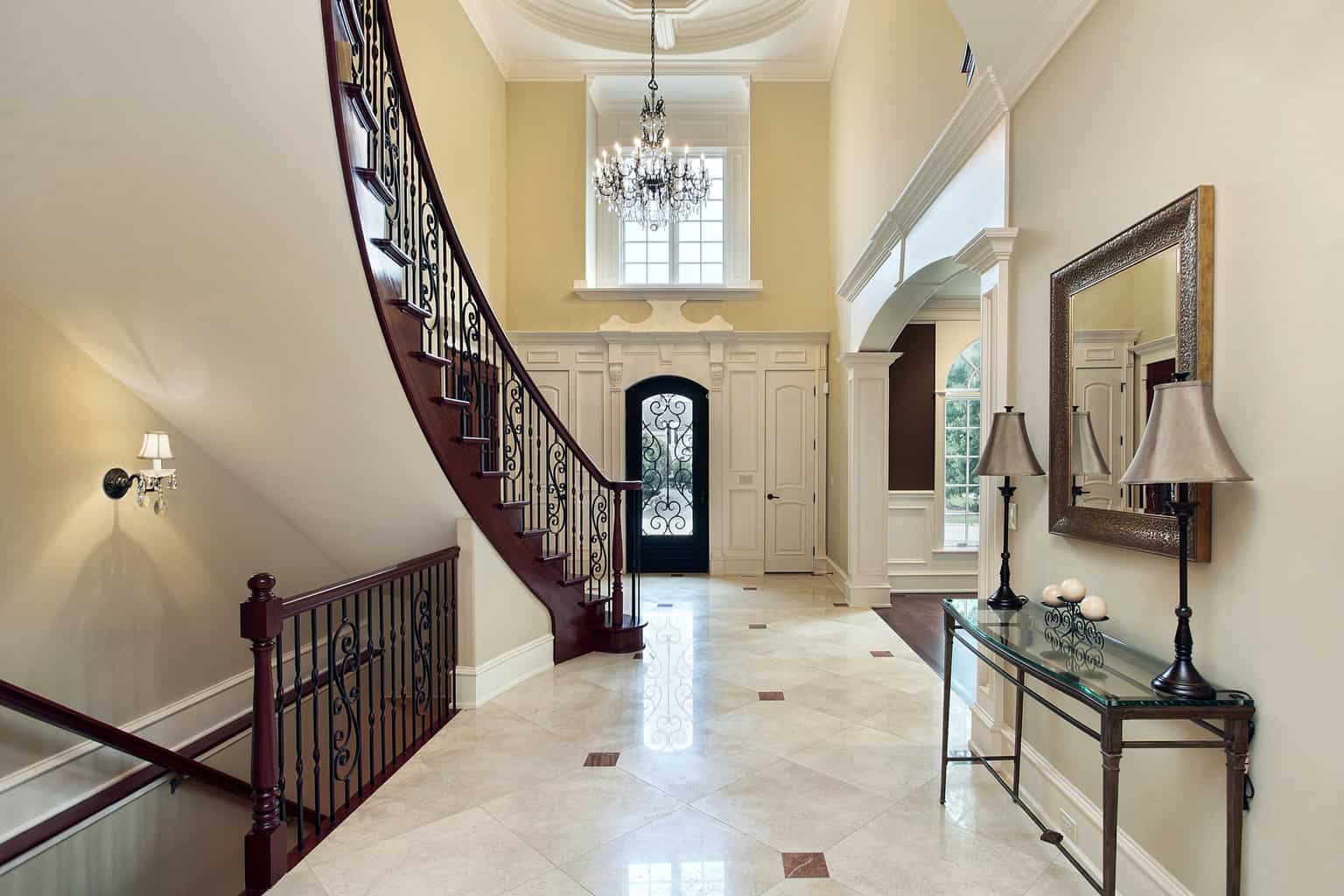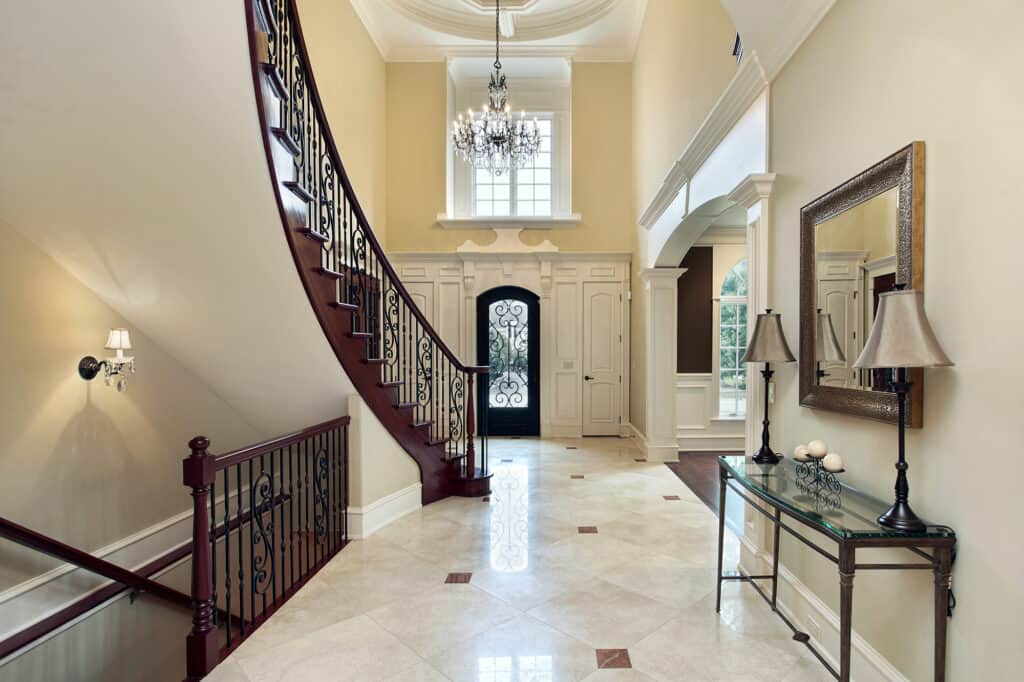 Add a Statement With a Bold Mirror
For years, mirrors have been mounted above entryway tables for appeal and flow when entering a home. Select a color and style that makes a bold statement to grab the attention of people entering your place. The mirror style and color should complement the decor within your home.
It's also functional decor that allows you a last-minute glance at your appearance as you walk out the door.
Wall and Phrase Art Sparks Admiration and Intrigue
Most people enjoy using some form of art in their home decor, and it actually has a positive impact on mental health. An attractive painting and framed phrases are popular decor choices for entryway tables. Keep the balance of the table decor by choosing a size appropriate for the table and adding a smaller accent piece.
Mount one or several art pieces on the wall, or place them on the table leaning against the wall. Depending on your table size, you can add more than one piece of art with a fancy touch of overlapping. Overlapping art and photos provide dimension and style.
A popular way to display art on your table is by overlapping several different size pieces on one half of the table and accenting the other side with a single lamp, flower vase, or planter.
It's simple yet creative, balanced, and grabs attention.
Candles Add Elegance and Simplicity
Candles would make an excellent decor piece to place on your table next to the front door. It's a sure way to add elegance and comfort to your entryway as a table centerpiece or off to the side corner. You can even add dimension when styling your table by incorporating three different-sized candles grouped.
Candles are versatile decor pieces that are easy to move around or keep stationary while other decor changes.
Add a Classy Appeal With a Few Books
Whether old or new books, adding them to your entryway table decor creates classy vibes upon entering. If you don't have any books lying around, visit your local thrift store to find a few cheap hard-backs to style your table. If you're into old-style books, thrift stores will definitely be an excellent place to find the classics.
Books can be used to accent a centerpiece or as a centerpiece themselves by grouping several upright books.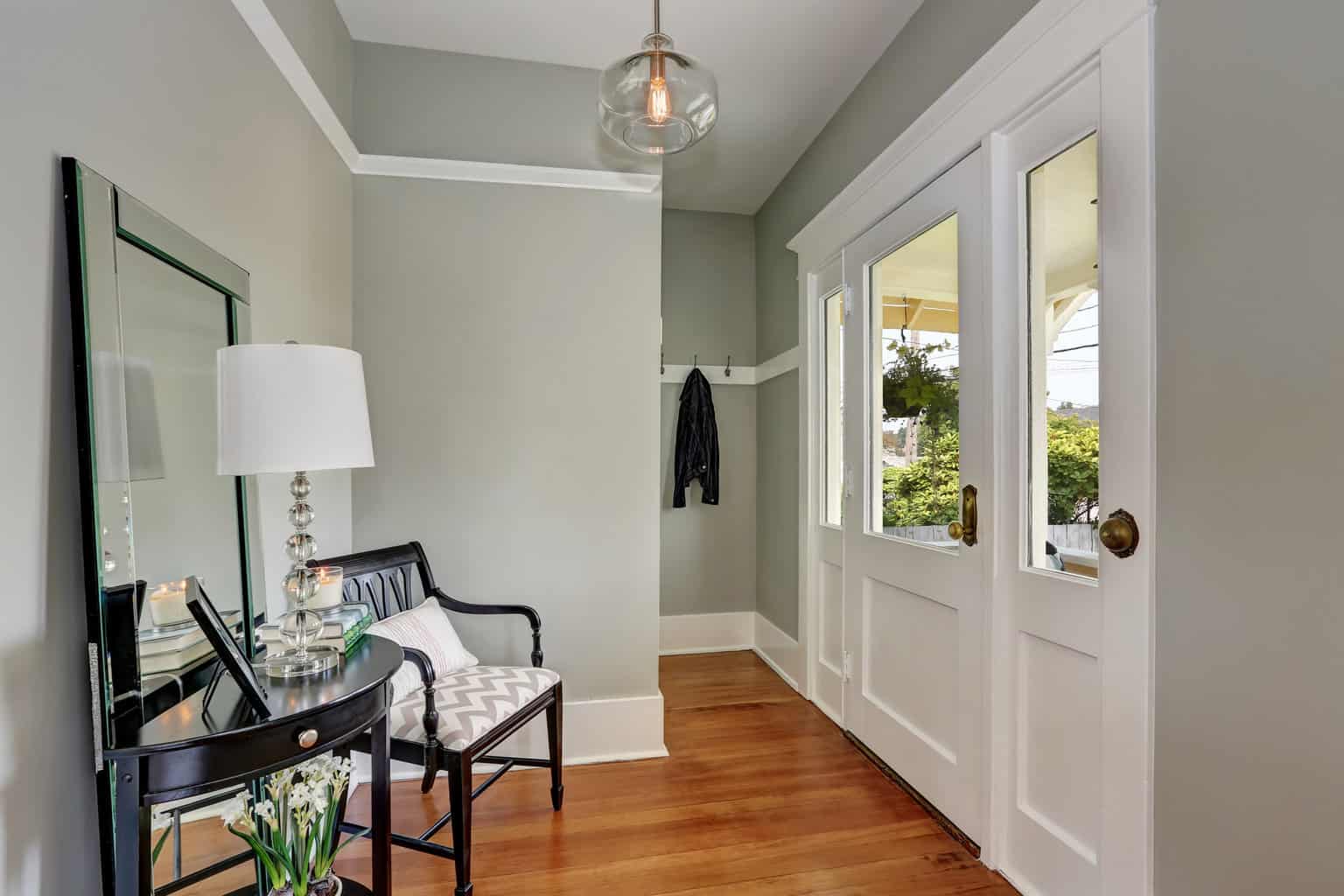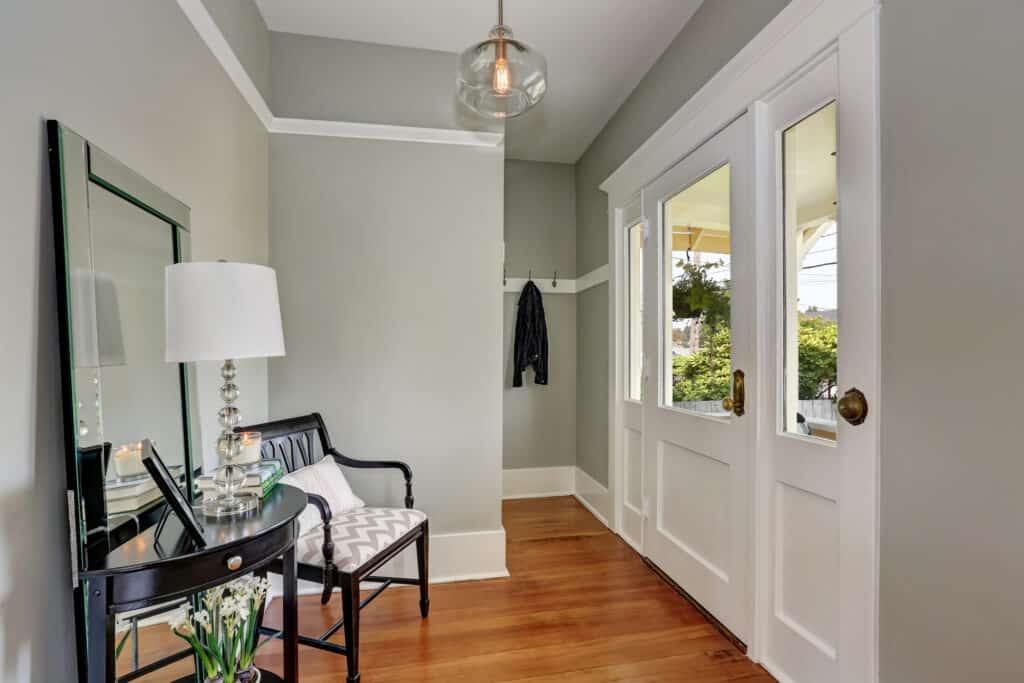 Lighten Your Entryway With a Lamp
An attractive and stylish lamp is a popular and traditional addition to your table decor. As a centerpiece or to the side, lamps add a stunning appeal while lighting up your entryway when entering and exiting your home. Add a bold style lamp to grab attention or a simple yet classy style to create a warm and inviting atmosphere.
Place a stand-alone large statement lamp or use an appropriate size lamp to compliment other pieces to provide a symmetrical flow into your home.
Family Photos for a Personal Touch
Many people use a few family photos or one giant portrait to decorate their entryway table. Keep it simple and stylish when adding photos. Get creative and add dimension by using different size framed photos. Hanging photos on your wall above the entryway table is also a classic way to display your loved ones.
Choose frames that compliment the style and flow of your home, or use a statement frame for a large photo.
Use Crates and Baskets for Double-Layered Tables
Crates and baskets have been a trendy addition to multi-layer entryway tables. You can use them as an attractive storage option or just as a stand-alone accent. There are many styles to choose from that will suit your vision and the flow of the current home decor.
Crates and baskets are traditionally wood and wicker, but they are also made of plastic and metal to align with your preferred appeal.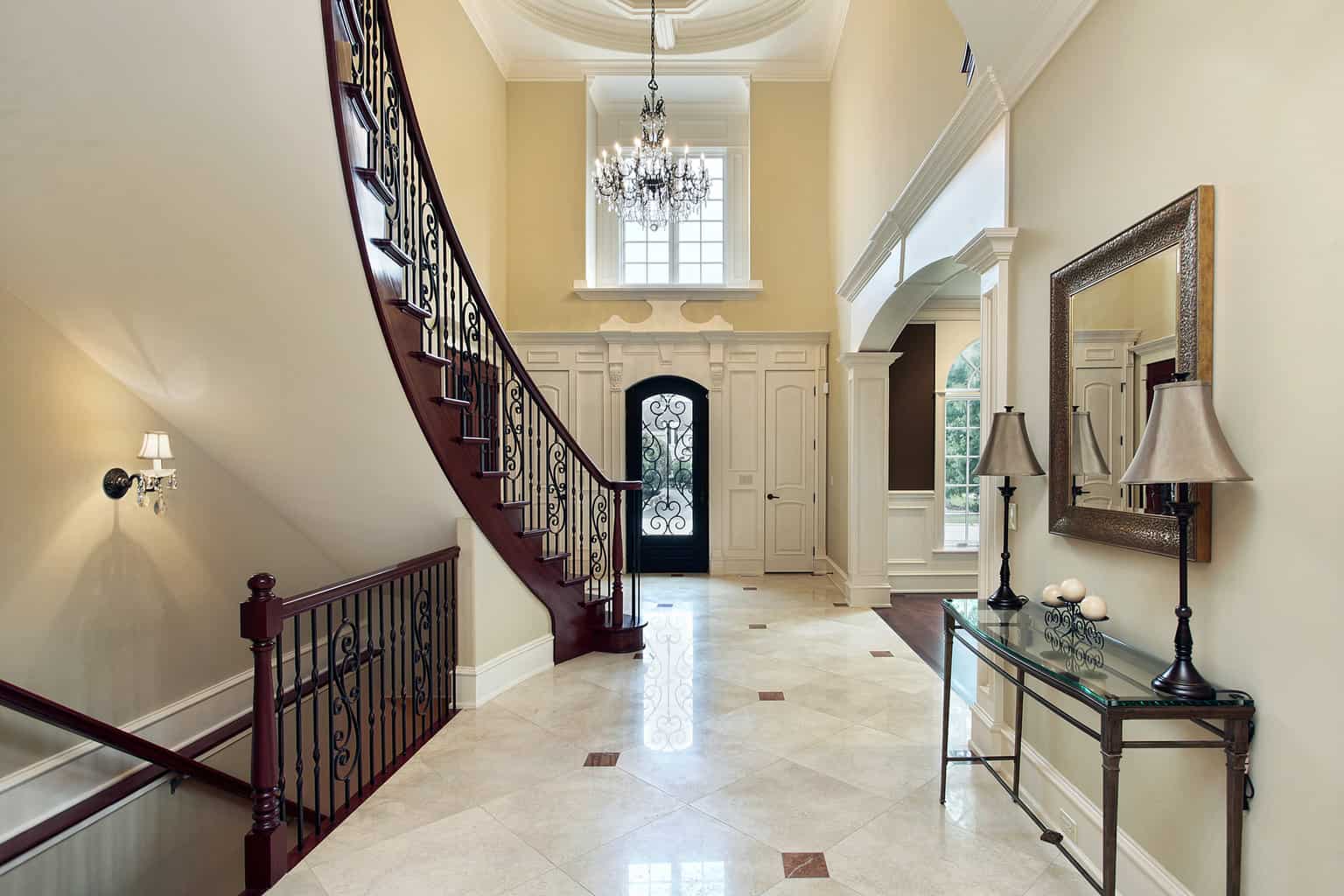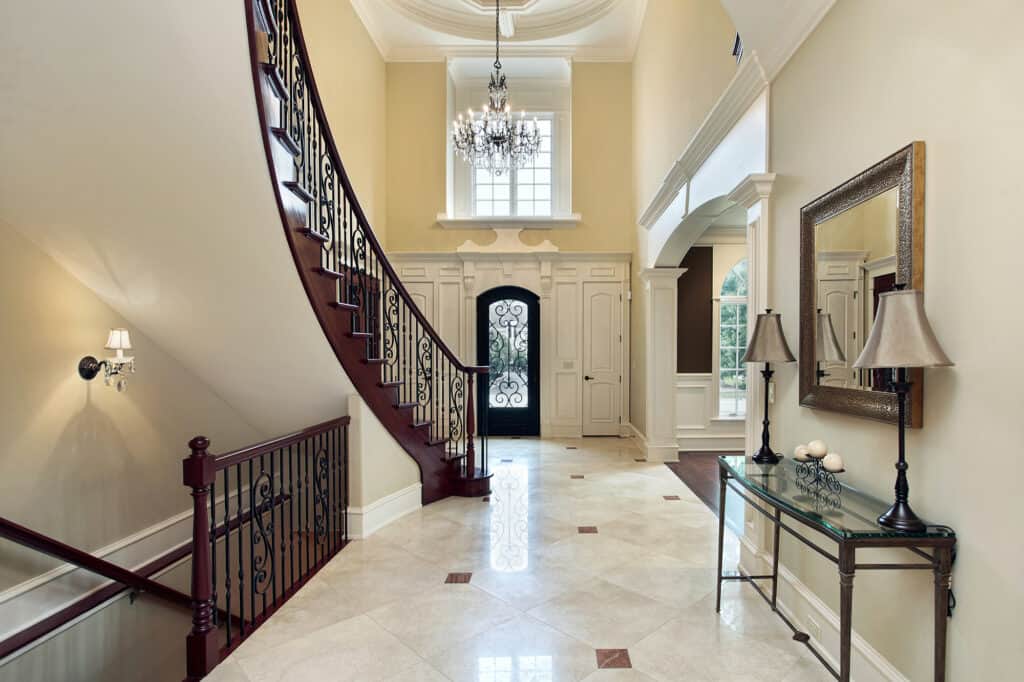 2. Add Seasonal Decor Pieces
Using seasonal decor is popular for entryway tables, and there are plenty of ways to do so without sacrificing your style.
You can even juice it up a bit by adding some festive decor for the season's holidays.
Entryway Spring Styling
Spring decor traditionally includes pastel colors, but that's not everyone's cup of tea. You can incorporate spring fashion to align with your home's style and color scheme. Neutral tone decor and brightly colored flowers can set the spring vibes as you walk into your home./p>
A white vase with yellow tulips or forsythia branches is an excellent way to brighten your entryway with a spring feel. Other examples of spring decor include the following:
Leafy or blooming plants.
Fresh or dried flowers in a vase.
Decor with bright and cheerful colors.
Spring holiday decor and knick-knacks.
Summer Sun and Entryway Fun
Summer is filled with memories made with friends and family, vacation trips, and outdoor projects. Brighten your entryway table with your favorite summer memories by placing several different size photos overlapping each other in a stylish display. Accent your beautiful memory collage with a small glass vase with bushy foliage or bold-colored flowers.
The following are other ways to incorporate summer appeal into your entryway table decor:
Decor pieces and photos from your past travels.
Bright and bold colored art and decor.
A brightly colored floral arrangement.
Leafy or blooming plants.
Cool and Colorful Fall Decorating
Create a fashionable entryway using a combination of rustic and neutral colors on your table. Fall into the season's mood by adding a basket filled with the joyful aroma of cinnamon-scented pinecones to your table decor. Fall-scented candles are also an excellent choice to fill your home with the comfort of fall.
The following are examples of fall decor:
Fake pumpkins and a small bushel of corn.
An arrangement of dried flowers or brightly colored fresh flowers in a vase.
Season and holiday phrase decor.
Fall family and friend photos.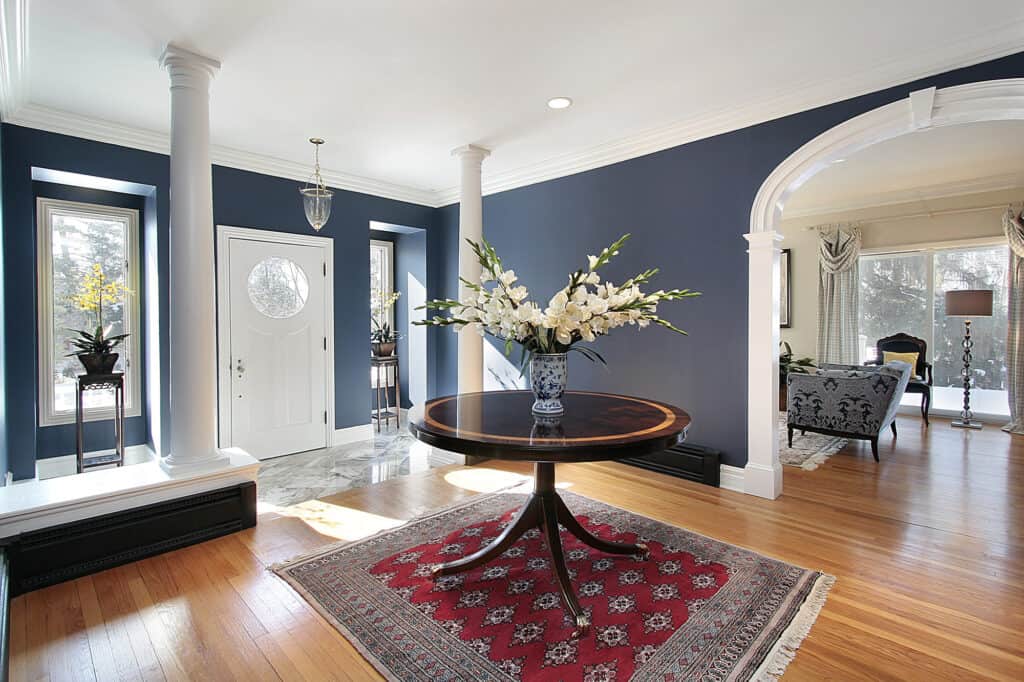 Winter Decor and Colors
Popular decor for winter entryway tables includes garland wrapped around a candle display with holiday photos. Many people also incorporate string lights and other holiday decor pieces to provide a festive vibe. Using a mixture of white and dark colors gives off winter's dramatic feel.
The following are examples of popular decor for the winter season:
A large clear vase with fairy lights coiled around cinnamon-scented pine cones.
An elegant winter wreath.
Winter holiday decor and knick-knacks.
Festive holiday photos with friends and family.
3. Follow Your Home Theme
There are always trendy decor themes flooding Pinterest searches, influencing decor tastes and styles. Since your entryway table gives your home the first impression, it should balance with the rest of your decor style. If you're indecisive, try taking pictures of different types of table decor and arrangements, then choose the one you fancy more.
You can also send the photos to your friends or family for advice if you can't choose.
The following are examples of trendy decor themes you can use for inspiration while adding your personal twist:
Rustic
Farmhouse country
Modern
Bohemian
Vintage
Shabby chic
Coastal cottage
Mid-Century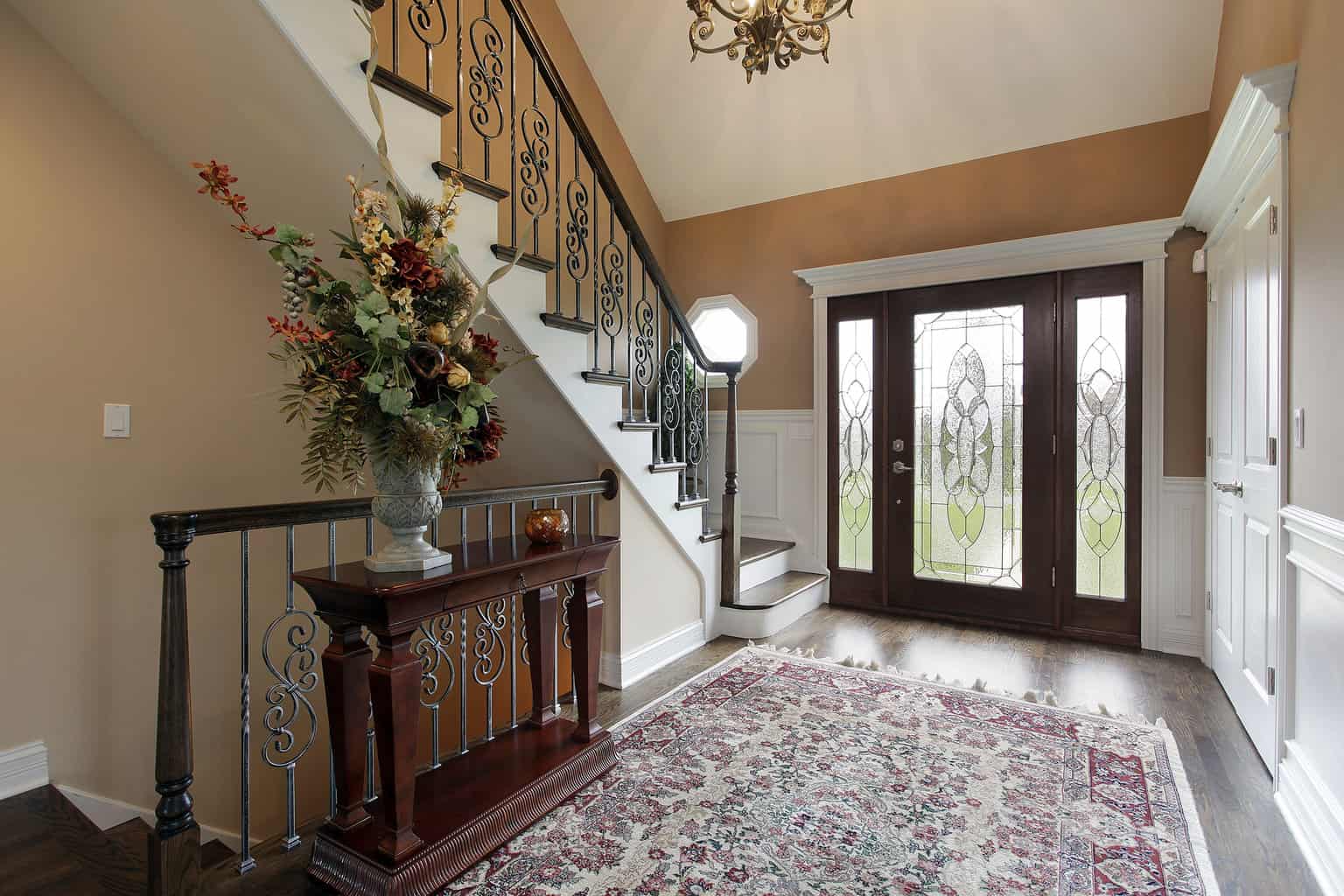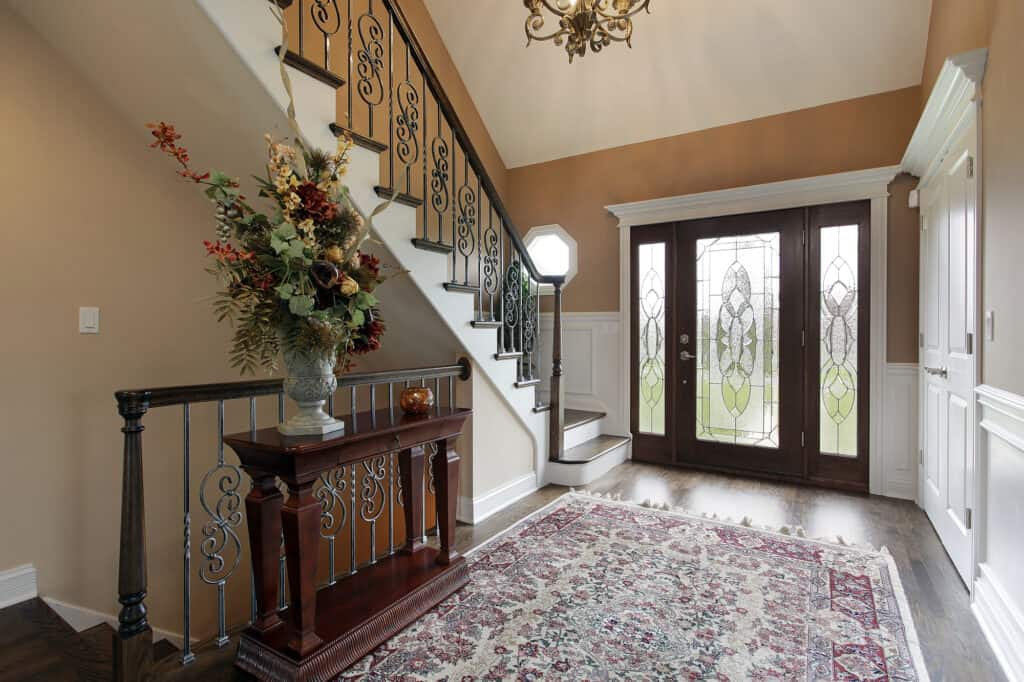 4. Position Decor to Add Flow and Balance
Sometimes, it takes a bit of tweaking to get the desired look of your decor. Choosing your decor is only one step in the process. Positioning it can either create a chaotic and cluttered entrance or an inviting and welcoming one.
Add Dimensions for a Dramatic Impression
Be creative with positioning your decor by adding dimension to your home's flow. This technique also allows you to arrange several pieces without appearing cluttered. Examples of ways you can place your decor for a dramatic effect include the following:
Position decor like photos and art in an overlapping fashion.
Lean mirrors, large photos, and art against the wall.
Include a large statement piece with smaller decor pieces that vary in size.
Include color in varying shades from dark to light.
Use different textures.
Group Your Decor for Small Tables
If your entryway table is on the smaller side, try centering a group of different-sized decor pieces. Include a dramatic piece with other favorite pieces of different sizes to provide balance and symmetry when entering. You can also keep it simple and light by displaying a single bold and stylish piece of decor, like a lamp or vase, in the center of your table.
Keep It Clutter-Free
Seeing clutter when entering your home creates a negative and chaotic vibe right off the bat. A cluttered environment can actually harm your mental health. Keep in mind that the point of decorating an entryway table is to create an inviting mood and flow for you and your guests to enjoy when entering your home.
5. Use Decor That Makes You Happy
Above all, decorate the entryway table to satisfy your personality and taste because your interior design has an effect on your mood and overall mental health. You don't have to sacrifice your style and follow the trendy decor everyone else seems to like. Add your character, unique twist, and sentimental items you've collected throughout your life.
Your entryway table should be decorated for a welcoming feel as you enter your home.
Conclusion
Entryway tables are typical in many households, and how you decorate them can set the mood upon entering. Avoid clutter when arranging decor on your entryway table because it might have a negative impact on mental health. The table decor should provide an inviting, aesthetically pleasing feel.
Statement pieces like large mirrors and vases with floral arrangements are used to grab the attention of those that walk by. Colors, textures, and accents that vary in size will create dimension and symmetry. All you need to do is gather a bit of inspiration and start decorating.
Sources
Giovanni Valle is an architect, designer, internet entrepreneur, and the managing editor of various digital publications including BuilderSpace, Your Own Architect, and Interiors Place. He is the founder of BuilderSpace LLC.