Giovanni Valle is a licensed architect and LEED-accredited professional and is certified by the National Council of Architectural Registration Boards (NCARB). He is the author and managing editor of various digital publications, including BuilderSpace, Your Own Architect, and Interiors Place.
Metal bed frames are a great, cheap alternative to more expensive bed frames. The only problem with metal bed frames is that they don't always look the best. If you want to make your bedroom look a little better, let's talk about ways to make that metal bed frame stylish.
You can make a metal bed frame look better by adding a bed skirt or using an oversized comforter to cover it. You can also add wood panels or paint the metal bed frame to give you more decoration options.
The rest of this article will break down some specific ideas to help make your metal bed frame look better. Read on!
1. Add a Bed Skirt
One of the simplest ways to make your metal bed frame look better is to add a bed skirt. You can find a bed skirt just about anywhere you can purchase bedding materials. Not only are they a great way to hide your metal bed frame, but they're also pretty cheap. Most bed skirts cost less than $20, depending on your chosen material.
However, one challenging part of choosing a bed skirt is matching your existing room's decor. You can purchase full bed sets that feature a comforter, sheets, and a bed skirt to match. If you already have bedding and don't want to buy a new set, then you'll have to match the bed skirt as best as you can to the set you already have.
Thankfully, there are plenty of different colors and materials to choose from when it comes to bed skirts. So, find the color that best suits your decor and add a bed skirt to cover the metal frame of your bed.
2. Use an Oversized Comforter
Another way to make your metal bed frame look better is to add an oversized comforter to your bed. If you pick the right size, then the comforter should hang down to the floor and cover the metal bed frame.
This is easier for those with smaller beds because you can easily buy a size or two up. However, it can get more difficult with larger beds. If you already have a King or California King size bed, then you'll need to buy a comforter large enough to reach the floor. This can get expensive as King comforters that are larger than expected tend to cost more.
3. Place a Bed Bench at the End of the Bed
One creative way to hide your metal bed frame is to consider a bed bench. For those who don't know, these are benches that you place at the foot of your bed. There are a few reasons that people like these, including:
Bed benches are a great seating option in your room. This could be a great place to sit down and put your shoes on, or just a nice place to sit down and rest for a minute.
Bed benches are excellent for decorative purposes. A bench can help you cover up the metal bed frame and add some color to your room.
Bed benches sometimes come with storage. Depending on the bench you choose, some come with storage options. This is a great place to put extra blankets or pillows.
While a bed bench won't completely cover a metal bed frame, it can certainly distract from it. Choose a nice color to add some style to your room and give your pets a place to sleep while you're at it.
Additionally, you'll want to make sure the bed bench you choose is big enough. If you have a king-sized bed, you'll want to get a bed bench that's big enough to cover the metal frame. Using a bench that's ideal for a full-sized bed will not only look strange, but it'll still show the bed frame.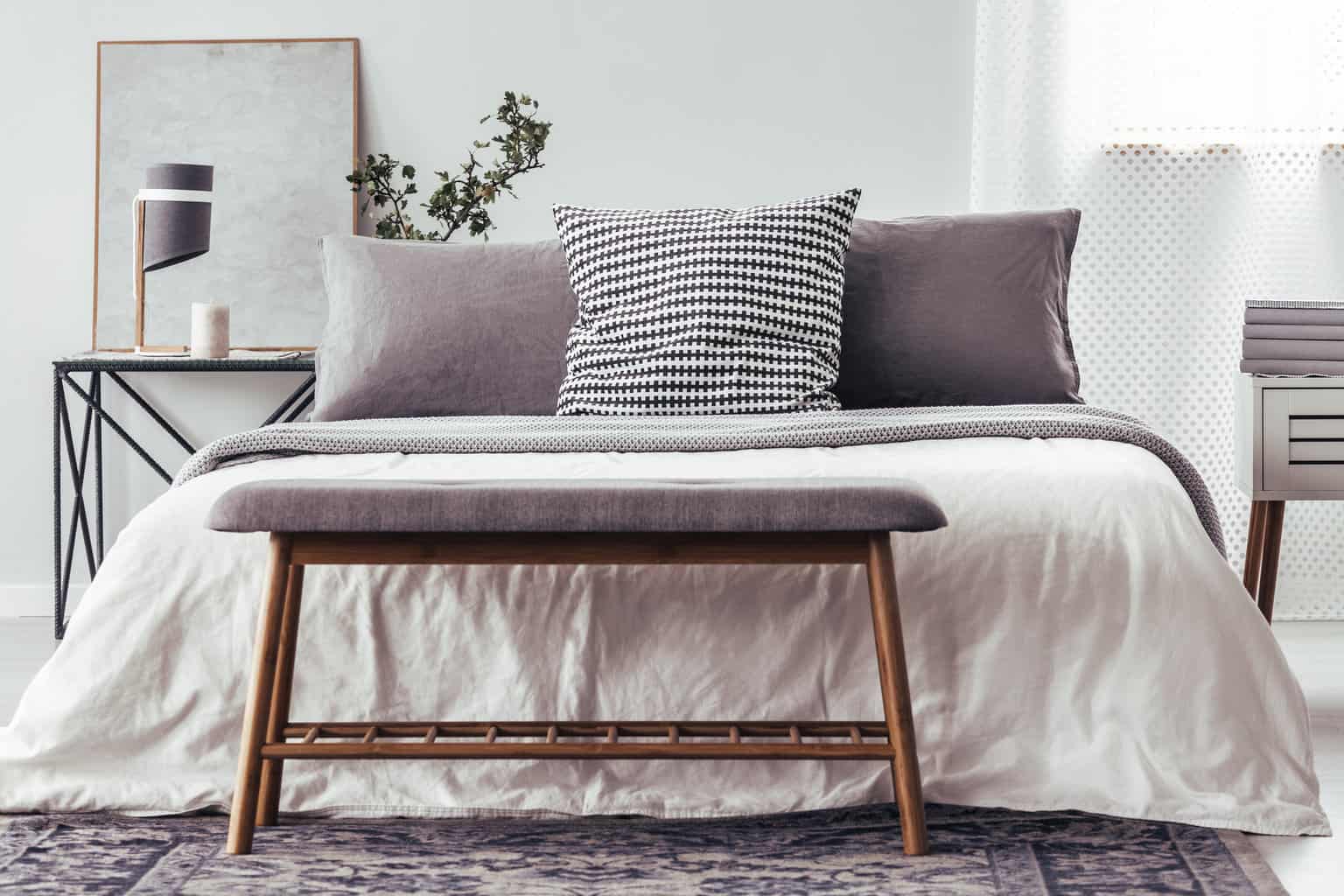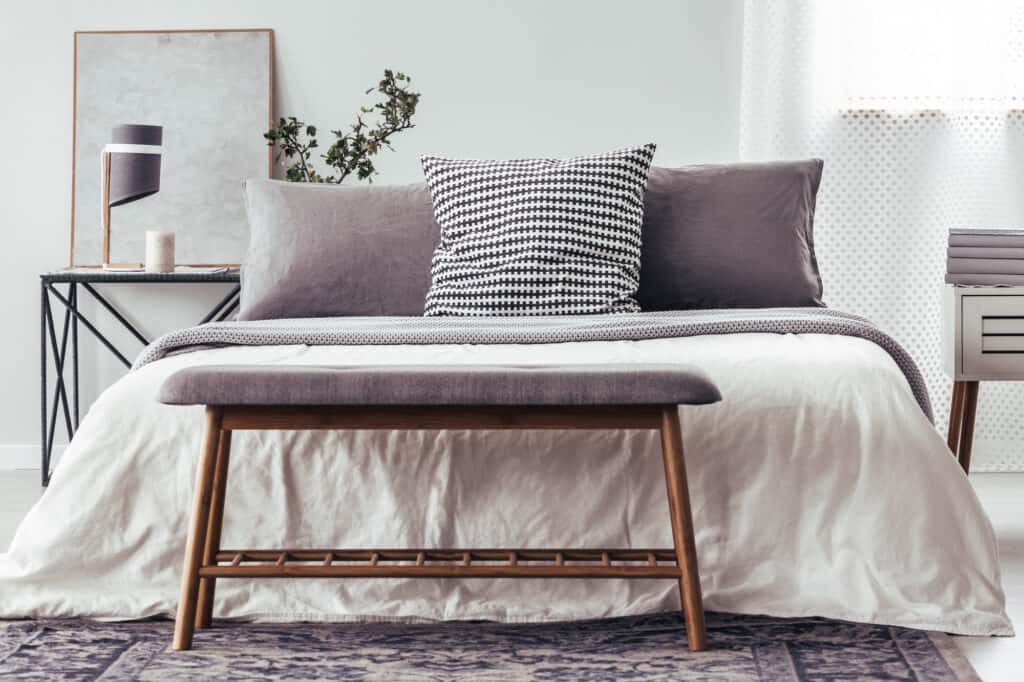 4. Use a Fitted Sheet
Try a fitted sheet if you want a quick way to cover a metal bed frame while using something you already have. This can quickly cover your bed frame without costing you anything, and it's great for unexpected visitors when you need to make a quick change.
To do this, simply cover the metal bed frame with a fitted sheet and add the mattress on top. The sheet will try to fold up if you don't tuck it in, so I recommend that you put the sheet under the metal legs of the bed frame to keep it in place and allow it to cover the bed frame completely.
The purpose of a fitted sheet is to cover your mattress entirely and stay in place even when you move around. So, they have an elastic band that can work in your favor when you use it to cover your bed frame. Put it over your bed frame as you would your mattress for the best possible results.
5. Add a Canopy
When you think of a canopy bed, you probably think of a large pre-made bed frame. While that is a style of bed you can purchase, it's not the only way to get a canopy bed. You can purchase a canopy separately from your bed frame that will fit over your bed and provide the same results, or you can even make it a DIY project.
No matter which method you choose for adding a canopy to your bed, it's a great way to cover the metal bed frame and add elegance to your room decor. Canopy beds can also keep you warm during the night while you sleep. There are many different styles to choose from, which allows you to style your room any way you want.
If you want to cover the metal bed frame, make sure to buy curtains for your canopy that reach the floor. Also, be cautious of pets or small children that may want to play with the canopy or climb it. Otherwise, choose whatever style suits your bedroom decor.
6. Add Wood Paneling
One easy DIY option for making a metal bed frame look better is with wood paneling. All you need to do is measure the bed frame and attach wood to the frame. Keep the wood as it is for a more rustic look, or you can add to the wood to help create a more intricate design.
If you want a more solid look, consider extending the wood all the way to the floor. This will help keep pets (and maybe even stray socks) from getting under the bed. Wood is also very versatile, so once you add wood to the frame, you can stain it or paint it to add a pop of color to your bedroom.
Additionally, if you choose to stain the wood, you can do this to match other wood accents you have in your bedroom already. If you have other wooden furniture like a dresser or nightstand, then stain the wood paneling to match and tie your room together nicely. This is a great way to cover the metal bed frame and make your room look like one matching bedroom set.
You can also paint the wood before adding it to your bed frame. This gives you a bit more creative freedom than staining, as you can choose between more colors. So, choose whatever color matches your bedroom decor best and paint the wood. The best part about doing this is that you can change your mind later and paint it a different color.
7. Add Bedding Storage
Adding storage around your bed is one way to draw attention away from your metal bed frame. This is a great way to create more storage for bedding and linens while also covering your metal bed frame. Additionally, bedding storage can come in many different sizes and styles to suit your needs.
You can use bedding storage as a way to cover your metal bed frame by putting it at the foot of your bed. Not only will it help those living in smaller homes and apartments with more blanket storage, but it can add color and flair to your bedroom decor.
Not all bedding storage has to be an expensive wooden chest at the foot of your bed. There are other more fun options for those looking to spend a little less money on it. There are fabric options with cool designs that don't cost too much. There are also cheap, sturdy designs made of various materials.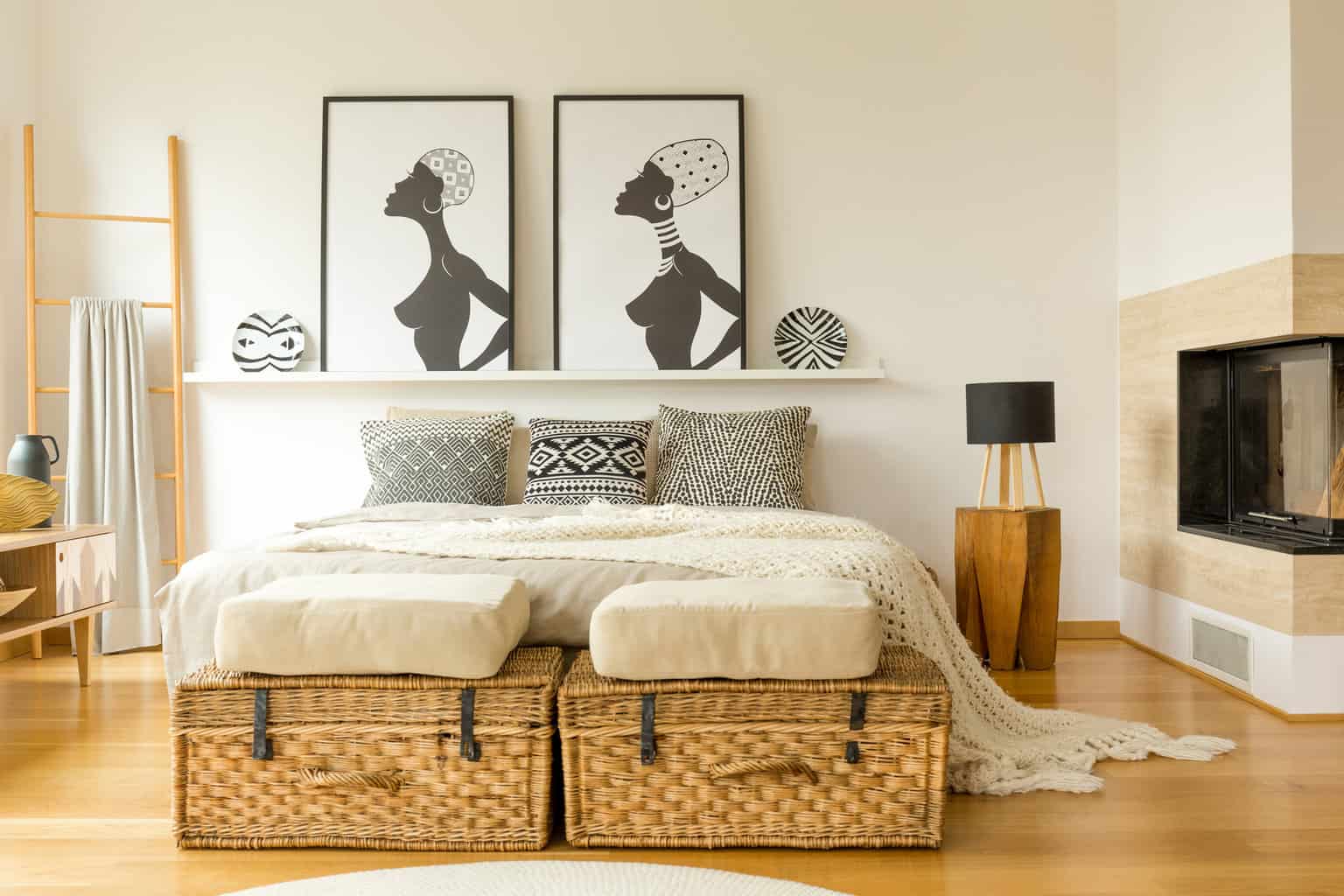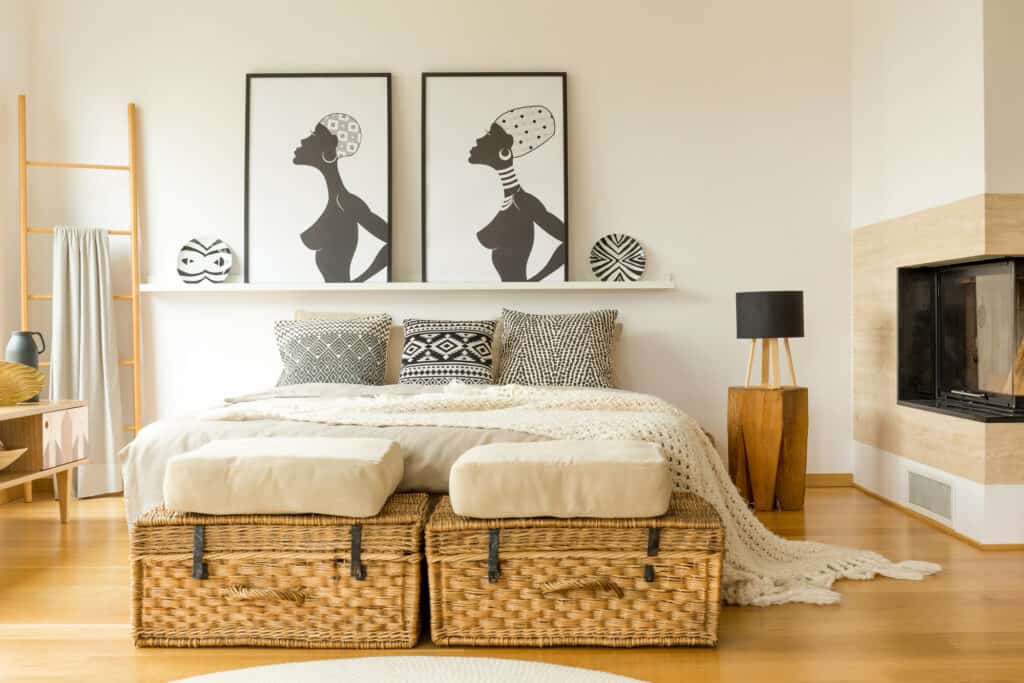 8. Use a Window Valance
Try a window valance if you need a quick option for making your metal bed frame look better but don't have a fitted sheet handy. For those who don't know, a window valence is a short curtain that hangs from a window. They're usually combined with longer curtains to match, but you can also use them alone if you have shorter windows.
The only problem you may encounter when lining your metal bed frame with window valence is getting it to stay in place. Your metal bed frame may be too thick for window valance, and you would have to take it apart to get the valence on there. So, you should consider some alternatives for holding the valence on the bed frame.
If you want the valence to stay put, you can add adhesive to it. This is a more permanent solution, as it will not easily come off the metal frame. If you enjoy sewing, you can sew the valence onto a sheet and create your own DIY bed skirt. However, you can consider attaching the valence to your box spring for a more permanent solution.
9. Use a Velcro Bed Skirt
If you like DIY projects, then you may want to try a velcro bed skirt for your metal bed frame. You can use this with many fabrics, from window valence to traditional bed skirts, but it allows you to quickly and easily change your bed skirt without moving your mattress.
While there are a few velcro bed skirt options out there, I recommend doing this as a DIY project to save money. Follow these steps:
Find the bed skirt material.
Add velcro to it.
Add the other end of the velcro right into your metal bed frame.
When it's time to switch, just remove the skirt and replace it with another.
You can sew velcro into fabrics or simply stick it on, depending on your needs. So, sew velcro into your bed skirt of choice, then use an adhesive to attach the velcro to your bed frame. Not only does this make it easier to add more bed skirt options in the future, but it makes laundry day a breeze.
If you aren't good at sewing, then there are other ways to attach velcro now. Consider using fabric tape to help the velcro stick to your bed skirt. Remember that if you choose this option rather than sewing, give the adhesive about 24 hours to stick to the fabric before hanging it.
10. Paint the Metal Bed Frame
Finally, take a simple approach to deal with a plain metal bed frame and paint it. There are many different colors to choose from, and painting will help the plain look of a metal bed frame pop and appear more stylish and expensive. Try more traditional shiny paint for a nice pop or matte paint to help your bed frame blend in with your room a little better.
Once you decide on the paint's style and color, choose the paint type carefully. Painting can be a hassle with pets or children in your home. So, you may want to choose a non-toxic option that doesn't have a strong smell for the best possible scenario. Otherwise, keep children and pets out of the room while the paint dries to prevent any issues.
One of the best parts about painting a metal bed frame is that it allows you to take something that most people don't pay much attention to and make it your own. So, use your favorite color or do something creative with the design, the choice is yours! But remember, the more effort you put in, the more you'll appreciate it when you finish.
Sources