Giovanni Valle is a licensed architect and LEED-accredited professional and is certified by the National Council of Architectural Registration Boards (NCARB). He is the author and managing editor of various digital publications, including BuilderSpace, Your Own Architect, and Interiors Place.
Affiliate Disclaimer: Some of the links below are affiliate links. As an Amazon Associate, I earn from qualifying purchases.
Unfortunately, when acquiring your ideal living space, you're unlikely to get a perfectly sized room that fits all your needs and is "just right."
Sometimes, rooms are too small for the purpose you intend them for, and sometimes, they're so large it's easy for them to look vast and empty.
Luckily, with some decorating tricks, you can make any room feel less empty without too much stress or expense.
To make a room less empty, try covering the walls and floor, drawing the eye upward with tall lamps, adding cozy elements such as plants, pillows, or books, and moving your furniture away from the wall.
I'll discuss some easy ways to make a big, empty room seem less vacant and more cozy and intentional. Implementing one or multiple of these tips allows you to make any room just right for you!
1. Cover the Walls
Wall coverings are a great opportunity to impact how big a room feels, so if your room feels too large and empty, adding something to the wall can distract from that and help create the illusion of a fuller room.
Furthermore, wall coverings are a great opportunity to show off your style, as there are many different ways you can cover a wall. Here are some suggestions:
Show off your favorite pictures or posters with a gallery wall. If you have many photographs you love and want to display in your home, this is the perfect opportunity! To make a gallery wall unique to you and your style, gather your favorite pictures, art prints, typography prints, and more in various sizes. Then, find suitable frames for them, arrange them on your wall, and enjoy!
Choose a tapestry that suits your style. Tapestries are also a great way to show off your taste in decor. A large and thoughtfully-placed tapestry can make a room seem significantly fuller. If your design style leans towards boho-chic, you may want to consider this Mkono Hand Woven Boho Wall Tassel from Amazon because it is handwoven with high-quality material and is an ideal statement piece for adding comfort and harmony to any room.
Add dimension to the wall with curtains. Curtains aren't just for windows! You can add curtains to a wall to add interest and dimension to the room.
Commission a local artist to do a large painting or mural. One of the best ways to fill wall space is with art, and what better way to obtain that art than by supporting a local artist? A mural is a one-of-a-kind way to fill any space, no matter how empty it may be.
Add visual interest with fascinating wallpaper. Printed wallpaper not only makes your room look more beautiful or interesting, but it can also make it seem fuller. For even more dimension, choose a wallpaper that gives the illusion of texture.
Covering a wall using one of the above methods is a great way to show off your creativity and style and make a room feel fuller than it is.
2. Add Tall Floor Lamps
One of the most effective ways to make a room seem fuller is to draw the eye upwards, especially if the room also has high ceilings.
Doing so allows the eye to travel naturally throughout the space without focusing too much on how empty it may be.
One of my favorite ways to do this is to find some tall floor lamps because they are beautiful and functional.
I like this unique PAZZO Industrial Floor Lamp from Amazon because it is visually interesting and adds industrial flair to any room.
I also like that it comes with LED bulbs with a lifetime of up to 2,500 hours and that the heavy base is sturdy enough to keep the lamp from falling over, even in a house full of kids and pets.
Another great option is this Brightech Maxwell Modern Shelf Floor Lamp from Amazon. With this piece, not only do you get the functionality of the lamp, but you also get added shelves that you can display knick-knacks and books on further to distract the eye from the emptiness in the room.
I also like that this piece is compatible with smart outlets, including Alexa, Google Home Assistant, and Apple SmartKit.
3. Add Plants
Another great way to make a room seem less empty is to add life to it–literally! Plants are an effective and fun way to add visual interest to a room, and plants that crawl or take up a lot of space can help a room appear fuller and lusher.
Here are my recommendations for the best plants to add to your room:
Snake plant. Snake plants are a great place to start if you've never owned a plant before. Not only do they grow tall, which will help feel your room less empty, but they're also incredibly low-maintenance. When it comes to indoor plants, snake plants are some of the easiest to keep!
Spider plant. These are perfect for filling up an empty space as they can grow wide and long. Placing them on top of a bookshelf or table will allow their leaves to dangle in the air and take up even more space. These are also very social plants, so you can bundle them together without hindering their growth. An abundance of plants may help the room seem fuller.
Dragon trees. Dragon trees are large plants that can fill up a lot of your space. They are also drought-tolerant, so you don't need to worry about watering them daily.
Plants can help any room feel cozier and more alive, so why not try your hand at being a plant parent?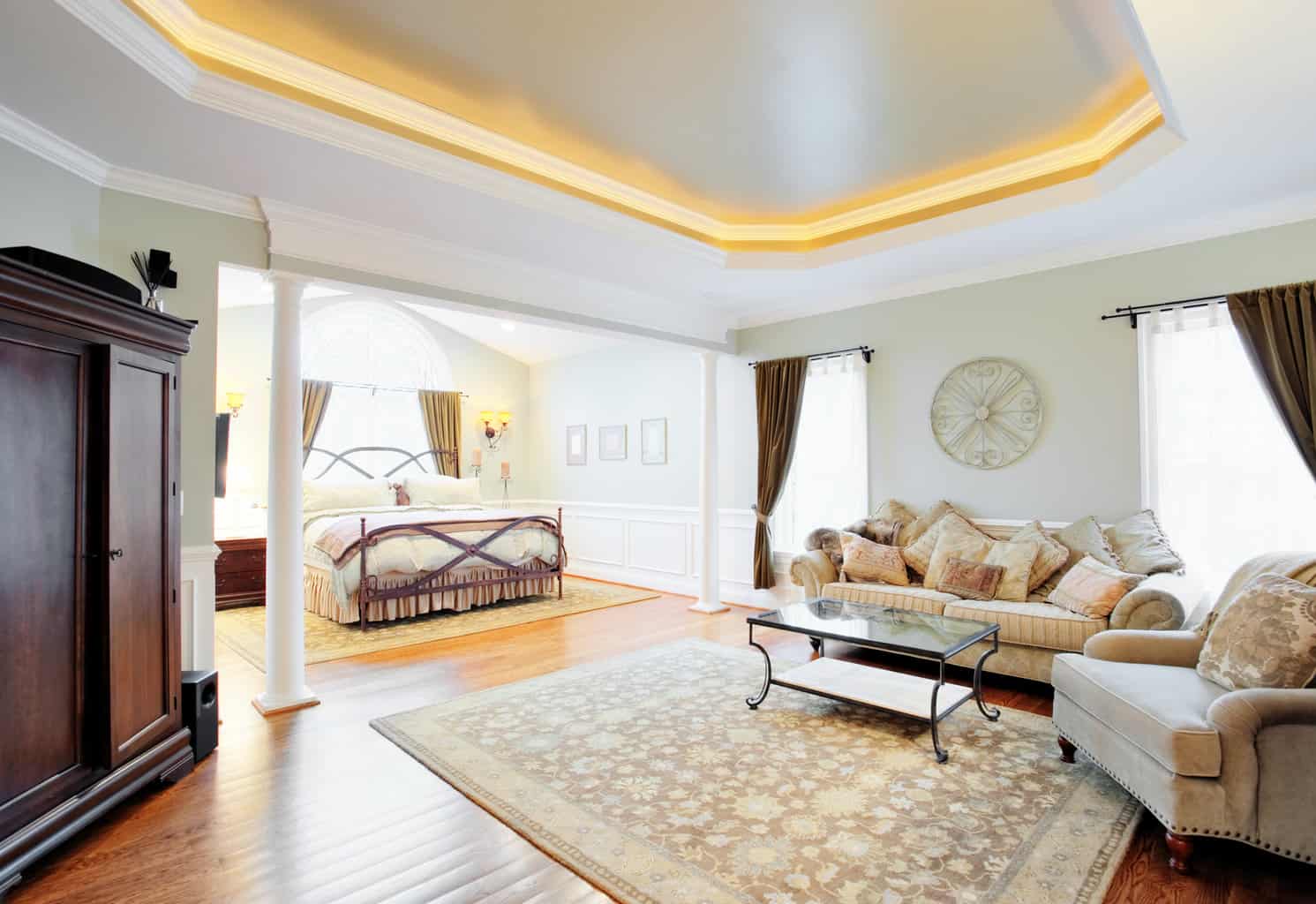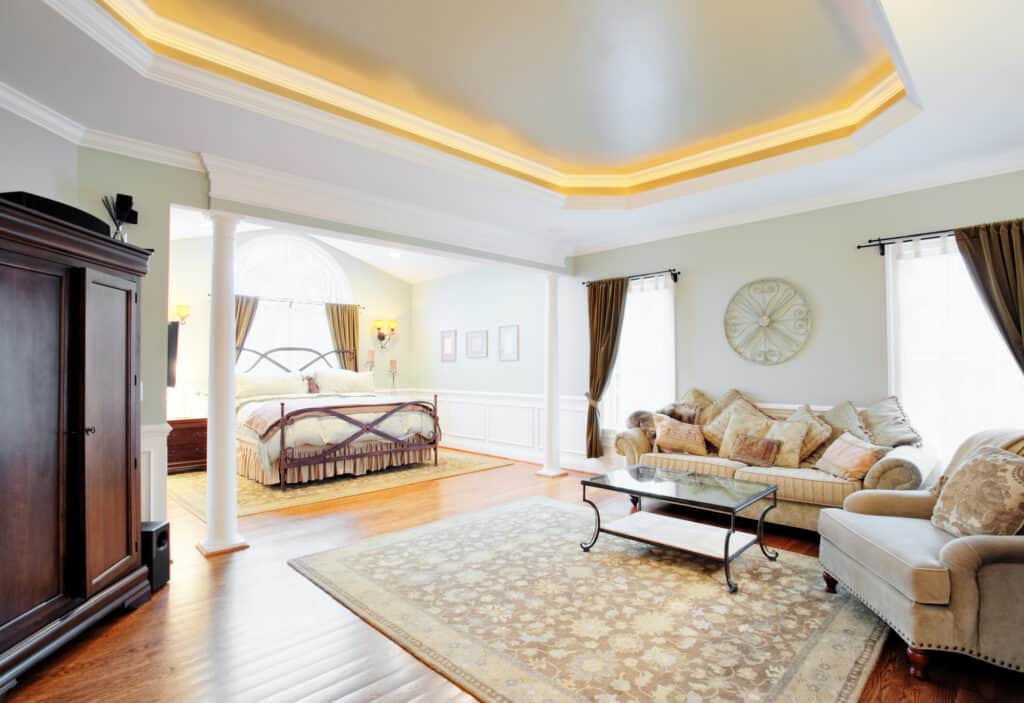 4. Add a Rug or Rugs
Just like covering a wall can help make a room seem less empty, covering the floor can have the same effect. A large, eye-catching rug can make even the emptiest room seem busy in the best way.
I like this Artistic Weavers Odelia Vintage Bohemian Area Rug from Amazon. The bright colors and pattern of the rug will add visual interest to your room, making it seem fuller.
I also like that this rug is stain resistant and easy to clean, so if you have pets, kids, or if you can be a bit clumsy sometimes, you won't have to worry too much about spills.
Another option is to choose multiple rugs you like and do the equivalent of a gallery wall on your floor. This unique option is sure to fill up space in a room.
To keep the choice from looking too random, ensure that the rugs all have something in common, whether that be a color or pattern.
5. Use Lots of Pillows
Large, empty rooms simply don't feel as cozy as full or cluttered rooms, so one of your goals, when you're trying to make a room look less empty, is to add as much coziness as possible! And what's cozier than pillows?
I recommend purchasing decorative pillows in various colors and patterns and adding them to your sofa to add color, texture, and visual interest to your room. This helps give the appearance of fullness.
6. Make a Seating Area or Reading Nook
If you can afford to buy new furniture, adding more seating is one idea for making a room seem less empty.
I like the idea of turning the corner of the room into a comfy reading nook with an ottoman or unique chair.
Creating a nook also visually divides this area from the rest of the room, which will help the rest seem smaller and therefore less empty.
I love this ACMEASE Velvet Accent Chair from Amazon.com. It's available in five colors, but my favorites are pink and teal.
I also like that this chair has an adjustable backrest and armrest, so readers can adjust it to their preference for maximum comfort while reading.
The knobs at the feet are also adjustable, so you can make it as tall or short as you'd like.
7. Move Your Furniture off the Wall
One sneaky trick to make any room seem less empty is to make the room appear smaller by moving the furniture a couple of inches away from the wall.
If all of your furniture is flush against the wall, you're leaving a lot of space between pieces, which contributes to the look of emptiness.
If, however, you move all your furniture off the wall a bit, this decreases the amount of space between each piece, thus creating the illusion that the room is smaller and fuller.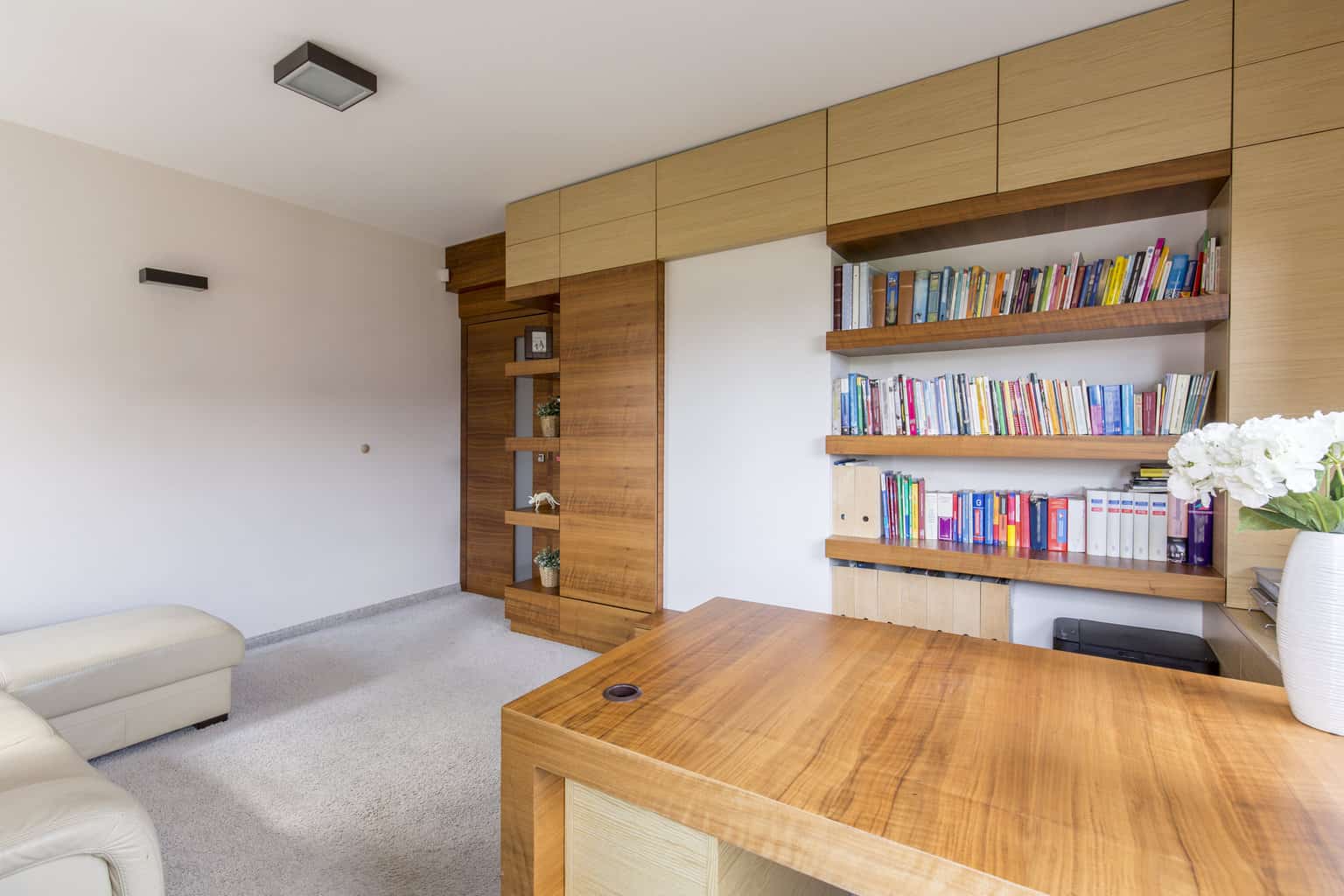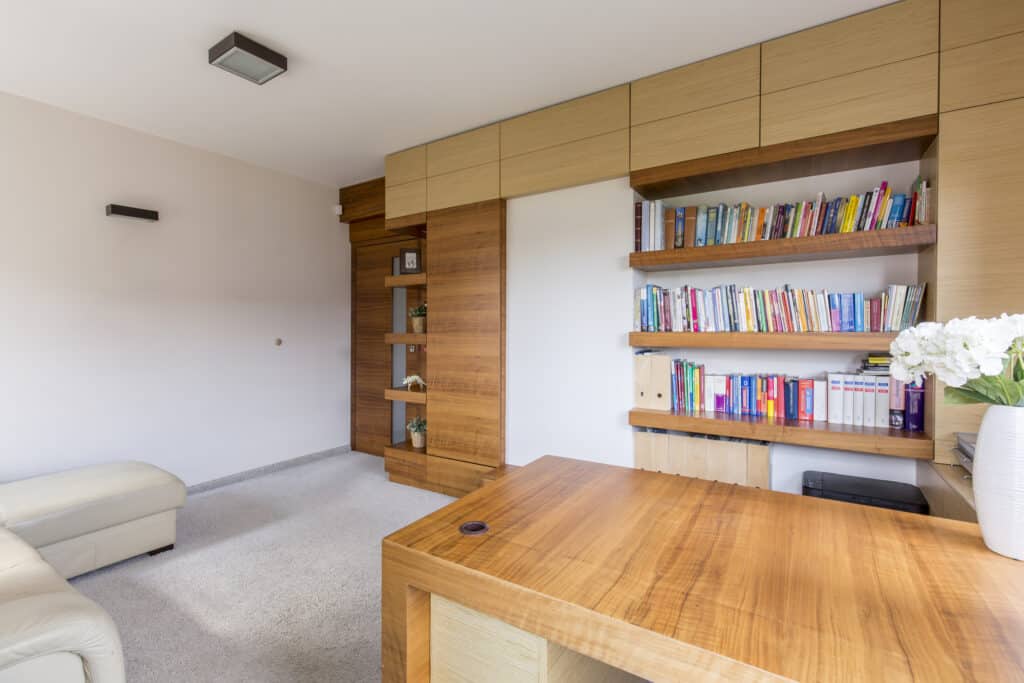 8. Display Your Books
Some people think the word "clutter" has a negative connotation, but I love a little organized clutter. It also helps any room seem more lived-in and less empty.
One of my favorite ways to clutter up a room is to display books on a bookcase or shelves. Books come in various colors and sizes, so they can bring a little chaos to a room that feels lifeless.
Additionally, if you add a bookcase or shelves to your room to display books, you can also add various knick-knacks and other items to add visual interest and distract from the feeling of emptiness.
Do you have a conversation-starting piece from your travels or a random find from a thrift store? Now's the time to get people talking!
Displaying books is especially apt for the space if you've decided to create a reading nook, so don't be afraid to do both!
9. Keep It Classy With a Bar Cart
For more organized clutter, try adding a bar cart! A styled cart can add interest to your interior, and you can show off your cocktail-mixing skills the next time you have people over.
I like this Ohsuaniy Bar Cart, available on Amazon.com because it comes with detachable trays, two wine racks, glasses holders, and a large bottom shelf that can hold a bucket of ice or a six-pack of beer bottles. I also like the metal frame and wood veneer, which gives it a classy and industrial look.
I also like this ASYA Gold Bar Cart from Amazon if you want something a little daintier. This cart comes with three groups of glass holders and a wine rack that can hold up to four bottles, so if you're a wine drinker, this is a great option.
The shelves are spacious enough to hold everything you need, and the 360-degree rotating wheels make the cart a breeze to move around, so you easily experiment with placement.
Once you have the cart, you'll need to fill it with the essentials. Here's what you'll need:
Liquors. If you have a favorite liquor, try experimenting with different flavors and kinds. For example, vodka comes in many different flavors, allowing you to make all kinds of mixed cocktails. If you're a tequila drinker, you should have a bottle of blanco and a bottle of reposado at the very least.
Mixers. To make cocktails, you'll need various ingredients, including bitters, vermouth, syrups, grenadine, sour mix, juices, soda water, tonic, and more. If you're feeling overwhelmed, start with the basics. For example, all you need for a gin and tonic is, well, gin and tonic water and a lime or lemon wedge. To make a rum and coke, all you need is…well, you get the idea!
Cocktail shaker set. You'll need some tools to make your drinks, so a mixology set is a must. I recommend this Mixology & Craft Mixology Bartender Kit from Amazon because it has everything you need to make great cocktails, including a jigger, muddler, strainer, shaker, and ice tongs. I also like the classy bamboo display it comes with.
Glassware. Once you have the drinks, you'll need something to serve them in! Wine glasses and a variety of differently-shaped glassware are a must.
Ice bucket. Most drinks are best served cold, and you'll need ice to shake drinks, so don't forget to have an ice bucket handy. Don't forget tongs so you can pick up the ice hygienically.
Garnish tray caddy. The best cocktails come with garnishes, whether that be stuffed olives, a lime wedge, a Maraschino cherry, an orange slice, or some other delicious treat. To keep all these garnishes organized, you'll need a caddy.
Sources