Giovanni Valle is a licensed architect and LEED-accredited professional and is certified by the National Council of Architectural Registration Boards (NCARB). He is the author and managing editor of various digital publications, including BuilderSpace, Your Own Architect, and Interiors Place.
Whenever I host a formal party, I never feel like I have to worry about my dining room fitting the theme. Since dining rooms are often just used for special occasions, they're almost inherently fancy and elegant. However, having a formal-looking dining area can backfire and make you less likely to use it.
Here's how to make a dining room less formal:
Change the wall colors.
Get new dishware and table settings.
Get a new dining set.
Change the rest of the decor.
Change the lighting.
Tear down some walls.
No matter your budget, there's a solution for making your dining room seem more casual and less fancy. Throughout this article, I'll be sharing just a few of the ways you can make your dining room less formal and more welcoming for everyday use.
1. Change the Wall Colors
One of the most effective ways you can change the look and feel of any room is to change up your paint color or wallpaper. This is true for dining rooms as well.
Frequently, dining rooms are painted in very classic colors, like different shades of white.
More modern formal dining rooms might also have their walls painted with elegant darker shades like dark blue or maroon.
However, these colors make a room look much more serious, which adds to its formal nature.
If you want to change the way your dining space looks, try painting it a brighter or more fun color. Paint your white walls green, or your maroon walls a light blue. After all, it's a lot harder to think a bright pink room is too formal.
The same goes for wallpaper.
Find a fun pattern you like, maybe one with texture or foiling, so the design is a little bit shiny. Having walls that match the mood you're going for in your dining room can work wonders to make the area more casual.
2. Get New Dishware and Table Settings
Another great way to change how formal your dining room looks is to change the table settings you use. While it's tradition for most households to have "fancy" dish sets that they pull out on special occasions, they're usually quite elegant looking.
If you use elegant dishes, your dining room will look less casual.
If you have nice dishes, you can still keep them when you actually want to have a formal meal, but the rest of the time, you can use something a little more whimsical. You can find dish sets in virtually every color and pattern imaginable
You can even mix and match if you want a casual and eclectic dining room.
It's not just your dishes that can make or break your dining room's look, but it's also your table settings.
You may not think about how much your table cloth can affect the look of your dining room. A lace-trimmed, expensive table cloth, for example, will make even the most casual-looking room look like it's ready for a formal event.
If you're trying to make your dining space look more casual, try opting for placemats instead or a more vibrant and fun tablecloth.
Try something bright and floral or checker-marked, for example. The best part about this option is getting the best of both worlds. You can pick and choose which table settings and dishes you use depending on the look you want your dining room to have.
All you need is the space to store everything between uses.
3. Get a New Dining Set
If you close your eyes and imagine a formal dining room, what's one of the first things you think of? The dining room table and chairs, right? Since the entire point of a dining room is to dine in it, the furniture you use to accomplish that goal plays a huge role in whether or not the area is formal or casual.
Are you using an antique or family heirloom dining set? Do your table and chairs have intricate patterns carved or painted on them or are they made out of hardwood that just looks expensive?
While these types of furnishings are certainly gorgeous, they're more suited for an elegant space. If you have it in your budget and you're ready to part with the dining set you already have, consider shopping around for a new one.
A glass or acrylic table and chair set, for example, will give your room a more modern look that can look casual more easily than a hardwood table. Look at different colors, materials, and shapes for your furnishings so you can curate the look you want and keep your dining room from looking stuffy and too formal.
If you're really up for a DIY project, you can even try to change the upholstery of the chairs you already have. That can give new life to your old furniture and might just be the change you need to achieve the less elegant look you want in the space.


4. Change the Rest of the Decor
While it's easy to focus on your dining set and place settings, those are rarely the only decorative things in a dining room. Even if the number of other decor pieces you have is minimal, they can still make a difference in changing up the look of your dining room.
For example, if you have an ornate Persian rug on your floor, that'll automatically make your room look fancier than something with lighter, brighter colors and a quirkier pattern.
Rather than a traditional floral centerpiece, opt for something with less conventional textures. Use a fern or a bowl of decorative shells, or have a table runner to break up the look of your table and make the surface look a little more inviting.
You can even try to add art to your walls that you'd normally hang in your living room or office areas.
Look at the rest of your home. How are the other rooms decorated? What makes you love spending time elsewhere in your house? If any of those elements can be transferred to your dining room decor, that's a great first step in deciding how you should change up your decorations.
5. Change the Lighting
Dining room lighting tends to have a few different characteristics. These are:
They tend to have dimmer, lower lighting to create an elegant ambiance.
They tend to have ornate wall sconces or traditional chandeliers.
Both of these elements are perfectly fine but aren't necessarily conducive to curating a less formal-looking room.
Consider changing the way your dining room is lighted to change the overall feel of the area.
If you think low lighting is the issue, opt for brighter bulbs or add more light fixtures to the room. Avoid warm light bulbs as they can create a bit more of a shadowy look and, instead, use cooler-toned white-light bulbs.
If you only have a single chandelier, try to opt for track lights.
The number of lightbulbs you use might stay the same, but track lighting will spread the light out by not concentrating it all in a single place. If you don't mind the low-lighting, but you want it to have a more casual or carefree look, consider trying out different lamps and small decorative lights.
You can use string lights in your table settings or have them lining your walls, for example.
That way, you can still have the low-lighting you want, but in a less stuffy way.
If the amount of light you have in your dining room is perfect for you, but something is still bothering you, look at the light fixtures you have. A traditional wall sconce or hanging light fixture can keep your dining room from having the more laid-back look you might want.
Try to look around at your local hardware store or home decor shops for different lighting ideas.
Just because it's typical for a dining room to have a chandelier doesn't mean you have to have one, especially if it's keeping you from having the room you want.
6. Tear Down Some Walls
If you've tried everything else and your dining room is too formal for your taste, then it might be time to go for more drastic measures.
In most homes, the dining room is a closed-off room with its own doorways and walls that keep it separated from the rest of the house. This can add to the dining room feeling particularly formal and keep it from truly feeling like it belongs with the rest of the rooms in your home.
If you own your home, you might want to consider tearing down a wall or two in your dining room to open the space up. This can be especially useful if your dining area is adjacent to other areas of the house you tend to spend a lot of time in, like the living room or the kitchen.
Non-load bearing walls can be safely removed without compromising the rest of your home's structure, and you can create a less formal look in a few different ways by opening your dining room up.
These include:
The rest of your home decor can become part of your dining room decor.
During dinner parties, having a more open space can let people spread out a bit when not actively eating, making the area more casual.
Not having a completely separated eating area can make the room feel more inviting like an extension of the other places in your home.
This isn't an option to decide on lightly. It's much easier to take a wall down than to put one back up. However, if you're ready to do something a little more extreme, this might be the solution for you.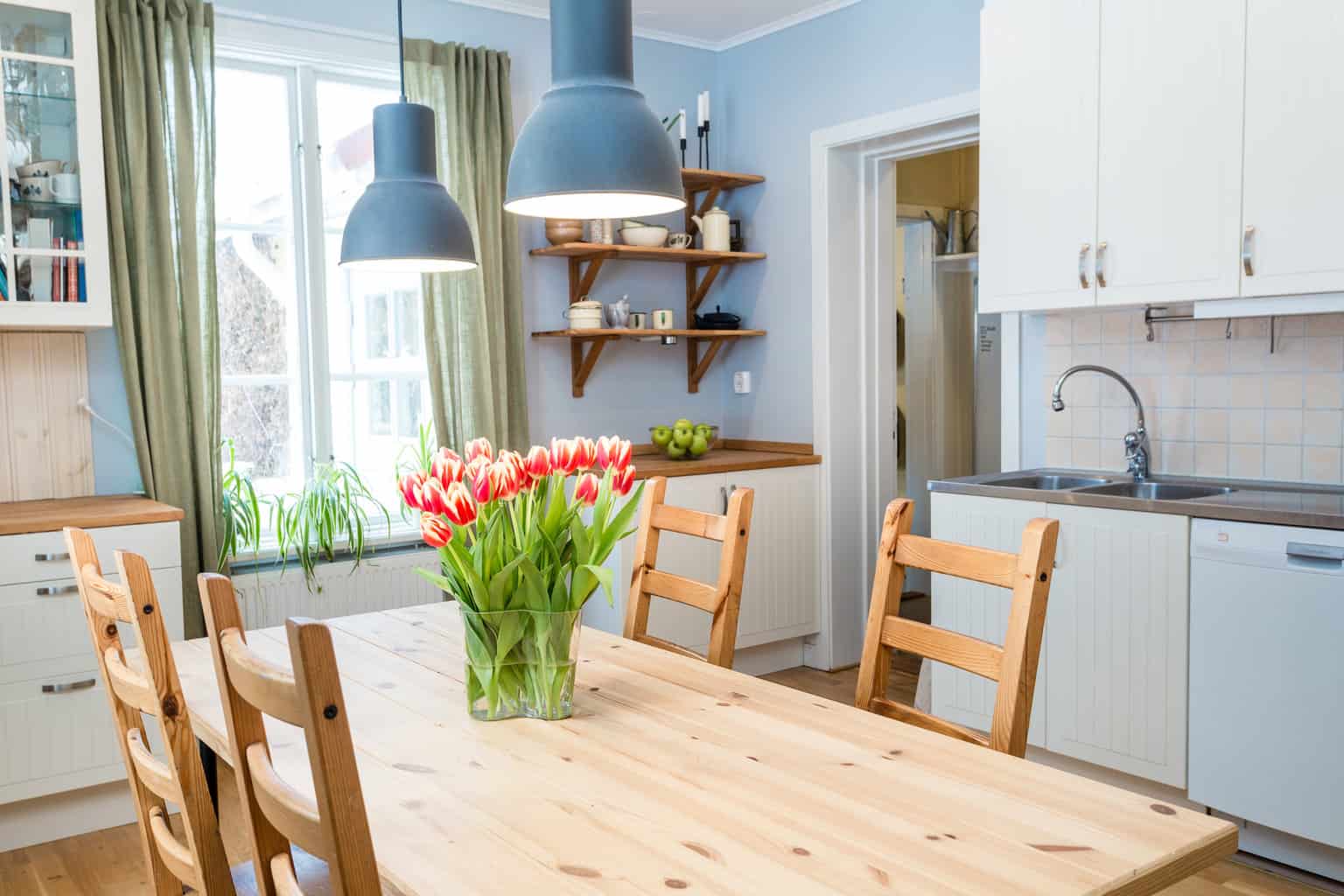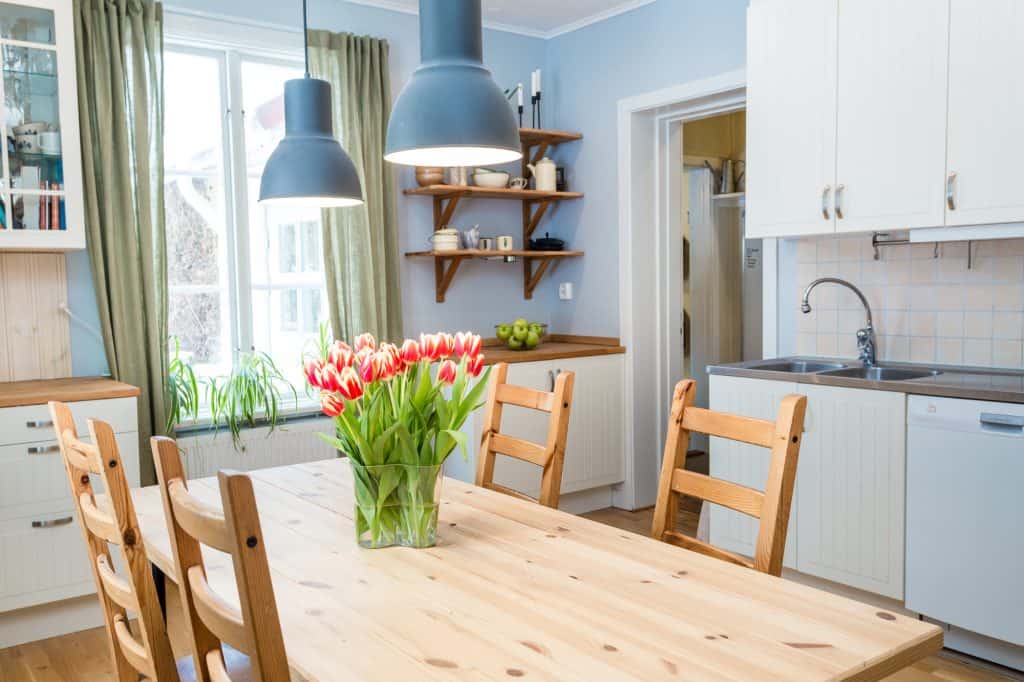 Why Formal Dining Rooms Exist
You might have the childhood memory of being told not to go into the dining room as a kid.
I know I do. Often I was told that the dining room needed to be kept nice and, unless I had an adult with me, I shouldn't go in there.
However, if you have a room in your house that's so nice you don't even want people to go in it if it's not being used, what's the point? Formal dining rooms may be less common now, but they do indeed serve a purpose.
For households that regularly host special events and "fancy" dinner parties, having a well-put-together room can be a necessity. Often, the furniture, dishware, and cutlery used or found in these rooms are much more expensive compared to what you'd find elsewhere in the house.
Even if elegant dinners and get-togethers are a rarity, someone might want a formal dining room, so they're prepared should they decide to have people over.
Casual Dining Room vs Formal Dining Room
While formal dining rooms certainly have their place, unless you host regular parties that require elegance and formality, they aren't the most functional rooms in the house. The term casual dining room can mean different things but often means a dining room that's either more open or has more casual furnishings than traditional dining room areas.
Why you might want a casual dining room can differ, but there's no doubt that its less fancy nature makes the room less "stuffy" and more appropriate for daily use.
Why You Might Want a Casual Dining Room
While some people might want a formal dining room, there are many more people who might want a casual dining room. Why? You'll hear a few common answers when you ask people why they have or want a casual dining area, which might include:
There's less pressure and stress.
Casual dining rooms are more welcoming.
A simple dining room fits the rest of the home more.
They don't host fancy events, so the space goes unused.
Whether you think making your dining room more casual will make you more prone to using it, or you just hate the look of your formal dining room, there are things you can do to make your dining area casual.
In Conclusion
There's no shortage of ways you can make your dining room look less formal. There's bound to be a solution for you, from just changing the wall colors and your dishes to completely restructuring the room.
If you're looking for a way to make your dining room more laid-back, you don't have to worry.
With a bit of planning, you can have the dining area you always dreamed of.
Sources