Affiliate Disclaimer: This page may contain affiliate links.  As an Amazon Associate, we earn from qualifying purchases. We may also earn commissions if you purchase products from other retailers after clicking on a link from our site.
Leather couches have many pros, such as being easy to clean and maintain, more durable than most fabric couches, and water-resistant. However, because of the smooth, slippery surface, you may experience the nuisance of cushions constantly sliding off. Fortunately, there are a variety of solutions to this problem.
Use slip-resistant rubber liners or attach Velcro strips to keep couch cushions from sliding on leather. You can also use slip-resistant cushion covers, anti-slip furniture pads, fitted sofa covers, or shelf-liners. Other alternatives are adding couch stuffing and using cushion support inserts.
Continue reading to learn more about keeping couch cushions from sliding on leather. I will also suggest some valuable products you can find on Amazon to help you solve this annoying problem.
1. Use a Slip-Resistant Couch Cushion Rubber Liner
Non-slip rubber liners are an excellent, multi-purpose solution. Other than keeping couch cushions in place, they can also be used to secure rugs, carpets, and mattresses.
Couch cushion liners should be placed between the cushion and the couch. They prevent slipping by providing a slip-resistant grip that holds down the cushion to the sofa.
These liners go underneath the cushion, which makes them inconspicuous. You need not worry about ruining the aesthetic of your couch.
Most liners utilize gentle adhesives. You can easily take them out without leaving marks or residue on your couch or cushions. These adhesives also allow you to remove and replace the cushions without hassle.
When purchasing a slip-resistant liner, make sure that it is made for couches. Otherwise, it may not provide sufficient grip for your cushions.
If you can't find a mat that fits your couch's size, you can use a pair of scissors to adjust it.
I recommend this Amzok Rug Pad (available on Amazon). This multi-purpose product can be used on rugs, sofas, mattresses, and tablecloths. It also has a firm grip construction for maximum grip. Moreover, it comes in 11 different shapes and sizes, giving you the flexibility to choose an ideal fit.
2. Use Adhesive-Backed, Heavy Duty Velcro Strips
Velcro tape is another easy-to-install yet effective solution for keeping your couch cushions from sliding on leather.
Velcro uses a hook and loop attachment system, enabling it to secure two separate objects.
The best type of Velcro to use on leather couches is adhesive-backed, heavy-duty Velcro. Sew-in Velcro (the alternative to adhesive-backed Velcro) is not a good choice—it is harder to install and you risk damaging the leather. On the other hand, heavy-duty Velcro will hold even heavier cushions in place, as opposed to ordinary Velcro.
To install the Velcro strips on your couch, follow these steps. Please note that you should not separate the Velcro strip before completing the process.
Prepare the cushion and couch surfaces by cleaning and wiping them completely dry.
Attach a Velcro tape to the couch surface where you intend to place the cushion with the loops (soft side) attached to the couch.
Press down the Velcro strip against the couch.
Peel the adhesive cover off the side with the hooks (rough side) and set the couch cushion in place.
Press the cushion down so that it adheres properly.
When installing the Velcro strips, it would be best to start from one end of the couch, then make your way to the other side.
I suggest using these Velcro Brand Heavy Duty Fasteners from Amazon. Some of the perks of this product include:
Strong hook and loop system that safely holds up to 10 pounds (4.5 kilograms)
It's water-resistant, so the adhesive won't come off during cleaning
Comes in pre-cut 4-inch strips, saving you the trouble of measuring and cutting to fit
3. Dress Your Cushions With Slip-resistant Cushion Covers
In addition to keeping your cushions from sliding off leather, non-slip covers protect your pillows from exposure to dirt, spills, and other potentially damaging elements.
Cushion covers prevent sliding by increasing friction between the cushions and the couch, thereby making it harder for the cushions to move out of place.
Some cushion covers may also have slip-resistance pads underneath to improve the grip and prevent sliding. You can also install velcro strips to enhance the hold if your covers don't have grip pads.
Microfiber is a popular and effective material used to make non-slip cushion covers. This is because it is made from polyester, which has anti-slip qualities.
Cushion covers come in various designs, allowing you to choose a style that effortlessly blends in with the rest of your home decor.
Cushion covers also promote thermal comfort during hot seasons. Since leather can get quite hot and uncomfortable in the summer, using these breathable cushion covers will mitigate these unpleasant effects.
Consider buying the Flamingo P Sofa Cushion Slip Covers from Amazon. Here are some of its benefits:
Equipped with anti-slip foam pads to keep the cushion in place
Available in a variety of colors and sizes, giving you the flexibility to select the ideal fit for your cushions
Stretchy and easy to install
4. Install Anti-Slip Furniture Pads or Grippers
Anti-slip pads are small, self-adhesive attachments that provide grip and support for your couch cushions to keep them in place. They are multi-purpose—you can use them to hold down rugs and furniture and keep them from sliding.
These anti-slip pads are easy to install. You need to attach them between the couch cushions and the couch, which also means that they are inconspicuous.
Place an anti-slip gripper near each corner of the cushion for best results. Doing this will hold down the cushion adequately while allowing you to quickly lift the cushions whenever needed.
I suggest getting these X Protector Non-Slip Furniture Pads. They can be used on any furniture and have a strong adhesive that keeps the pads from coming off the cushions. It also has a money-back guarantee in case the product doesn't perform as promised.
5. Employ Fitted Sofa Covers
Like couch cushion covers, fitted sofa covers keep the cushions from sliding while protecting the leather from harmful elements such as:
Dirt
Harmful UV rays that cause the leather to fade
Excessive friction that accelerates the wear and tear
Spills
Fitted sofa covers cover the seat and cushions and keep the cushions from slipping by tightly holding them in place. They are made from an elastic material that makes them easy to put in and take off.
There are many colors and styles available, and you could even opt to change the covers to revamp your home decor periodically. If your leather sofa has a lot of scratches, a sofa cover will also hide them from view.
The biggest con to consider if you settle for fitted couch covers is that you will cover up the beautiful leather, which has significant interior decor value. You'll also take away some of the other advantages of leather, including its resistance to stains. Leather is hypoallergenic, so if you suffer from allergies, you'll want to think twice before using sofa covers.
I recommend the Easy-Going Stretch Sofa Slipcover from Amazon. It comes in an array of colors and sizes, utilizes anti-slip foam for a more snug fit, and is machine-washable. It also comes in a wide array of colors, so you won't have to completely sacrifice the looks of your living room.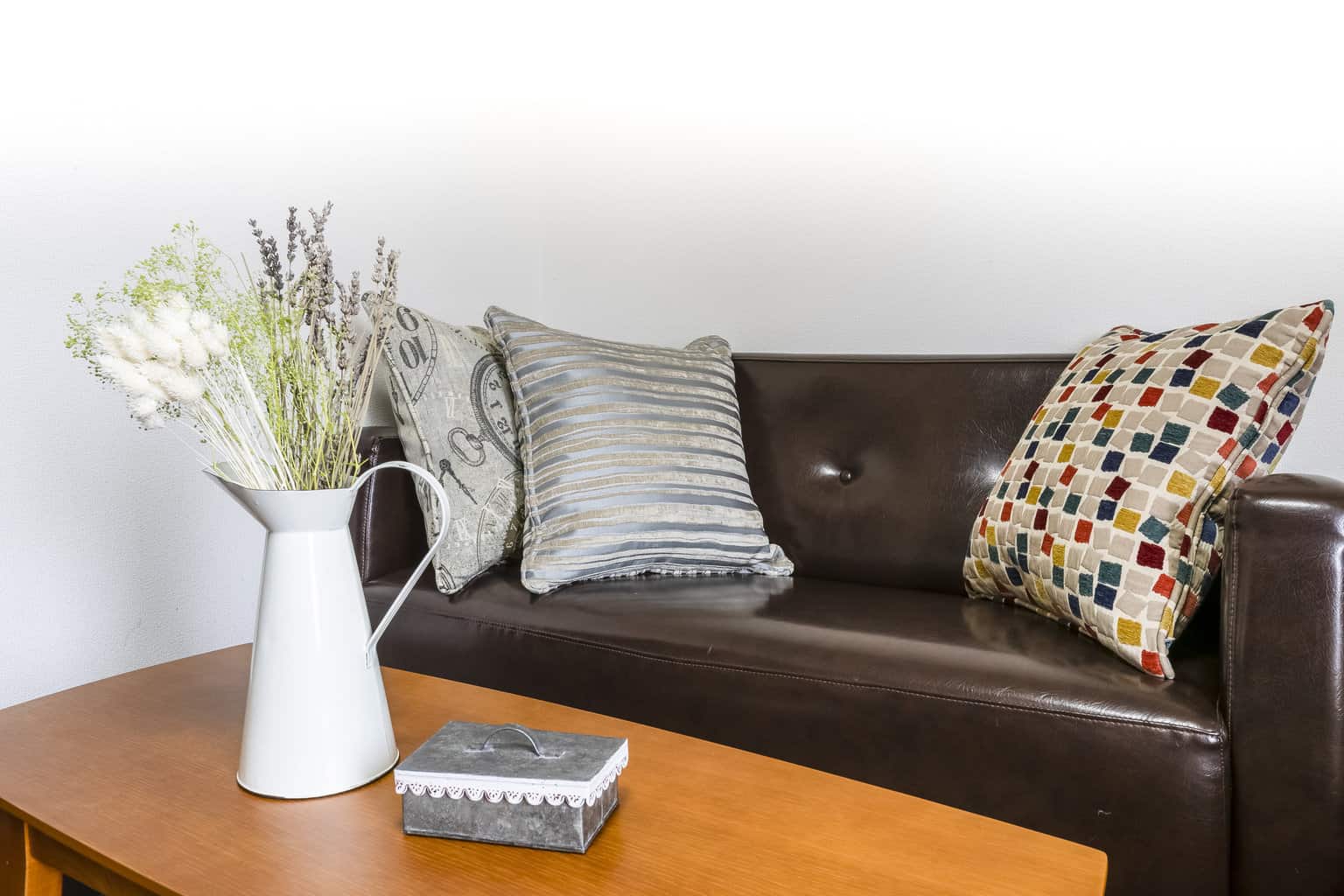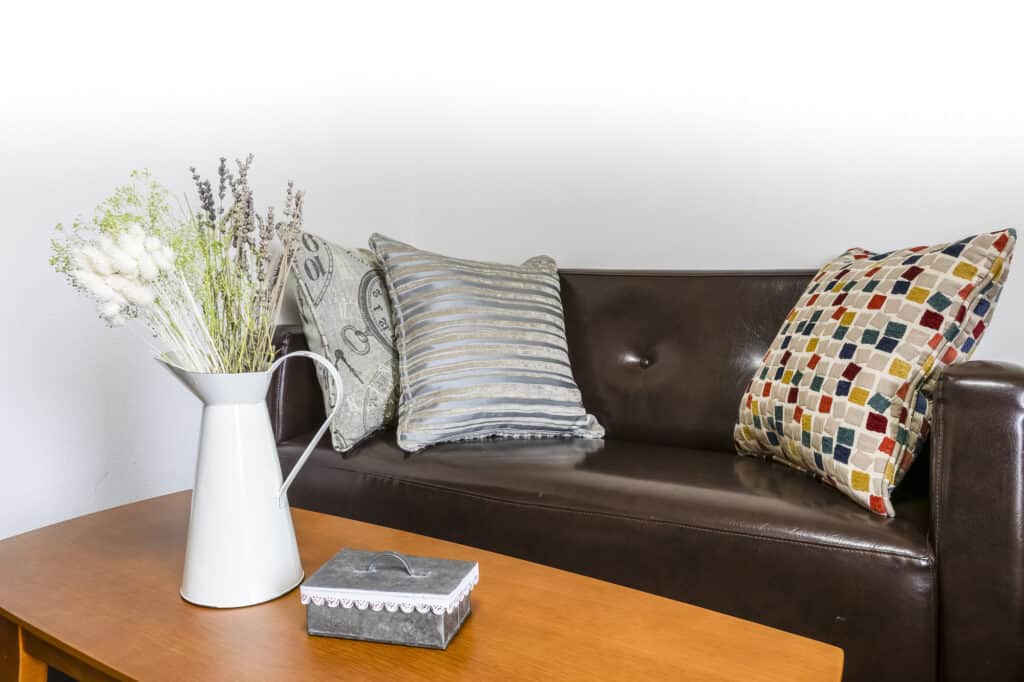 6. Add More Cushion Stuffing to Your Couch Cushions
Over time, couch cushions may lose their fluffiness and become flat. This may result from general wear and tear or inadequate cushion stuffing. When this happens, the cushions become lighter and slide off the couch more easily.
To keep this from happening, you can add more cushion stuffing to weigh down the cushions and keep them in place.
Consider using memory foam or high-resilient density foam. It is denser and lasts longer.
If your cushion stuffing is severely worn out, I recommend replacing it entirely. Doing this will ensure that the cushion weight is even throughout. It will also be more comfortable that way. However, some cushion stuffing is salvageable, so top it up to your liking.
Here are several cushion stuffing options you can choose from:
What makes the FoamTouch cushion stuffing stand out is that the manufacturer offers custom cutting services so that you don't have to do it yourself, which can be challenging.
It features the ideal amount of cushioning and stiffness, making it pretty comfortable. It's available in several sizes to suit different seats and couches.
The Xtreme Comforts shredded foam is relatively easy to install—it does not require cutting to fit. It's also safe to clean in the machine washer and its compact packaging makes for convenient storage. This memory foam also keeps its shape for longer than most other brands.
7. Repurpose Your Shelf Liners
If you have some left-over shelf liners, then you already have a solution to the sliding-cushion problem.
Non-adhesive rubber shelf liners are perfect for this purpose. They work just as well as the couch cushion rubber liners I mentioned earlier by providing grip and resisting motion between your couch and cushions.
To install, measure the length of your couch and cut the shelf liner to fit. Place the repurposed shelf liner in between the couch and couch cushions. It is always best to wipe down both surfaces before placing the liner to eliminate anything that would interfere with it.
One significant advantage of using shelf liners is that they are virtually invincible underneath the cushions. Furthermore, they are easy to put in and take out whenever necessary. Since no adhesives are applied, you need not worry about gummy residue being left behind on your leather couch.
If you have some left-over shelf liner or intend to buy a roll for your shelves, you can get more value for your money and save on additional costs by using it to secure your couch cushions.
I recommend Smart Design Classic Grip Shelf Liners (available on Amazon.com). It's available in a variety of colors, so you can choose the one that best suits your space. It's also easy to clean and cut. The liners grip on contact to create a secure fit.
8. Use Cushion Support Inserts
Another common reason for sliding couch cushions against leather is inadequate support, usually due to wear and tear or stuffing that has lost its shape. This causes annoying sagging and sliding problems.
Cushion support inserts are usually made from vinyl-covered plywood. They prevent sliding and sagging by increasing the cushions' firmness. They also help by distributing weight evenly throughout the cushions to avoid uneven wear and tear, which is responsible for cushions losing their sturdiness.
If you are handy with DIY projects, you can make your own cushion support inserts at home using plywood or particle board with a thickness of 0.5 inches (1.27 centimeters). You can follow this simple guide:
Cut the board a few inches smaller than the couch's dimensions so that it doesn't stick out of the sofa.
Place the board in between the couch and the cushions.
Place the cushions again.
The other alternative is to buy the inserts from a store or online. I recommend this Ben's Home Cushion Support Inserts from Amazon. It's available in a variety of sizes to fit single chairs, two-seaters, couches, and loveseats. It's designed to prevent damage to your sofa while making it more durable. It also enhances comfort by helping maintain proper posture when sitting.
Conclusion
Sliding couch cushions are a nuisance, but fortunately, there are simple DIY solutions you can use to fix the problem.
Possible reasons for sliding cushions include:
Normal wear and tear. This causes the cushions to lose firmness and slide more easily.
Inadequate or poor quality stuffing.
The smooth nature of the leather surface, which reduces friction with couch cushions and makes it easier for them to slide off.
If you want to save money, consider repurposing leftover materials such as rug liners, furniture pads, and drawer liners. You'll get the same benefits without needing to make a new purchase.
Sources
Giovanni Valle is an architect, designer, internet entrepreneur, and the managing editor of various digital publications including BuilderSpace, Your Own Architect, and Interiors Place. He is the founder of BuilderSpace LLC.