Giovanni Valle is a licensed architect and LEED-accredited professional and is certified by the National Council of Architectural Registration Boards (NCARB). He is the author and managing editor of various digital publications, including BuilderSpace, Your Own Architect, and Interiors Place.
Bay windows are a classic design feature in homes across the world. However, designing a room with bay windows can be tricky if you don't know what you're looking for. Luckily, we've laid out a guide so you can easily design your living room with a bay window.
Here are the steps you need to follow to design a stylish living room with bay windows:
Choose your furniture and features.
Pick the curtains and blinds.
Decide on your furniture arrangements.
Consider your style options.
Make use of extra space.
Complete the finishing touches.
Keep reading to learn more details about how you can design your new living room with a stylish bay window. We'll explore some style options and furniture configurations so your new living room can suit your specific needs. By the end of this article, you should be able to go ahead and design your new living room without worry.
1. Choose Your Furniture and Features
Choosing what furniture you're going to include in your new design is the best place to start for your design. Before you can figure out what furniture you're going to have, you must first assess your requirements and desires for your new living room. Accurately accounting for your needs will ensure you can enjoy your new living room without issue.
To figure out what furniture you're going to need, you will need to consider a wide variety of factors, including how many people live in your home, what other features you want, and how much space you have to work with.
For example, a couple who live alone may only want a small sofa in their living room, whereas a large family may require a couch, armchairs, and extra seating spaces. The need (or lack thereof) for coffee tables and tall lamps should also be considered when deciding what you need.
Your interests will also play an essential role in your new design. For instance, if you're a fan of art, you will likely want painting hung in your living room. Similarly, families may wish to have family photographs displayed in frames on walls or the mantel place.
Deciding on whether or not you're going to include a television is another crucial step. Televisions are often vital in designing a living room, so deciding whether you're including one in your design will significantly impact the final product. In recent years more and more homeowners are deciding against including a TV – instead, they're opting to use laptops and tablets for entertainment.
Now that you've figured out what pictures and features you will include in your new living room, you can start getting into the details of your design. Don't worry about where your furniture and elements are going to go – I'll help you figure that out later on.
2. Pick the Curtains and Blinds
Bay windows are large, which inevitably allows more natural light to enter your new living. Natural light is a massive bonus for any living room as it brightens the space. This can lead to enhanced mood and reduced stress as natural light is beneficial to your health.
However, large windows can have a significant flaw – privacy. While oversized windows allow more light in, they also make it easier for nosey neighbors to see into your home. Luckily there's something that you can do to prevent this.
Curtains and blinds are a great way of adding style to your bay windows while providing you with more privacy in your home. That said, the wrong curtains and blinds can block out too much light and cause your living room to appear dark and gloomy.
As a result, you should choose your window furnishing carefully. Make sure to avoid blackout blinds and heavy curtains – both will make the room much darker, ruining the aesthetic of your new living room.
However, too-light window furnishings may allow too much direct sunlight into the room. If you live in a hot area, this can cause heating and cooling issues in the summer. So, it's essential to keep the weather in mind when choosing your curtains and blinds. You may even find it beneficial to have two options – one for the summer and one for the winter, which you can switch as the seasons change.
You should also consider the pattern, color, and style of your curtains and blinds before purchasing to make sure they suit the aesthetic of the rest of the space.
Once you've figured out what you need from your curtains and blinds, it's time to move on to one of the most critical steps in designing a living room with bay windows – furniture placement.
3. Decide on Your Furniture Arrangements
Deciding on your furniture arrangements isn't only the most challenging step when designing a living room with bay windows, it's also one of the most essential. The bay window is what makes this step particularly difficult as it leaves you with an irregular-shaped space. However, the irregular area can be a big bonus if you know how to take advantage of it.
One way that you can use your bay window is by placing furniture within the bay. This lets you utilize space while bringing more life into your living room. Depending on your needs and style preferences, you have a few choices for what furniture you can place in the bay.
You can place two small armchairs with a small coffee table in between them. This will provide you with an excellent space for entertaining guests and visitors. Placing two chairs in the living bay is also a great way of building an inclusive atmosphere as people will almost be sitting in a circle.
Another seating choice for your window bay is a small sofa. This can provide you with a cozy atmosphere that can help to produce a relaxing and warm environment. However, some bay windows are too small to fit a sofa, so this must be considered during your design process.
Another essential component you must consider during your plan is where your focal point is going to be. A focal point is a place that naturally draws people's attention when they are in the room. If your room has a television, the TV will usually be the natural focal point.
To ensure you have a relaxing living room, you should place your furniture in a position that either faces or is adjacent to the focal point. This will ensure that you can see the focal point no matter where you choose to sit in the room.
4. Consider Your Style Options
When designing a new room, you have a near-endless well of possibilities to choose from. That said, it's always essential to keep your personal aesthetic, the space's aesthetic, and your budget in mind when deciding on a style so that you're not disappointed once you've brought the design to life.
Here are a few design ideas to think about if you want to get the most out of your living room with bay windows:
Bespoke – A bespoke style essentially means creating something that meets your requirements, even if it doesn't strictly fit into an established design style. For example, if you enjoy art deco and Victorian features, you can consider combining the two in a way that makes your space stand out.
Bespoke designs give you all freedom in the world, and you're not constrained by design traditions. One of the most popular bespoke touches you can add to your design is installing wooden shutters on the inside of your bay windows. Not only does this allow you to control how much light enters the room, you can also have your shutters carved and designed as you like to add a more personalized touch to your living room.
Contemporary Style – A modern contemporary design is a popular way to style living rooms with bay windows. To do this, you should look for straight edges with bright colors. Another way that you can have a contemporary design is by using frosted film on the windows instead of blinds. This will provide you with privacy as well as a stylish modern finish.
Classic – Bay windows were a popular architectural feature during the Victorian Era. As a result, you have a massive amount of options if you love something more classically styled. Ceiling to floor curtains, accompanied by a heavy blind, is a great way to give your living room an elegant, classical finish. You can also include old-fashioned finishes and a hardwood floor.
There are many more design options available. One great way to source inspiration is by checking out Google Images and sites like Pinterest for living rooms with bay windows.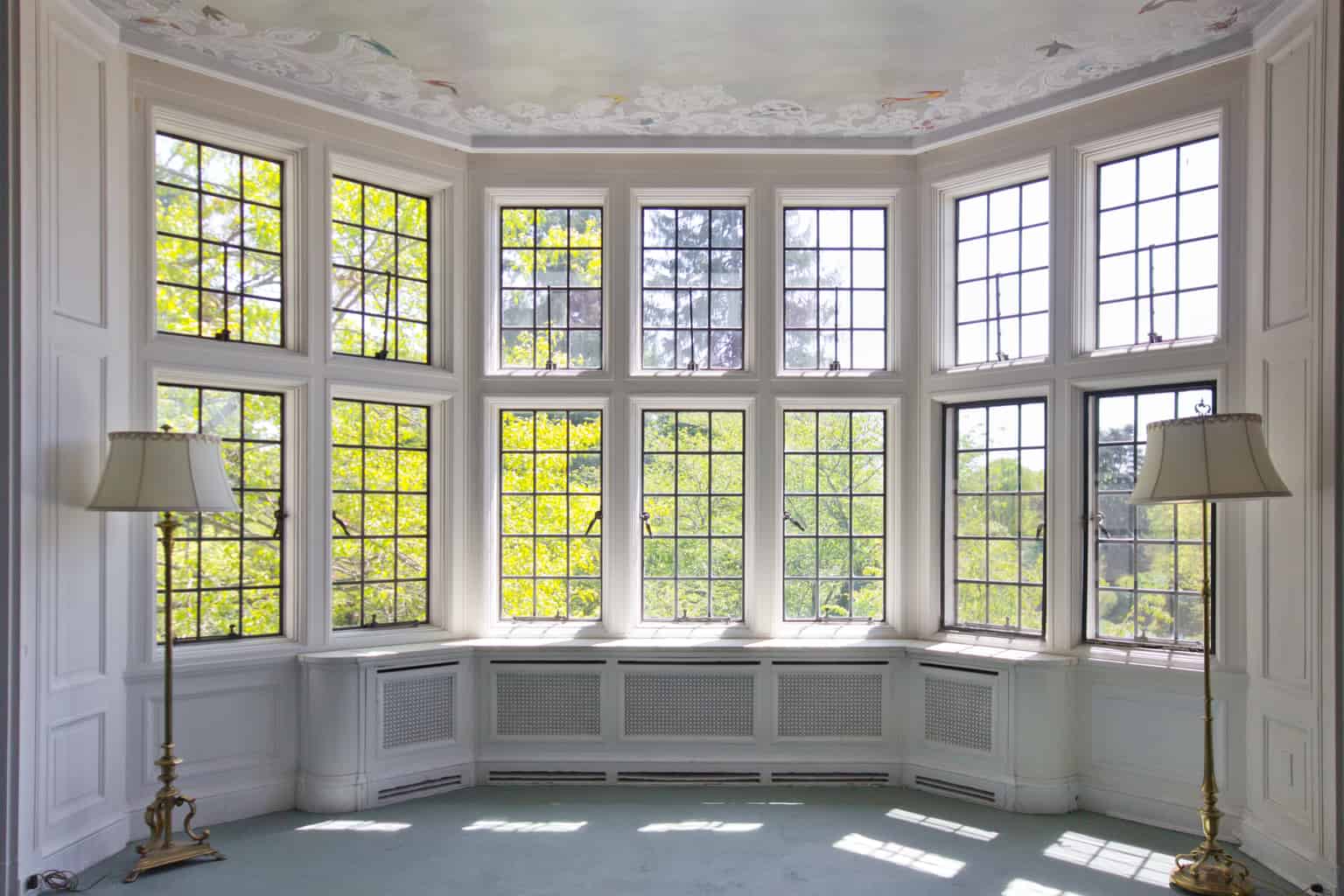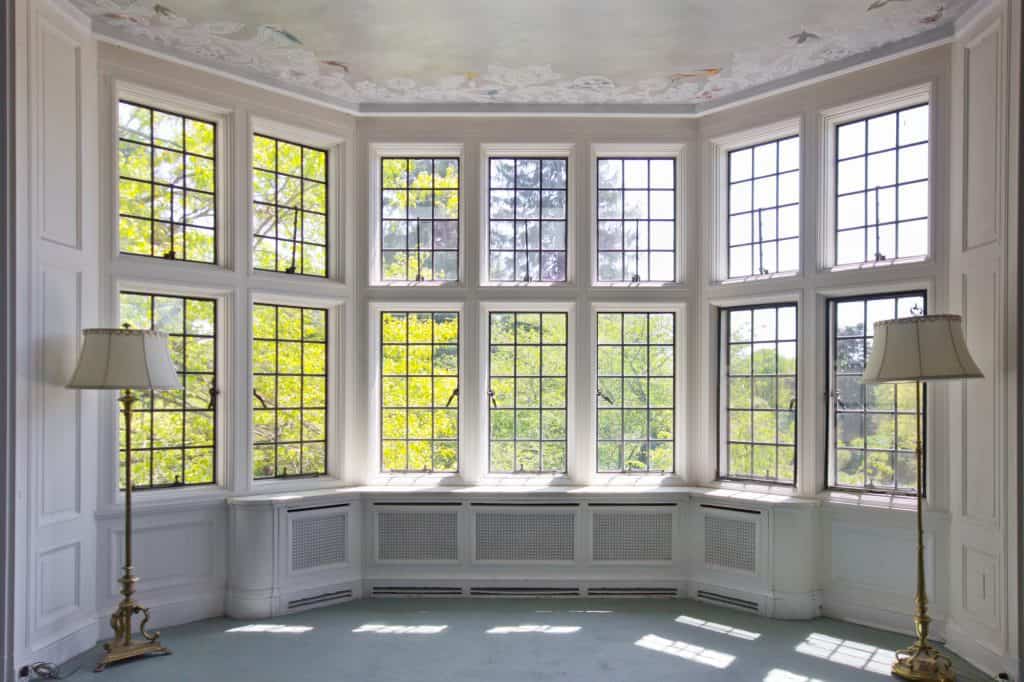 5. Make Use of Extra Space
One of the most important things to keep in mind while designing your living room is to remember that window bays supply you with extra space in your living room. You can use this extra space for a wide array of purposes.
Some people decide to use the extra space as, well, extra space. Leaving the area below the bay window empty can provide you with a spacious feel to your living room. This can help to enhance the atmosphere in the room while providing you with a relaxing space.
Another excellent use for this bonus area is storage. You can place a chest of drawers or even a cabinet in the space under the window. This will clear up space elsewhere in your home or provide you with a place to clear up some clutter. You could also place a display cabinet to show off your prized possessions either.
Placing furniture is probably the most common way of making use of this extra space. By adding seating and a coffee table or two to the bay, you can create a space that's like a room within a room. Not only does it act as a great space to speak to guests one-on-one, it can also act as a cozy nook when you're alone in your living room.
6. Complete the Finishing Touches
The finishing touches have a heavy influence on the outcome of pretty much any design. A well-designed room with stylish features can still look sloppy and incomplete without the right finishing touches. Therefore you must take the time to tend to the little things To cap off your design.
Lighting is a vital aspect to consider. If your living room is not going to get a lot of natural light, you should invest in some extra lights or even some lamps for a more relaxing atmosphere. Getting the lighting right is an essential part of designing any room.
You should also take the time to consider which wall finishes best suit your needs and style. Some people like to use wallpaper to provide a specific design, while others decide to finish walls. The color of paint or wallpaper you choose will also make a significant difference in the result, so choose wisely.
Decoration for your walls and surfaces may also be a priority of yours. If this is the case, figure out what pictures, artwork, or other items you wish displayed within the room. Once you have what you want for the walls, figure out what goes where.
It's important to make a note of where your focal point will be in the room. The focal point will naturally draw attention, so you should place any paintings or pictures that you want people to see close to it.
Flooring is another essential finishing touch that you have to decide on. The type of flooring you choose can influence the room's aesthetic and even your utility bills in the future. There are a ton of flooring materials you can choose from, including hardwood, laminate, tile, and concrete flooring.
Final Thoughts
Designing a living room is a difficult task without a clear and well-thought-out plan. First, you will need to decide what atmosphere and style you want for your living room and what furniture and features you will include. Once you've done so, you'll need to decide on your furniture arrangements to ensure you use the space effectively.
Lighting is another essential aspect to consider. Bay windows provide a lot of natural light, which can have massive benefits for a room's aesthetic and atmosphere. As a result, make sure you choose the blinds and curtains for your bay windows wisely.
Sources