Giovanni Valle is a licensed architect and LEED-accredited professional and is certified by the National Council of Architectural Registration Boards (NCARB). He is the author and managing editor of various digital publications, including BuilderSpace, Your Own Architect, and Interiors Place.
We all have those awkward corners in our kitchens that we would like to optimize. Whether it's the room on top of your corner cabinets, the tiny space between the fridge and the wall, the vacant floor area, or that blank corner wall. The good news is that you can add an exciting aspect to make these spaces effective and more inviting.
To decorate dead corner space, consider installing corner drawers and floating shelves, creating a breakfast area, gallery wall, or stacking collectibles. You could also paint a mural yourself if you're looking for something unique to make your kitchen pop.
With a little bit of skillful workmanship and a couple of smart purchases, you can easily accentuate the empty kitchen spaces. Keep reading to turn that dead corner space into an important centerpiece of your home!
1. Introduce Artwork With a DIY Gallery Wall
If you have an eye for artwork, the corner wall can be a great place to display your art pieces. Hang your favorite assortment of prints and photos to bring flair to the kitchen. Try blending framed pieces of different shapes and sizes to break up the wall. You can also make it fun by mixing media. Incorporate various items and decor pieces among prints.
Alternatively, you can hang one large piece of art and let it do the talking if you are a minimalist.
2. Make It Dramatic With a Mural
You don't always have to decorate a kitchen corner using furniture or any sort of art decor piece. Why not paint a mural? A can of paint and a creative imagination is all you need.
One of the best parts about painting a mural on your wall is that it can be extremely cost-effective. If you're already a painter, you may not even need to go out and buy any extra materials! Otherwise, you may be able to get one of your more artsy friends to come over and paint a mural for you in exchange for some money and good company.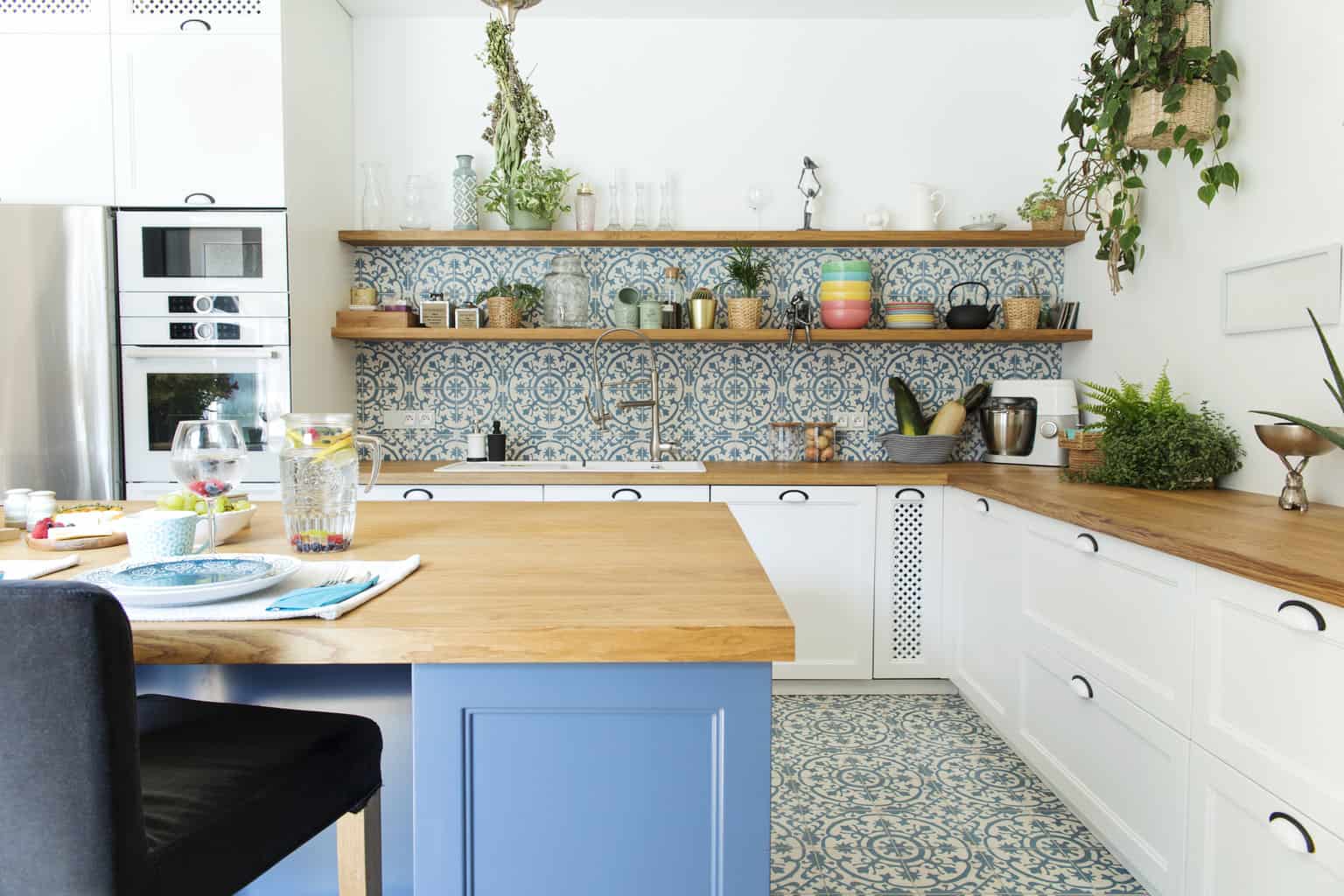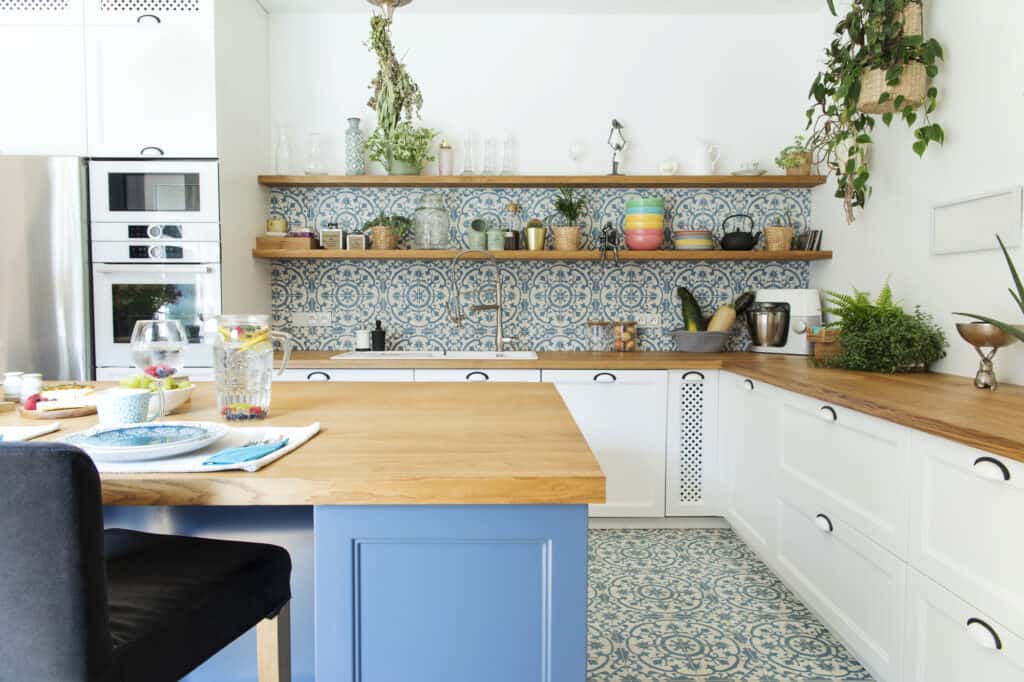 3. Floating Shelves
Corner spaces look stunning with nestling floating shelves. Not only do these open shelves beautify the area, but they also provide you with extra storage. Consider displaying your spice collection, mugs, cookbooks, or collectibles on the hanging shelves. Let your cherished kitchen items double up as art.
Consider getting more crazily artistic DIY shelving Ideas here.
4. Build a Hobby Counter
If you have a large empty corner wall, consider installing a hobby counter rather than leaving it blank. If you are fascinated with activities such as baking or mixology, why not create a counter where, in your free time, you can indulge in your interest?
For example, if you enjoy meditation and breathwork, why not create a meditation corner with a bean bag or a mat? Or, if you're a painter, why not create a little artist's nook where you can work on your next masterpiece? No matter your hobby, you're sure to benefit from having a corner dedicated to your work!
5. Organization Corner
In most abodes, the fridge serves as the command center. It's where important notes are stuck, daily to-do lists, calendars, etc. Ease your fridge off this function by transforming a corner wall into a scheduling hub.
There are myriad ways to decorate your command center. You can install a whiteboard or a black chalkboard and include furniture at the base to create a landing place for bowls and bins.
Alternatively, you can hang clipboards, racks, and cubbies to hold items. Need inspiration? Take a look at these fantastic command center ideas from Pinterest.
6. Decorate With a Rolling Cart
You can use a rolling cart as an artistic piece to cover the emptiness of your kitchen corner. They come in different designs to match the aesthetics of any given space.
Rolling carts usually have tiers for storage. You can stuff items such as recipe books, jars, flowers, spices, kitchen appliances, and even drinks.
One good thing about carts is that they are portable. You can easily move and repurpose them in case you choose to change things up in the future.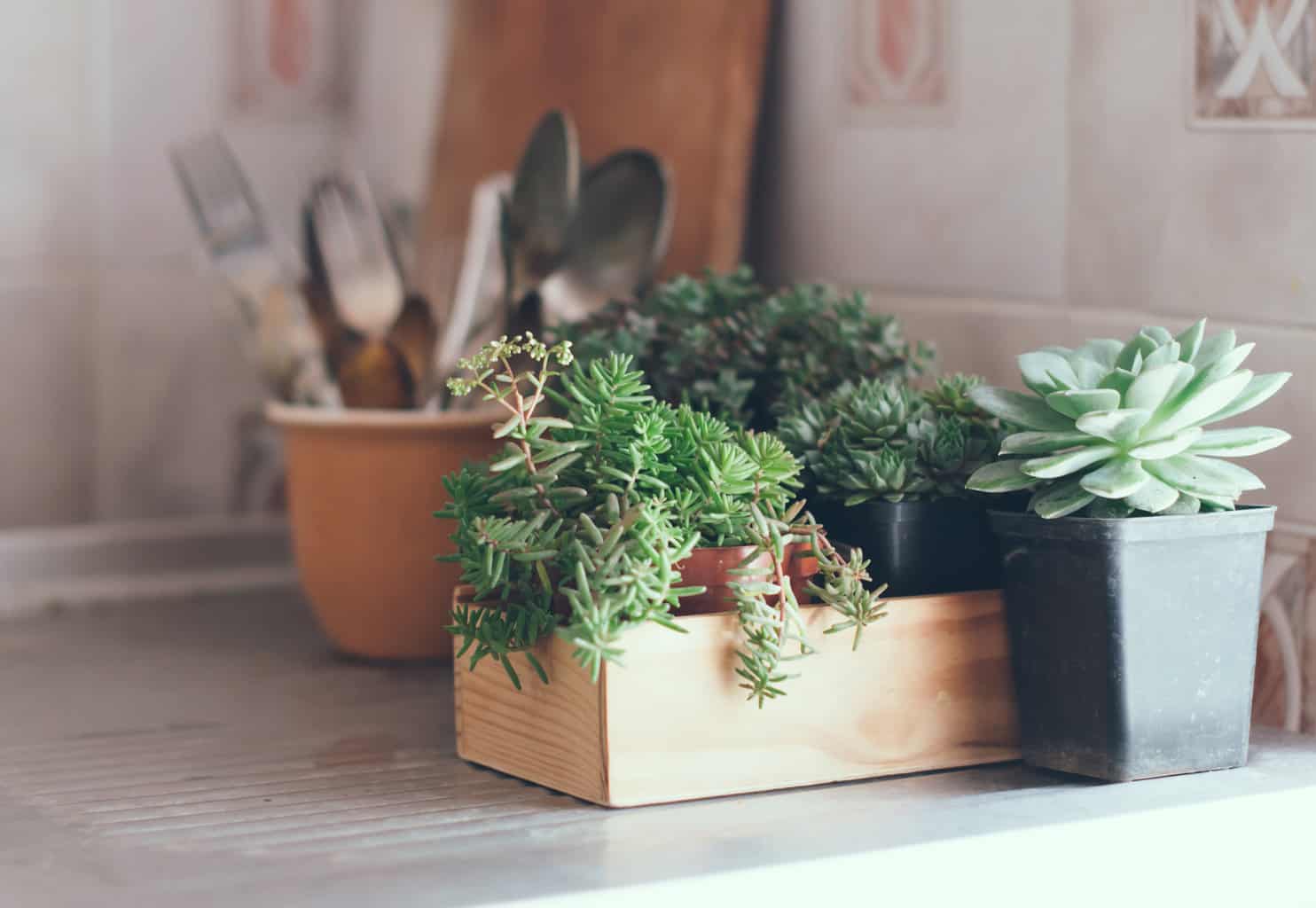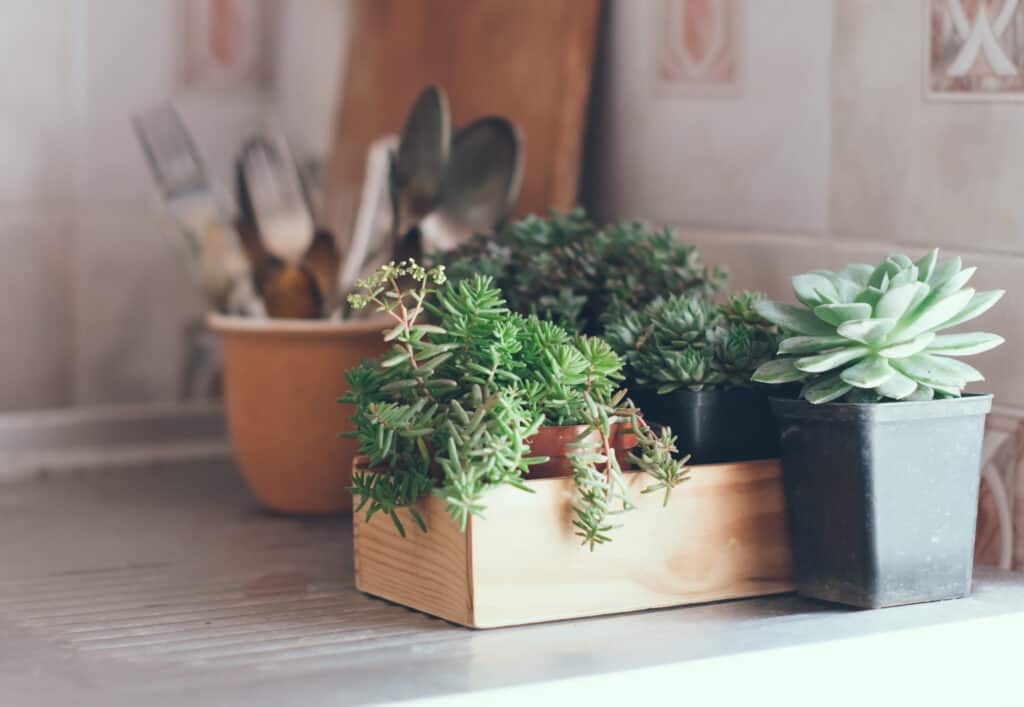 7. Introduce Some Greenery
There's no doubt that plants help to brighten the atmosphere. House plants add a pop of color to a room, especially when you use stylish vases. They are also an excellent way to cover vacant kitchen corners.
Consider sprucing up the area with a large flower vase or a small greenery arrangement. Use a small corner table for your vase to maximize your arrangement's appeal.
What's even better is that you may not need any kind of expertise as there are indoor plants that require little care to survive. And if you worry about whether they'll receive enough sunlight at the corner, some plants thrive in low-light environments. Moreover, if you aren't sure about having live plants, you can opt for fake plants.
8. Rehome your Garbage Pail
Sometimes, you may lack enough cabinet space to put your trash can. More so, nowadays, garbage pails do not have to be tucked away in hidden areas as they are no longer an eyesore like they used to be. Get yourself an aesthetically-pleasing garbage can, stash it in the dead space and call it a day!
9. Squeeze in a Breakfast Table
If you have plenty of room in your kitchen corner, transforming it into a sitting area for breakfast or casual dining may be the best option.
You can design a breakfast nook according to your needs. Perhaps you need a built-in banquette with a tulip table and matching bistro chairs or a more informal style that would be easy to clean if young kids are in the picture. There are a plethora of furniture designs to pick from when creating your ideal breakfast nook.
10. Convert the Corner Into a Cafe
This is for tea or coffee lovers! That empty countertop corner might just be the perfect spot to set up a station of your favorite beverage. Consider creating some shelving units above to store your accessories.
Also, don't be boring. Splash in a few artistic items to make the bar look charming. Perhaps add a menu chalkboard, colorful mugs, antique containers, and dried flowers in pots to evoke that coffee-shop feeling. Make it a place you'd want to wake up to every morning.
11. Add a Dose of Nature
Bring in that tranquil power of nature by placing plants and flowers on your countertop. More so, consider potted herbs like basil and thyme for functionality. They are not only used for cooking but also for calming the atmosphere with their heady fragrances.
Pretty flower bouquets also add color, brightening the room. So go ahead, cut the blooms from your garden, put them in beautiful vases, and decorate your kitchen with natural beauty.
If you don't have a garden, treat your space to some store-bought flowers. Alternatively, go for dry branches. They last longer and need no maintenance whatsoever.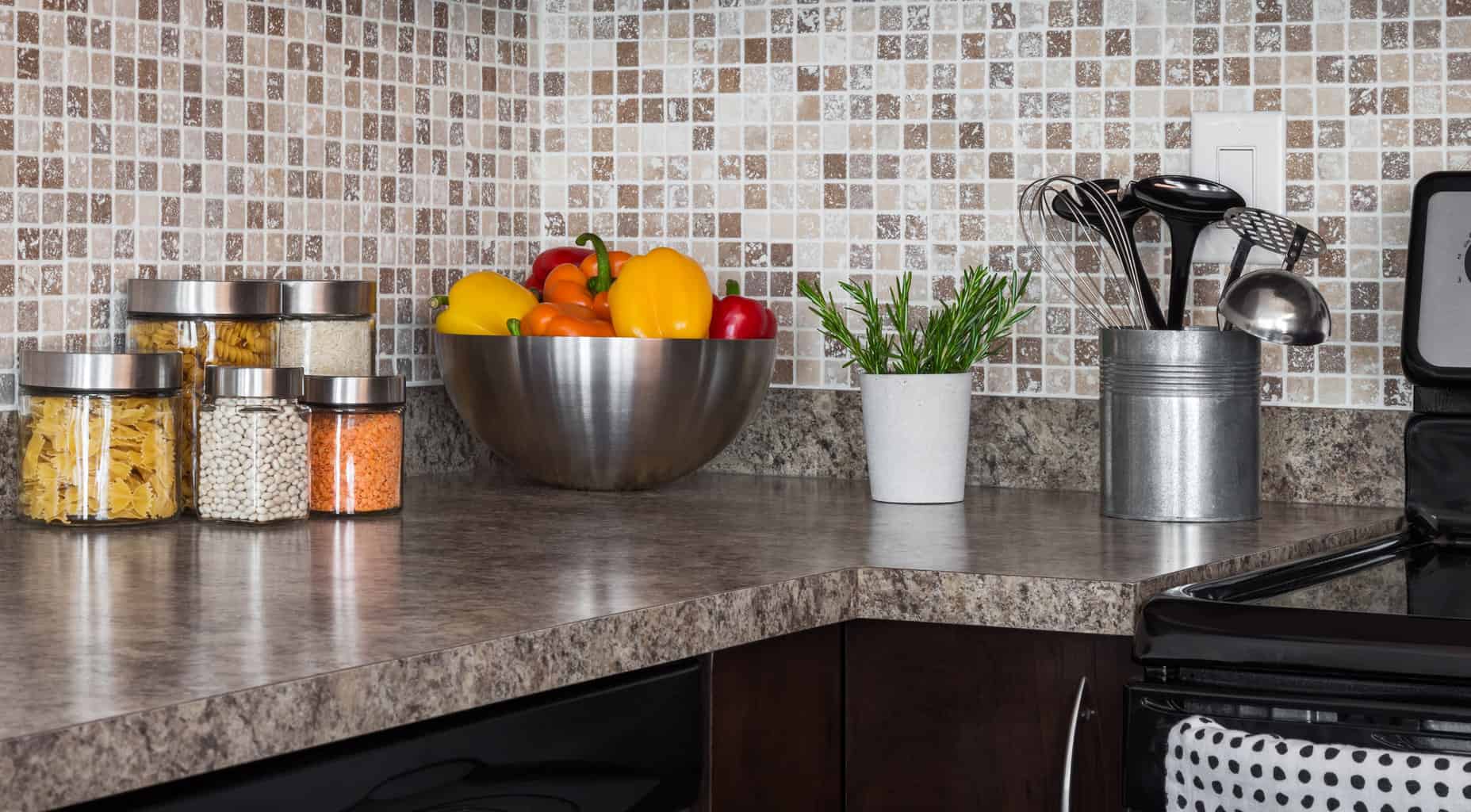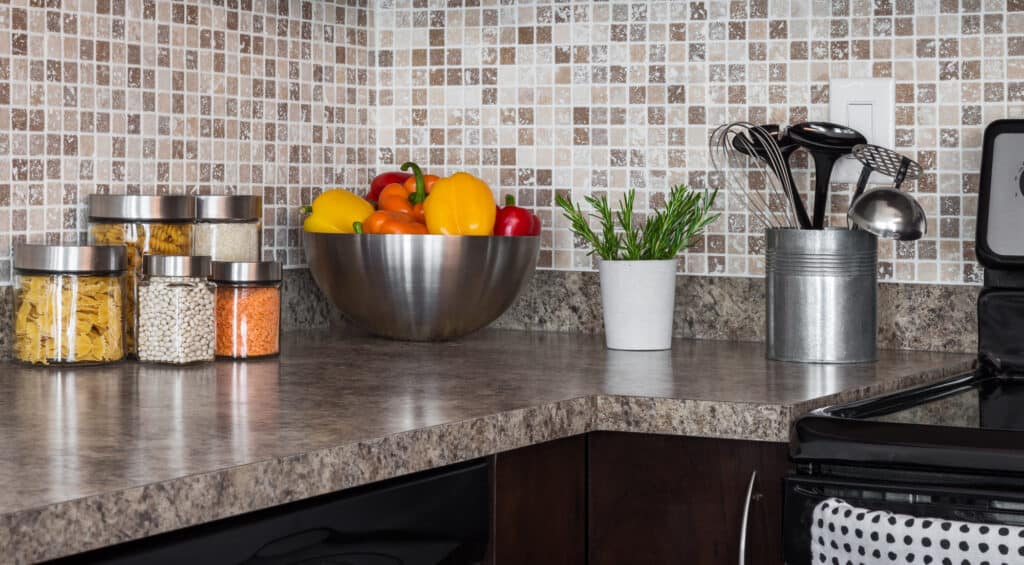 12. Create a Space for your Fruit
You can use a bowl or basket of fruits as a statement piece. They are not only healthy but provide a pretty pop of color, making the countertop eye-pleasing. Consider using creatively-designed bowls and baskets to offer the perfect display.
Pick a functional design that also matches your kitchen aesthetics. You can find fruit bowls in different sizes and materials:
Glass
Ceramic
Iron
Stainless steel
Wood
It's worth noting that some fruit bowl materials like wire mesh can preserve your fruits for a lengthy period while others like plastic cannot. On the other hand, bowls made of glass or porcelain tend to break easily; hence, they are unsuitable if you have kids or playful pets. Instead, go for metal, wood, or bamboo bowls, which are the most sturdy.
13. Display your Kitchen Staples
Another brilliant way to dress your countertop is by displaying your everyday culinary items, such as:
Recipe books
Cutting boards
Chinaware
Jars
Wooden spoons
Platters
The secret is arranging them to look pretty in plain sight. For instance, you can layer your cutting boards and platters against the wall to make the spot look cozy. Additionally, arrange all your cooking spoons in a beautiful jar and use decorative trays to place all your favored kitchen accessories so they can be within arm's reach.
This way, the countertop will be simplified, and it will look elegant and practical.
14. House a Kitchen Appliance
There are kitchen appliances that you don't use frequently and which should be stashed away in the pantry. However, appliances you regularly use, such as the electric kettle, microwave, and toaster, should get first priority on your countertop for easy reach.
Instead of having dead space on your kitchen counter, consider filling it up with these appliances. In fact, before adorning these corner spots with any decorative items like flowers, candles, and recipe books, begin by stationing these essential appliances.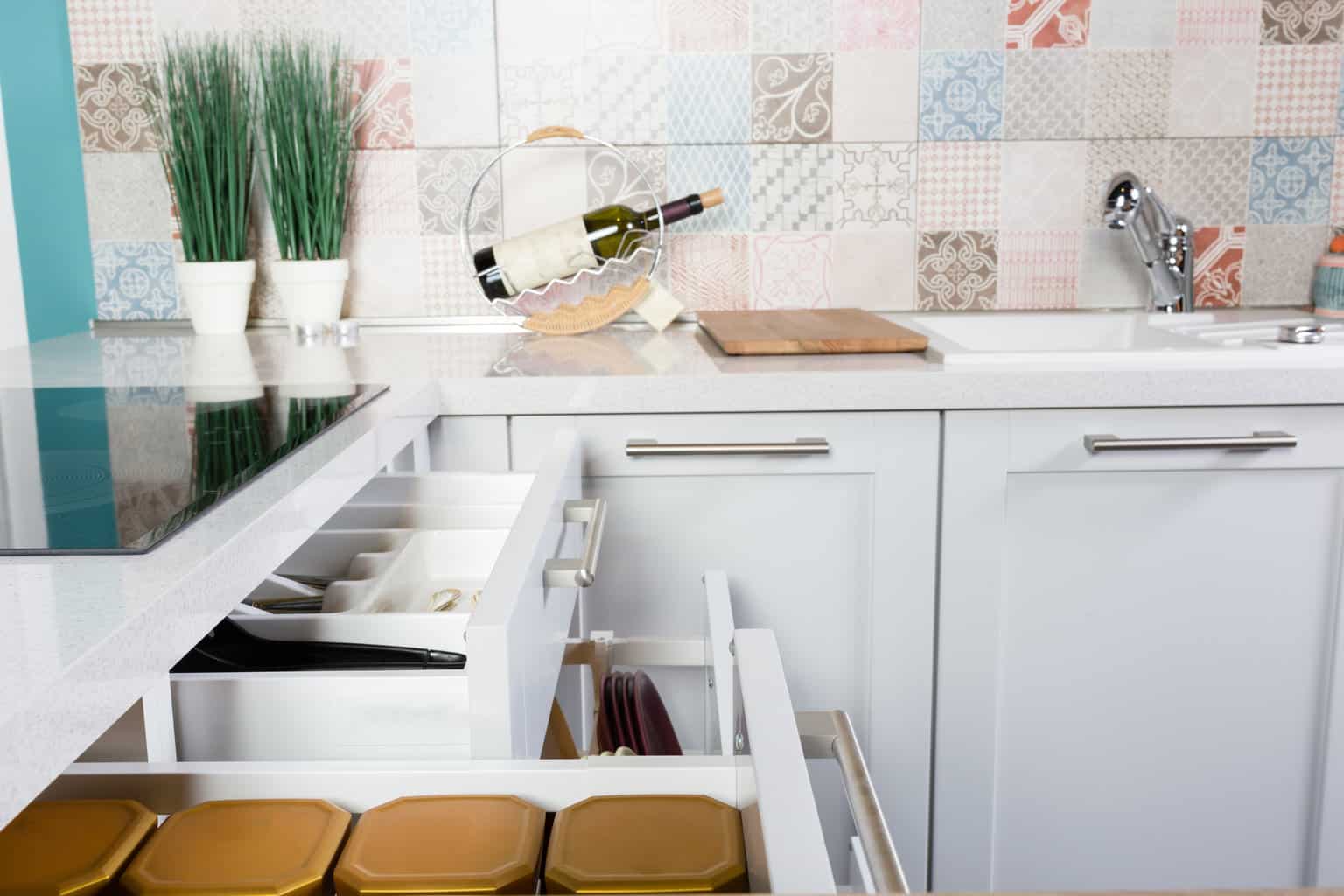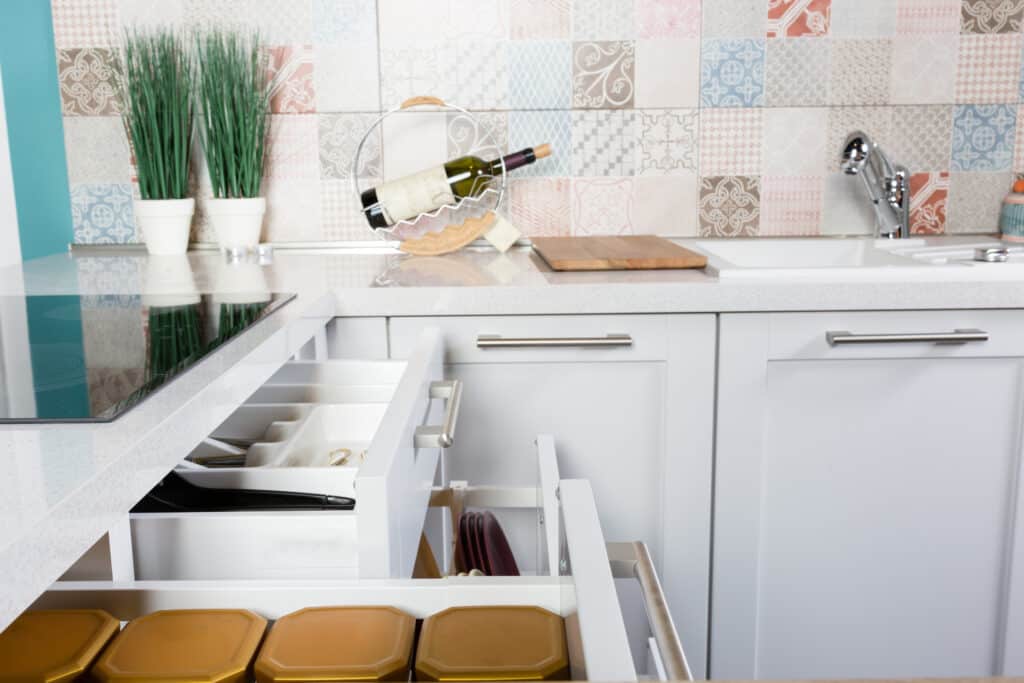 15. Accessorize the Area Behind your Kitchen Corner Sink
We often tend to ignore the spot behind our kitchen corner sinks when they can come in handy. Usually, it's the perfect spot to keep cleaning supplies such as detergents, brushes, and sponges. You can, however, spruce this space up by adding decorative items like:
A bunch of flowers
Artsy mugs on fancy stands
Framed prints
Jars filled with colorful stones
Potted plants, etc.
Alternatively, you can install floating shelves or a tiny cabinet above the spot if you require more storage.
16. Adorn the Space Between the Fridge and Wall With a DIY Wine Rack
Perhaps you have a narrow corner space between your fridge and the wall that you have no idea how to decorate. Instead of hiding your wine collection in a cabinet or cluttering your countertop, consider building a wine rack on the spot.
Alternatively, you can create a thin rolling cart or a sliding cabinet that you can easily remove and put back. Here, you can store your spices or other home supplies.
17. Enhance the Top of Your Cabinets with Baskets
If there is an awkward space between your upper cabinets and the ceiling, eliminate it by putting artsy baskets. You can even use the baskets to hide away things that you rarely use to have a clutter-free kitchen.
Other decorative options include:
Serving platters
Potted plants
Mason jars, etc.
In Closing
A kitchen is the heart of every home. It's where family and friends frequently assemble for hearty meals and conversations, so it should be full of character and charm. It's no secret that kitchens are functional areas, and their decorative ideas should be essentially practical.
Remember that the decoration you choose should match your kitchen's atmosphere, considering the existing furniture and cabinetry. Consider using a blend of kitchen items and artistic pieces to make the awkward corners aesthetically appealing.
Sources