There are few things in life as delightful as basking in the sunshine while enjoying the outdoor living space of one's home. With modern space-saving outdoor furniture, you will have everything you need to create the perfect backyard oasis, regardless of its size or shape.
Modern outdoor furniture for small spaces is often referred to as multifunctional or space-saving furniture. Space-saving furniture (whether it be indoor or outdoor) is, by definition, any furnishing that is versatile, compact and allows you to make the most of a small living area.
Modern, transformable furniture is on the rise today, with many people choosing to live in smaller, more cost-effective homes. Often times these smaller home come with smaller backyards. Let's explore in more detail the concept of using stylish, space-saving future for outdoor living.

Small Patio Furniture Ideas
Even if you have a small patio or deck, you can still have a beautiful, functional outdoor living area. With space-saving furniture (and a little imagination) it is possible to create a welcoming, relaxing backyard retreat. Here are some examples of small patio/deck furniture ideas:
Choose sofas with slim profiles. Because sofas are usually the largest piece of outdoor furniture, they can be difficult to place on a small patio or deck. Choosing ones with a smaller, slimmer design will help save space. Placing sofas against a wall or a sectional in a corner will free-up room in the center, making the patio appear bigger!
Create a dining space with a bistro set. For entertaining outdoors, a dining area is a must. Instead of traditional dining furniture, which can be cumbersome, try a more compact version like a bistro set. This includes a table and two chairs, smaller and slimmer in design, which is perfect for patios with size restrictions.
Incorporate individual patio chairs. These pieces are the most versatile when it comes to outdoor patio furniture. They are portable, foldable and come in a variety of shapes and sizes. And because there are so many modern versions available on the market today, you need not compromise style for functionality.
Use foldable tables instead of coffee tables. Foldable tables are the perfect companions for individual patio chairs. They save space by folding down when not in use (unlike a traditional coffee table) and can be easily moved around to accommodate any outdoor living area.
Simplify with storage seating. Benches that double as a storage unit are a great example of multifunctional space-saving patio furniture. Add some cushions and decorative throw pillows and you have a stylish seating area that will also keep your patio neat and tidy.

Small Balcony Furniture Ideas
A tiny balcony is often the accompaniment of a small apartment or condominium. However, it is possible to create a lovely outdoor oasis, a place to enjoy the morning sunshine with a cup of coffee, with smaller amenities. Below is a list of small balcony furniture ideas:
Add a murphy table. Attaching a fold-down table to a balcony wall or railing is a great space-saving idea. It can be used to hold drinks, food and other dining amenities. Perfect for entertaining, it can be lifted up and stored away when not in use.
Use nesting tables. These furnishings are both modern and versatile. They stack together when not in use to help make a small balcony appear larger. Great for entertaining, they work well with outdoor folding chairs.
Hang a hammock. A comfy, space-saving piece, this is a great idea for a small balcony. A hammock is light, trendy and affordable. Provided your building does not have a problem with you drilling holes into the outside walls, a hammock is a perfect choice!
Use a sectional for seating. A sectional is a great idea for a small balcony. It fits neatly into the corner, freeing up space in the middle of your balcony making the area appear larger. Choose one with a slimmer profile and add decorative throw pillow for that modern, stylish twist!
Try a mattress instead of chairs. Place a small mattress on the floor of the balcony. This can double as both a comfortable seating area and a cozy reading nook. Add pillows for style and comfort – a contemporary twist on a classic furniture piece.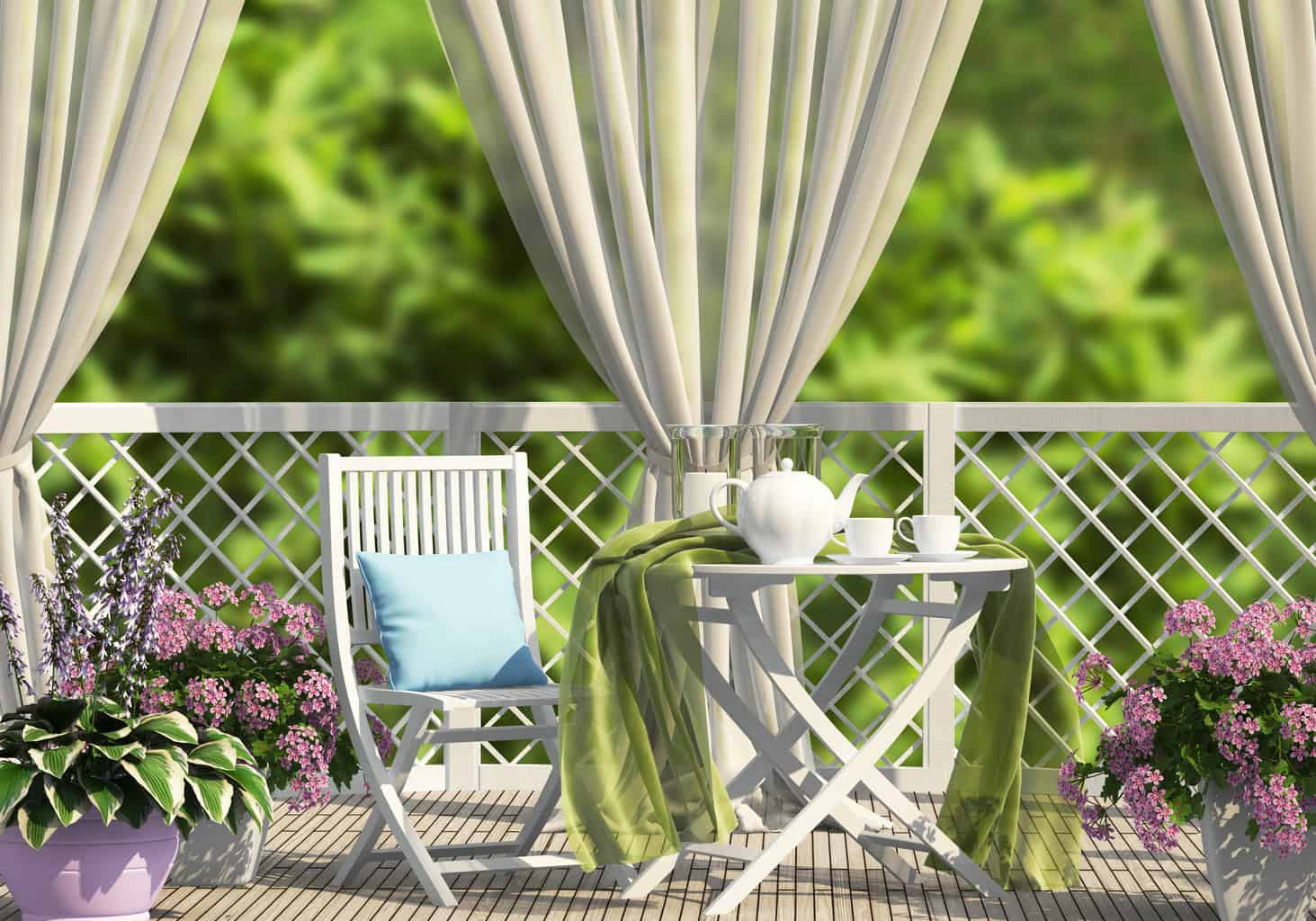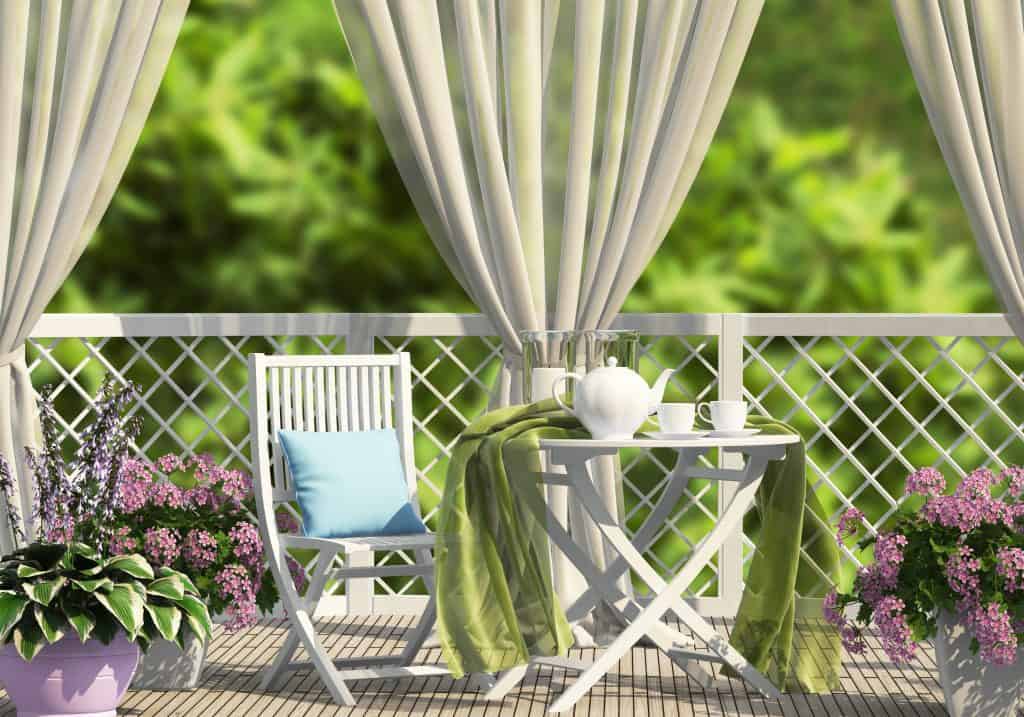 Small Back Porch Ideas
A back porch (albeit small) can be a great place to sit, relax and enjoy the beauty of nature. Here are some ideas for getting the most out of your limited back porch area.
Invest in a pergola. This is a great way to add some modern appeal to a small porch and brings a touch of Mediterranean glamour to an otherwise simple area. It can also provide partial shade with aesthetic appeal.
Add sconce lighting. Post-mounted lighting will add warmth to a small porch area. A simple and inexpensive solution to a porch lacking natural light. Soft lightning also provides the perfect ambiance for star-watching on a clear night.
Put up some screening. This is a great small porch idea as it creates a spacious feel by becoming an extension of the indoor living space. It also helps shield your patio from the elements such as sun, rain, and wind. A great place to enjoy coffee or after-dinner drink with guests.
Create a comfort zone. Add a streamlined couch with comfy cushions and some throw pillow to create a warm, welcoming space. A few nesting tables placed in front and beside the couch will act as a coffee and end tables. The perfect place to relax and unwind with a good book and a cup of tea on the weekend.
Add greenery. An essential part of any outdoor living space, adding a touch of greenery will bring color, texture and 'life' to your patio. Consider investing in a modern planter bench that provides both a place to sit as well as a home for your potted plants.

Front Porch Ideas for Small Houses
Because most front porch areas are petite in size, space-saving furniture with minimal decorations is recommended. A bistro set is a great idea. It is compact and easy to store in the chilly months. It is also made from special powder-coated steel designed to resist rusting. Place a few potted plants around the perimeter and you have a cozy, welcoming front porch area to enjoy your morning coffee.

How Can You Decorate Your Patio?
It can be a challenge deciding how to decorate one's patio. No matter the size, it should feel both welcoming and relaxing. Below are ten examples of how to turn your patio into an attractive and comfortable outdoor oasis:
'Dress' your patio with outdoor rugs, throw pillows, plants (real or artificial) and string lights to create an extension of your warm indoor living space.
Hang curtains, for comfort and privacy. Use light, flowy (inexpensive) materials to soften patio space.
Provide extra seating (while saving space) with floor pillows. These add style and comfort to your outdoor living space
Include a resting space by adding a hammock, day bed or lounge chair. Add throw pillows for comfort and style.
Use multifunctional pieces, such as nesting tables, folding chairs, and storage benches to help save space.
Have a radio or Bluetooth speaker handy. Music provides ambiance and a soothing atmosphere for your outdoor living space.
Add pops of color. Keeping the furniture neutral while incorporating splashes of color will add a modern flair to your patio or deck.
Add a space-saving fire pit. The glow of a fire pit will add warmth and appeal to your patio. There are a variety of outdoor fire pits on the market today, choose the size and shape that best suits your style and budget.
Add a pop-up gazebo. If the space permits, a pop-up gazebo is an easy and affordable option to provide both shade and privacy.
Create a cozy dining area. A bistro table is a great amenity. It saves space while providing a place to sit, eat and drink.
Related Questions
Can multi-functional furniture be used both indoors and outdoors? Yes, most styles of multifunctional furniture can be used both inside and outside the home, especially pieces like nesting tables, folding chairs, and storage benches, depending on whether or not the material is weather-proofed.
What is the most durable outdoor furniture? The most durable types of outdoor furniture include ones made from wicker-weave, aluminum, steel, plastic and/or wood. These are all strong materials that can withstand outdoor elements such as sun, rain, and wind.

Conclusion
As you now know from reading this article, there are many ways to create a modern yet comfortable outdoor living area, regardless of the size or shape of your patio, deck, porch or balcony. Space-saving furniture is contemporary, versatile and affordable – a must for smaller areas that do not want to compromise style for functionality. Now sit back, relax (with that tropical drink in hand) and enjoy your outdoor oasis!