You want to make your home look more appealing, but are not quite sure where to start or what exactly needs upgrading. Sound familiar? The thought of remodeling or refurbishing your home can seem overwhelming, but as long as you plan ahead, you can achieve the look you're after.
When coming up with a strategy, start from the larger concept first. What is it you are trying to achieve? Do you need a complete makeover, do you need to enhance an existing space, or are you starting completely from scratch? Perhaps you want to make your house feel more open and airy. Maybe you want to make it cozier.
Begin by thinking about the colors you plan to use in each room. What aspects of the room need improvement? Does it need more light, is it too small, too large, is the ceiling low? Does the room lack warmth or is it too crowded?
Each of these issues can be resolved with good planning. But, before you can start, you need to understand what aspects of your home you need to focus on. You don't necessarily have to tackle every room at once, you can start with a few or just one room at a time.
1. Set a Color Scheme
Before you begin painting, furnishing, or decorating any space, it's important to have an idea of what color scheme you want to emphasize. Color schemes vary from neutral, monochromatic to high contrast, and everything in between.
Often, the best approach is to begin with a light, neutral color on the walls and use it as a blank canvas for the furniture and accessories that will be placed in the room. This allows for a higher number of color combinations, without getting too busy.
You don't necessarily have to use white for walls, although it can work very well. But try to stick with lighter hues rather than more saturated colors. This will give you more freedom to accessorize and select furniture with bolder colors.
2. Create the Illusion of Height
If the ceilings in your house are low, there is little you can do to change this, unless you rebuild. However, you can create the illusion of height through the type of furniture you use, wall patterns, the use of crown molding.
Crown molding not only serves to enhance the look of the room and covering gaps, but it also has the effect of making a space feel taller. It draws the eyes up to the ceiling, making it appear higher than it actually is.
Thin, vertical patterns also have the effect of making walls appear taller and the ceiling appear higher than it actually is. You can achieve this with various wall textures: stone, wood, striped wallpaper as long as the orientation is vertical.
3. Install Crown Molding
Crown molding can help add immediate elegance to your rooms. In addition, it makes rooms appear taller while at the same time hiding imperfections in construction.
When painted in a light color relative to the surrounding walls, it can also create the illusion that the walls are further back. This helps rooms appear larger than they actually are.
Wood crown molding comes in various shapes and sizes and can be painted, stained, or left natural. Consider crown molding as a way to add instant appeal to your rooms.
4. Consider a Coffered Ceiling
Coffered ceilings can add immediate visual interest and elegance to any room. The pronounced indentations and intricate detailing draw the eye immediately upward.
Once exclusive to grand public buildings and palaces, coffered ceilings are a great option for residential homes thanks to streamlined modifications in modern materials.
Coffered ceilings can be painted or detailed according to one's personal aesthetic preferences. They can be minimalist in terms of detailing or opulent and intricate depending on the desired effect.
5. Add Wall Texture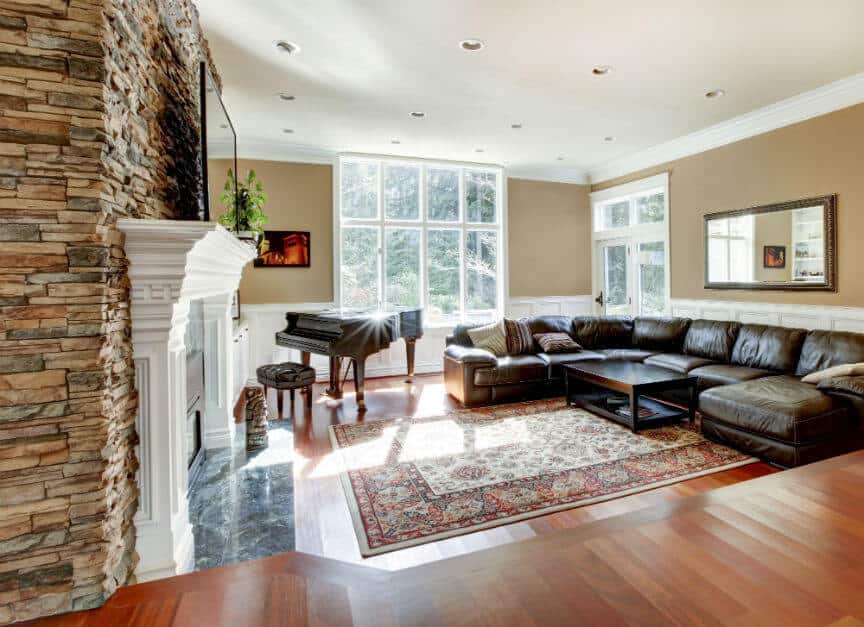 Texture on walls can add a great deal of visual interest to a room. Texture is not limited to wallpaper, but includes metals, brick, natural stone, concrete, stucco, wood, among other finish surfaces.
While it's possible to apply texture to all wall surfaces of a space, often the best approach is to feature a specific wall. This helps draw the eye to that specific wall. You'll want to make sure that particular location merits being a focal point.
You can also use the textured wall as a feature wall and add more interest to it by featuring art or sculptural pieces in front of it. If you opt for a feature wall approach, make sure the surrounding walls compliment it in terms of color.
6. Put Statement Pieces Front and Center
Statement pieces, whether they be furniture, artwork, sculpture, or natural elements should attract immediate attention when someone steps into a room. Make sure to place them so that they are seen immediately.
You need statement pieces in rooms, particularly in living spaces such as the living room, dining room, family room, etc. They provide a special element of interest and attract visitors to the room. They also make for great conversational pieces.
Look for items that are unique or that have special meaning to you. They can be colorful or very ornate, or they can be more luxurious in terms of material or composition. What's important is that they add special value to a room.
7. Invest in a Good Sofa
Of all furniture pieces, the sofa is the one you really want to take some time to find. It's a piece of furniture that you will have for many years, so try to find one that you will be happy with and make your space look terrific.
A good sofa should be comfortable, fit well within your living room, and reflect your personal tastes and style.  Consider the material, color, patterns if any, and how this will work with the color scheme of the space.
Scale is also important. You don't want to choose a sofa that is going to look to large or too small in the room. Think about the orientation of the sofa as well. Does it make more sense to place it in the center of the room or against a wall?
You also need to think about the shape of the sofa and what other furniture pieces you will use in combination. An L-shaped sofa or a sectional can work as a single focal piece, or you can choose to combine the sofa with a love seat or with chairs.
8. Add Some Throw Pillows
Throw pillows are a great way to enliven your furniture and add some color and texture. They also provide added comfort. If you have existing throw pillows that are dated or worn out, consider replacing them in order to breathe new life into your room.
Start by selecting a particular color and sticking with it on your pillows. You can combine the same shades or use complementary shades to make it work.
In addition to matching colors, think about patterns. You don't want to create a look that is too busy by combining too many patterns or materials. A good formula to use is, one solid, one simple print, and one busy print.
Layer the throw pillows. A single throw pillow on each side is not going to look as good as two or three. At the same time don't overdo it. The throw pillows should get smaller as you move towards the middle of the sofa.
9. Add Floor Coverings
Floor coverings include any finish surface placed over a floor structure. They can have a big impact on the look and feel of a room since they take up a large amount of area. They also come in a wide variety of materials.
Wood is a popular flooring material in homes, it makes rooms look elegant and is relatively easy to maintain. It can also be stained in various tones, making it very versatile. However, other choices exist and you should think about what works best for your home.
Bamboo has become popular recently because of its eco-friendly appeal. Laminate flooring, a low-cost alternative to hardwood flooring has also gained popularity since it can effectively be made to resemble wood flooring.
Other traditional floor coverings include carpeting, ceramic tiles, vinyl, and linoleum. Which of these you use will depend on the use of the space and the general aesthetic that you are trying to achieve.
Of course, another alternative is to use area rugs in specific areas of your home. Area rugs help bring color and added material texture to any space as well as soften up the room. They can also make a room feel cozier.
10. Invest in Tableware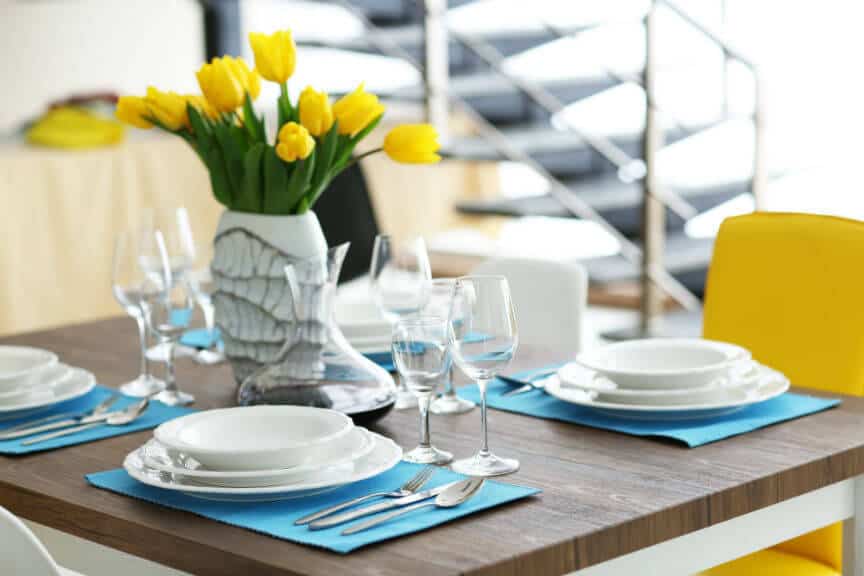 While it's probably not the first thing that comes to mind when thinking of ways to make your home more beautiful, a good set of tableware can make the dining room look more inviting and add some color.
Elegant tableware can add a nice finishing touch to your dining table. In addition to tableware, runners, vases, and candles among other accessories can add even more visual appeal to the dining room.
Try to work the tableware and surrounding accessory or accent pieces into the color scheme of the room. It doesn't necessarily have to match, though it's often a good approach, but it should at least complement the colors of the space.
11. Inspiring Art and Sculpture
Art and sculpture bring a room to life. They are focal pieces that reflect the tastes and personality of the homeowner. Take your time in selecting art pieces, they should really inspire and have special meaning to you.
Because of their meaning and because they are natural focal points, be sure to place them front and center. They should be the items that visitors see first and automatically catch their attention.
12. Make Use of Mirrors
Mirrors are a great way to add interest to a space and also make the room appear larger. You can find mirrors in a range of sizes, and types of frames from highly ornate to minimalist and frameless.
Place them strategically in the room. Think about what they reflect, is it a large chandelier, a work of art, or perhaps a statement furniture piece. Based on what you want to be reflected, place the mirror accordingly.
Also, mirrors don't have to be placed flat on a wall. You can set them in a recessed cove for a more architectural look. You can also add architectural features to the mirror to make it appear more integrated into the room layout.
13. Install Attractive Lighting
Lighting can add some significant value to a space. From the selection of fixtures to add visual interest, to the actual dynamics of light itself, lighting can highlight areas of the room and dictate the mood of the space.
There are three types of lighting that you should focus on. Ambient lighting, which provides light throughout the entirety of the space. Mood lighting, which can be used in specific locations to elicit a certain feel. And, lastly accent lighting.
Accent lighting is used to emphasize certain elements within the room. For example, if you have artwork or a sculptural piece that you want to feature, accent lighting helps draw attention to it.
14. Natural Elements
Natural elements such as plants or flowers are always a nice touch in any room. They work well in terms of contrasting with the more formal rigidity of the materials used for furniture or the architectural elements of the space.
They also help to add some color and organic relief to the straight line geometry of most rooms. Place them strategically in a space with this in mind, and use them to create some balance or to help feature a particular spot of the room.
15. Space Out Your Furniture
It's important to space out your furniture properly. If it is too close together, the room will feel crowded and small. If on the other hand it is spaced out too far, the room will feel empty and cold. Find a balance.
You also need to consider the spacing of your furniture from the walls. In some instances, it might make sense to pull your furniture pieces away from the wall to make the room appear larger.
Other times you may want to place furniture against the wall to open up the middle more. Experiment with what looks best. Try to visualize the space with furniture at specific locations and what the room feels like depending on the layout.
16. Remove Unneeded Furniture
Removing furniture pieces, accessories, or decorative items can sometimes do a great deal to make a space look more appealing. The less is more concept certainly has its place in interior design.
It's easy to lose track of all the pieces of furniture or decorative items that we collect over time. Take an honest look at the rooms in your house and ask yourself if they feel too crowded or cluttered.
If the answer is yes, then it might make sense to remove certain pieces. Focus on the pieces that you absolutely need or that add aesthetic value to the room, and do away with those that don't.