Affiliate Disclaimer: This page may contain affiliate links.  As an Amazon Associate, we earn from qualifying purchases. We may also earn commissions if you purchase products from other retailers after clicking on a link from our site.
Blind corner kitchen cabinets are great for increasing storage space, which is essential for people living in small homes or apartments or for people with lots of kitchen gadgets that are causing clutter and chaos. The amount of space in a blind corner cabinet is substantial and often big enough to hold even the bulkiest kitchen tools, such as a crock pot or an air fryer. However, these cabinets can be a challenge to organize.
You can organize blind corner kitchen cabinets by adding pull-out shelving and pot racks, using them for your trash and recycling, or converting them into corner drawers. Alternatively, you can leave the cabinet alone and use it for occasional-use items.
These are some of your best options for organizing a blind corner kitchen cabinet. By the end of this article, you'll have lots of ideas for how to use this space effectively.
1. Use the Space To Store Occasional-Use Items
One of the biggest challenges of having a corner kitchen cabinet is accessibility. The corner offers a lot of space, but part of it is blocked by the wall cabinet next to it, so that space can be difficult to reach.
Therefore, my first suggestion is to use this space for items you don't use very often but don't want to get rid of. It might be a pain to reach and grab these items from this difficult-to-access space, but if you only have to do it every now and then, you can probably live with the annoyance.
For example, if you have a large pot that you only use to make a specific kind of stew on holidays, the corner cabinet can be the ideal home for this pot. Or, if you have a waffle maker but only make waffles once or twice a month, the maker can stay in the corner cabinet instead of taking up precious space in a more accessible area.
The best items to keep in a corner kitchen cabinet are larger appliances or tools that won't get lost in the space. I also wouldn't recommend storing anything too valuable or breakable in this area.
Here are some other bulky items you might have that you can keep in your corner cabinet, depending on how frequently you use them:
Juicer
Crockpot
Pancake griddle
Ice cream maker
Dehydrator
Crepe maker
Egg cooker
Immersion blender
Pasta maker
Deep fryer
Blender
Spiralizer
Food processor
Bread machine
Mixer
You may not use the space most effectively this way, but at least you're still making use of the area, and you'll clear up space elsewhere by storing some of your bulkier items in the corner. You want the items in your most accessible drawers and cabinets to be the items you reach for every day, and I doubt you're using your ice cream maker daily.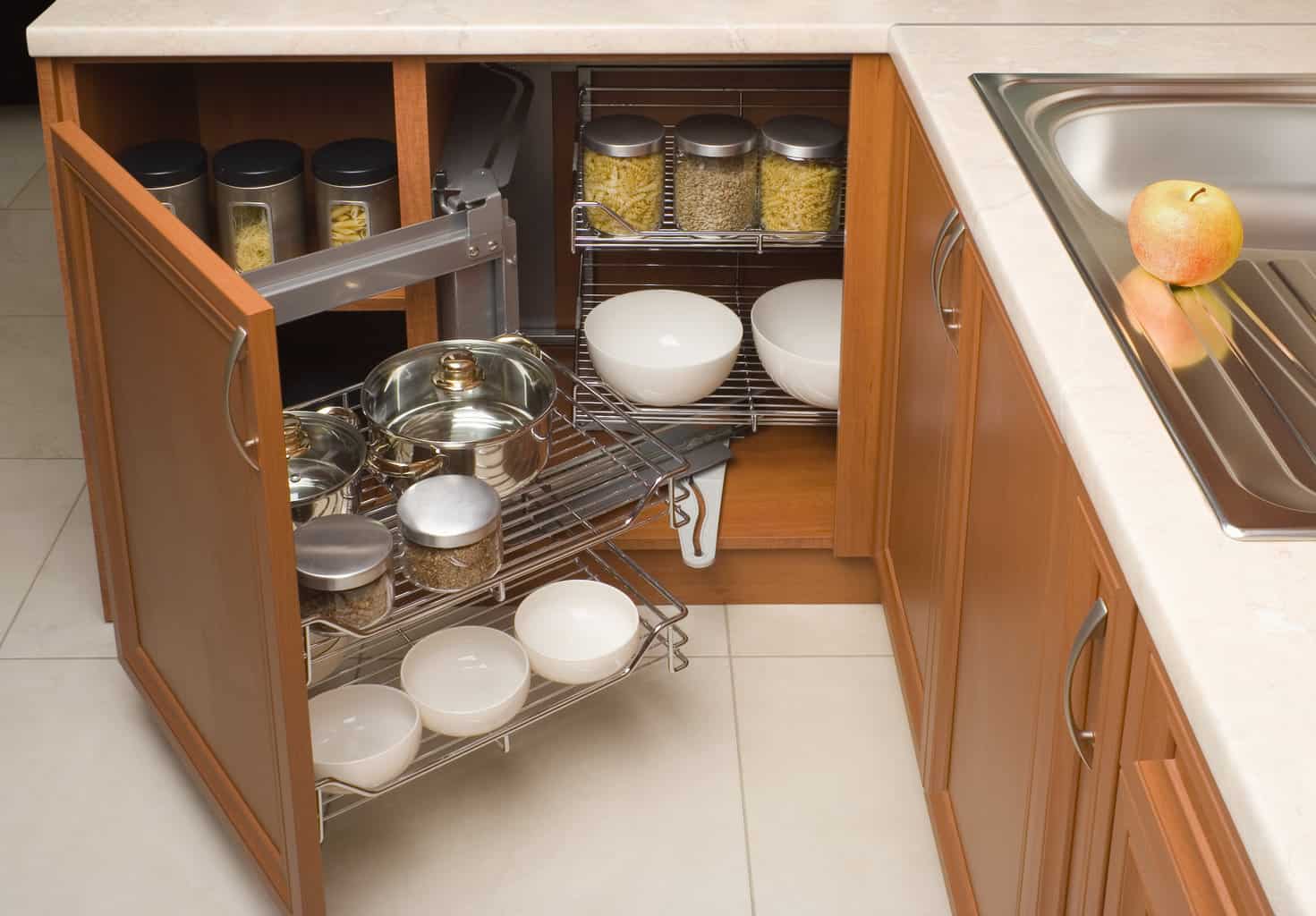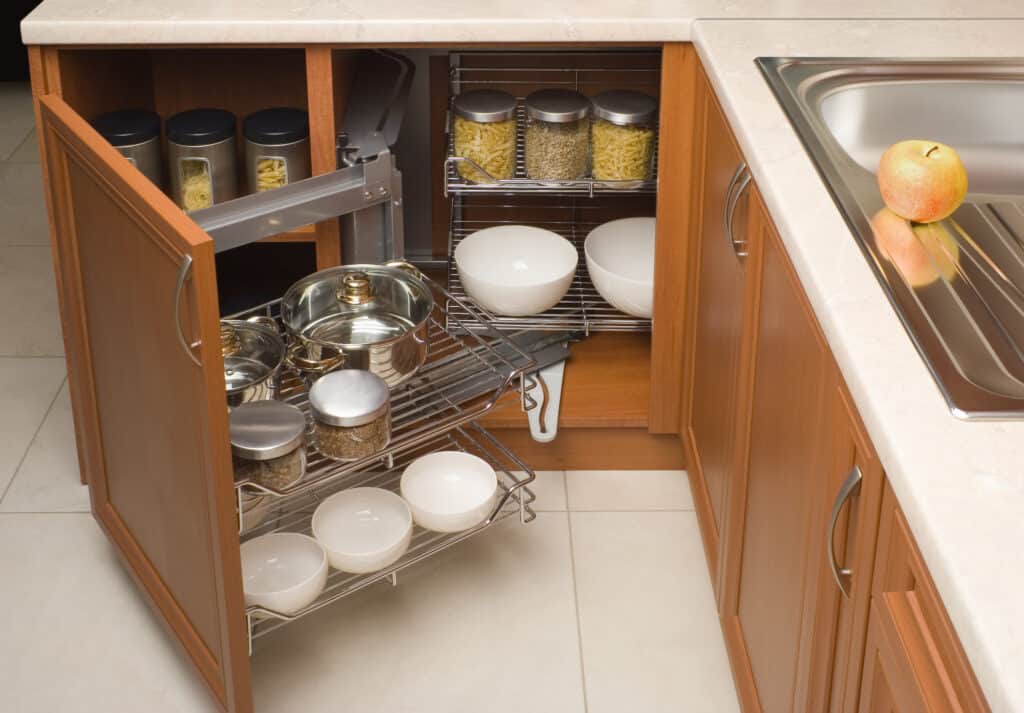 2. Use a Pull-Out Shelving System
Luckily, many manufacturers have taken note of the blind corner kitchen cabinet problem and offer various shelving systems that help utilize this space in an effective and accessible way.
These shelves come in various shapes, sizes, and materials. Before you make your purchase, consider the following:
How often will you use the shelves? If you're planning on using them daily, you should invest in a higher-quality material that can handle this frequent use.
What do you want the shelves to look like?
What are you planning on storing on the shelves? Some shelves have weight limits, so if you're planning on storing heavy items (such as a bag of flour or a weighty kitchen appliance), consider purchasing a stronger shelf.
How big is your cabinet?
What shape do you want the shelves to be?
Taking the time to consider the above can help you make a more educated and helpful purchase and avoid conflict down the line.
Here are some of my recommendations for the best pull-out shelving systems on Amazon:
The VEVOR Swing Left Blind Corner Cabinet Pull-Out has two large storage baskets that can each hold up to thirty-three pounds. Each tray swings independently, so you can have one shelf out while the other stays put. I also like that the shelves can rotate 270 degrees, which makes accessing whatever you need much easier. The shelves roll out noiselessly and smoothly.
The WYJF Blind Corner Cabinet Pull Out is great for taller items, such as bottles, large pots and pans, and storage jars, especially because the height of the baskets is easily adjustable. The organizer is made of durable and strong load-bearing stainless steel, and it uses a hydraulic dampening guide at the bottom to reduce noise. This organizer has two layers and four baskets, so it can store many items.
The HDHRBH Blind Corner Cabinet Pull Out is another great option because the organizer has four baskets that can each be removed individually for easy cleaning and access. Each basket also has cloth roller glides and silicone glides, which makes opening and closing this organizer silent and easy.
With these pull-out options, you can store whatever you like on the shelves and access everything easily.
If you're planning on using these shelves to store spices, I recommend getting an additional organizer so the spices don't get mixed up or lost. This Lifewit Plastic Adjustable Spice Rack Tray (available on Amazon) is ideal for drawer and shelf organization because it is adjustable, so you can make it fit on any shelf. I also like that it can accommodate up to twenty-four standard-size spice bottles, so you'll likely be able to keep all your spaces in one place.
Using organizers like the ones recommended above ensures that you're using as much of the blind corner cabinet space as possible and helps prevent the space from becoming cluttered.
3. Install a Pot Rack
Pull-out shelves are a great option, but if you have pots and pans that you're planning on keeping in the corner space, you might want more than shelves. Luckily, you have the option of installing a pull-out pot rack that can securely hold all your pots and pans and keep them organized. This is a far better option than just tossing your pots and pans into the cabinet and allowing them to pile up on top of each other.
Many people store their pots and pans in their corner cabinets because these bulky items take up too much space in other areas in the kitchen. While there are other creative ways people have thought of for pot and pan storage, such as hanging them from the ceiling, using your blind corner cabinet is a great option for those whose pots and pans are old and unsightly or for those who are worried about hitting their head on a pot hanging from the ceiling.
I highly recommend Atposh Blind Corner Cabinet Pull-Out Pan Pot Rack from Amazon.com. I especially like this product because you can use it for left or right blind cabinets. The installation is relatively simple and can be finished in just ten minutes. Finally, the soft-close slide system is ideal for preventing the collision of pots and pans, reducing potential damage.
If you prefer keeping your pots and pans out of sight, the corner kitchen cabinet is the perfect place, and a pull-out rack helps keep them organized and prevent damage.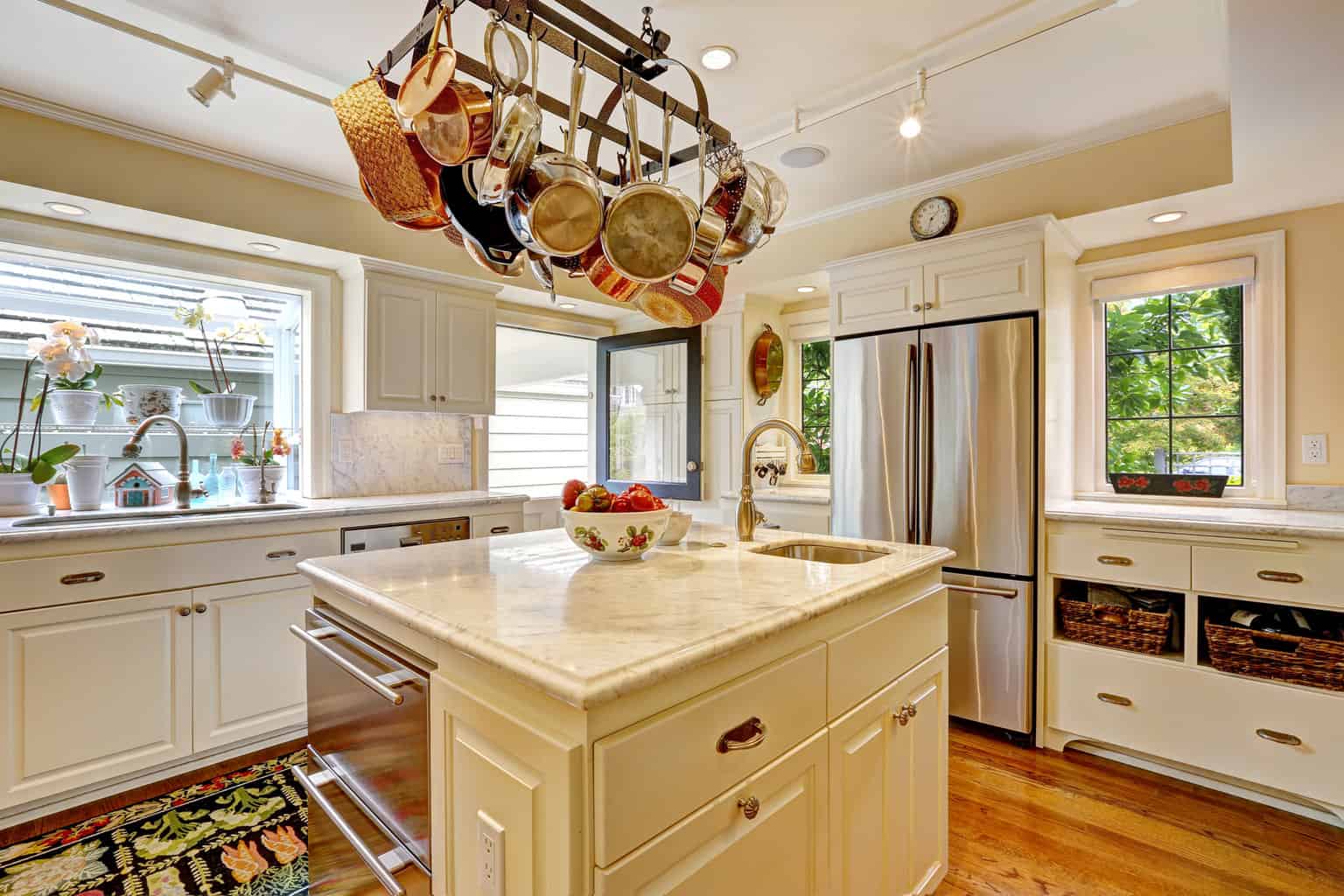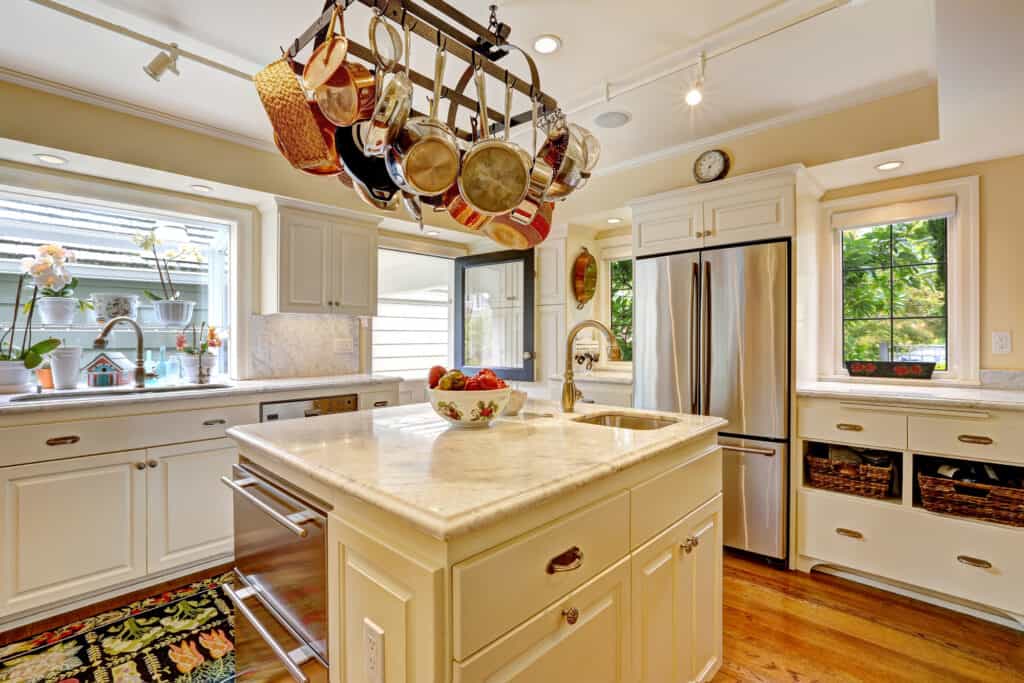 4. Use a Lazy Susan
One of the most popular ways to use this corner space is to install lazy susan shelves. A lazy susan is a round, rotating tray that allows you to store whatever items you'd like and access them easier by spinning the shelves around.
People have used versions of lazy susan shelves around the world for centuries. They became especially popular in 18th century England, although it was known as a dumbwaiter at that time. As far as why it's called a "lazy susan" now, no one really knows. Sorry, Susans! We don't think you're lazy!
Lazy susans are available in various materials, sizes, and styles, so you'll be able to find one that suits your tastes and needs.
I like this PIAOPIAONIU Kidney Shaped Chrome Corner Organizer from Amazon.com because the telescopic pole is adjustable, so you can alter it to fit your cabinet's height. The shelves come with detailed instructions that make assembly simple and quick. These shelves are perfect for storing items such as rice, pasta, flour, coffee, and more. The stainless steel is sturdy and capable of holding significant weight, so don't be afraid to plop that heavy bag of flour on it!
Another great option is this VEVOR Kidney Chrome Lazy Susan from Amazon. The baskets are durable and can hold up to thirty-three pounds of baking supplies, gadgets, pans, bakeware, dry goods, spices, and more. This item is made of carbon steel, so it is ultra-durable, sturdy, and can withstand frequent use.
5. Use the Cabinet for Your Trash and Recycling Bins
There's no question that trash cans and recycling bins can be messy and unsightly, so they're ideal for hiding away in your corner cabinets. Additionally, there are some great ways to adjust your trash and recycling system, so you're using the cabinet to its full potential.
Using your corner kitchen cabinet in this way might make taking out the trash a little more challenging, but it is still an effective and useful way to utilize this hidden space. Additionally, if your corner cabinet is close to your preparation area, you'll be able to conveniently toss any skins or debris without walking around too much.
One option is to opt for a differently-shaped trash can, such as this LaFan Triangle Space-Saving Trash Can for Corner, which is available on Amazon.com. This trash can is in a triangle shape, which allows it to fit into a corner without wasting a lot of space. I also like that this bin is made of durable, high-quality plastic, so you don't need to worry about chipping, denting, or cracking. I also like the gripper-hole that helps keep garbage bags in place.
I also like this Simplehuman 45 Liter Semi-Round Automatic Sensor Trash Can for a higher-tech option. The half-round shape makes it perfect for a corner cabinet, and the bin is made with high-quality stainless steel. This trash can has an infrared motion sensor that senses a wave of your hand and opens automatically, which helps control odor and mess.
You can also use a pull-out trash and recycling system, such as this Rev-A-Shelf Double 35 Quart Sliding Pull-Out Waste Containers from Amazon. This slide-out system uses heavy-gauge wire construction to make a frame that can slide in and out of your cabinet, and the metal is durable and will withstand frequent use. I also like how easy it is to install.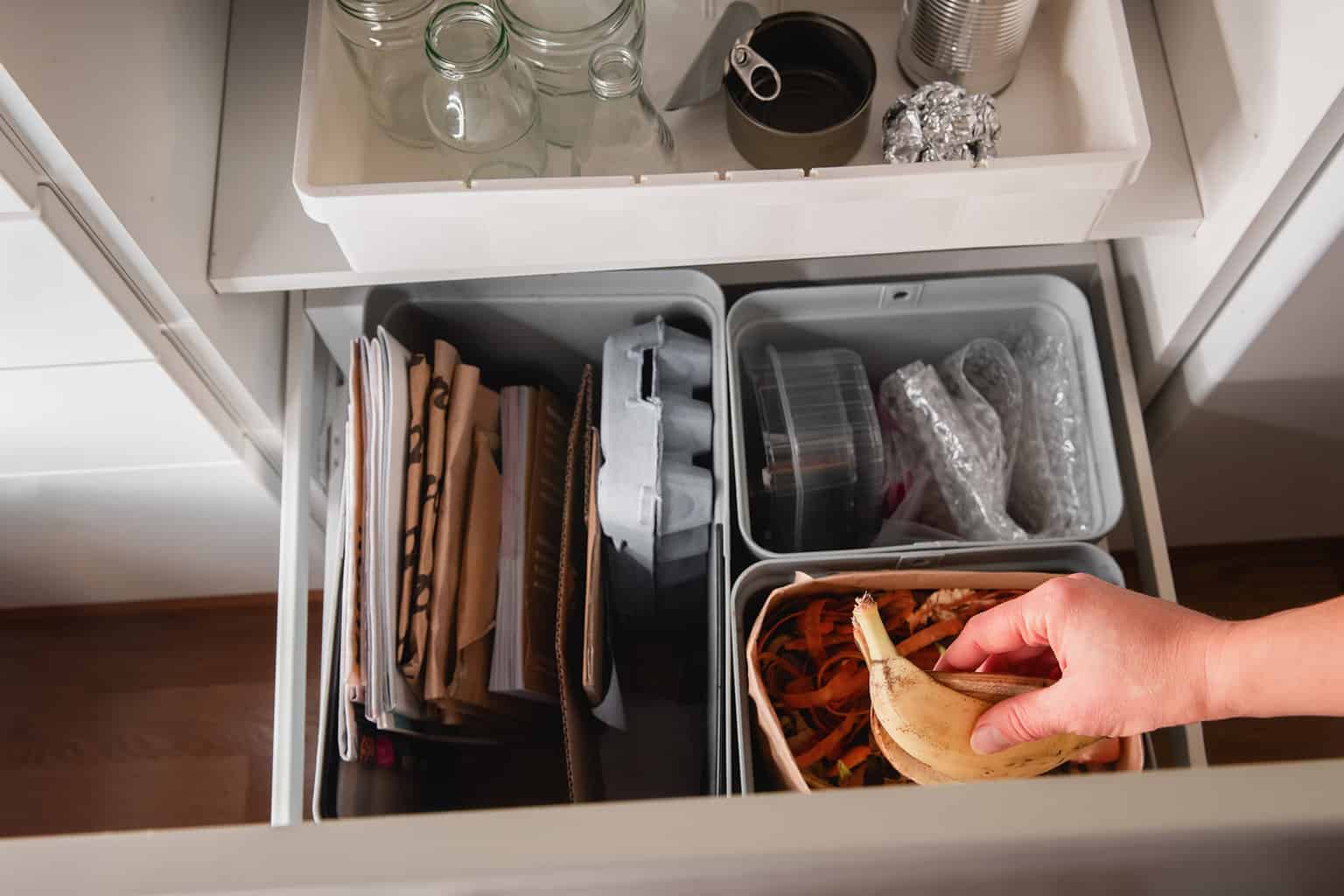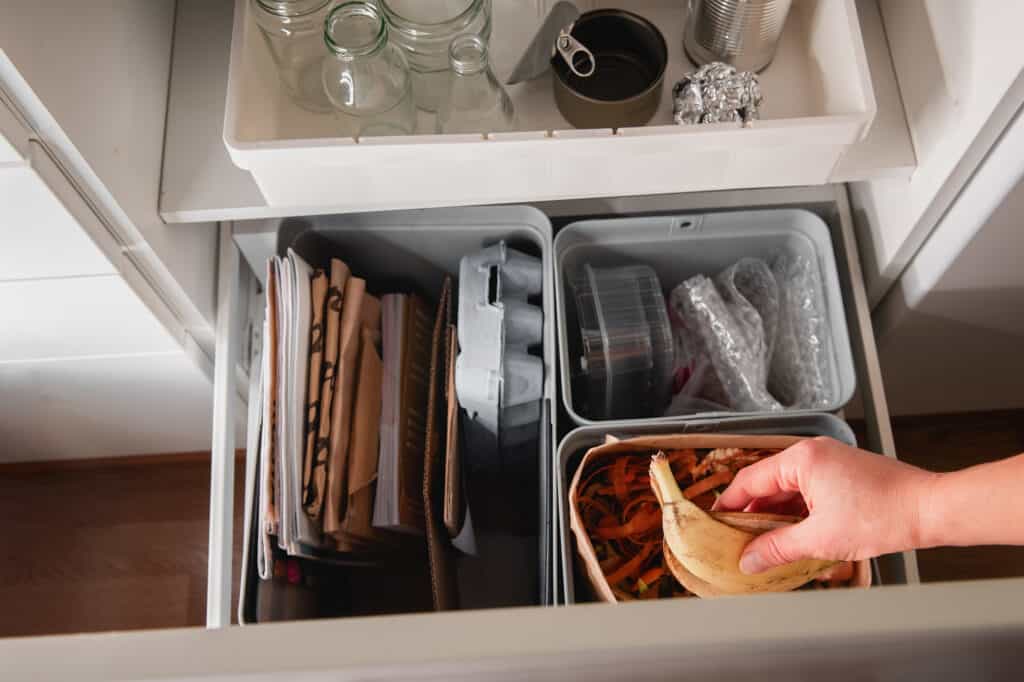 6. Install Corner Drawers
Another option is to turn your blind corner kitchen cabinet into corner drawers. These drawers will be a funny L-shape, but they'll be able to store various items, including silverware, cooking tools, can openers, cookie cutters, and whatever else you can think of. Almost everyone has a "junk drawer" in their kitchen anyway, so why not use the corner space for this purpose?
The downside to this solution is that these drawers are typically custom-made, which can be pricey. However, suppose you have a small kitchen and need to use every possible inch of space. In that case, this is a good solution because it uses all the available space and allows the items inside to be more accessible than other options on this list. The shape of this drawer shouldn't be too much of an issue if you use it for loose items, such as utensils.
Conclusion
If you have a small kitchen (or just a lot of kitchen stuff), you'll want to use every inch of your space to avoid cluttering your countertops or overstuffing your cabinets. If you have a blind corner kitchen cabinet, you can organize it using pull-out drawers and pot racks, store your trash and recycling bins, or replace it with drawers. For a simpler solution, only use the cabinet for items you use occasionally.
Sources
Giovanni Valle is an architect, designer, internet entrepreneur, and the managing editor of various digital publications including BuilderSpace, Your Own Architect, and Interiors Place. He is the founder of BuilderSpace LLC.