Hallways serve an important function in homes; they connect separate rooms and provide a direct path for circulation. Because they are mostly functional spaces, it's easy to neglect them from a decorating perspective. But that doesn't have to be the case; there are ways to make hallways less boring.
You can make any hallway less boring by choosing a theme and getting intentional with your placements. Light your hallway properly, put up some art, and add plants. Unroll a carpet, go easy on the furniture, and redecorate your doors. Finally, hang a mirror and avoid unnecessary clutter.
What follows is an in-depth guide with some recommendations to help you on your redecorating journey. Keep reading to learn more about how you can make your hallway less boring.
1. Choose a Theme to Show More Dimension and Personality
As with any decorating project, you should first choose a theme to make things look more uniform and less chaotic. Although some designs look good with some mayhem, having one to three colors on your palette is generally preferable, especially for beginners.
A unified theme also adds more dimension to your otherwise constricted space. A BBC Future article explained that patterned wallpapers make smaller rooms look bigger because it tricks the eye by adding a sense of depth.
On the other hand, patternless walls may look limiting since your eyes can accurately distinguish the boundaries.
Putting on patterned wallpapers gives you a chance to show off your personality. Do you like regal themes? Then you should try elaborate patterns with fleur-de-lis. Perhaps you prefer summer-themed designs? Then I suggest you take a look at wallpapers with two-toned sunflower patterns.
2. Get Intentional With Your Placements
Now that you've established a general theme to follow, you can be intentional with the placement of your decorations. This is especially important when you have limited funds, space, or time.
By making every purchase and placement count, you can also ensure that your designs fall into the right place and follow your particular vision. For example, you wouldn't put a one-by-one meter classic mahogany drawer in a one-and-a-half meter doorway filled with minimalist designs, right?
On the other hand, putting an ornate porcelain vase looks natural in a more spacious, East Asian-themed hallway.
Moreover, you'll also find that removing hallway designs or furniture that needs to be bolted or screwed in is a hassle. Imagine putting construction putty in holes you made three days ago just because you can't make up your mind.
3. Light Your Hallway Properly
A proper lighting setup can tie together your hallway's overall design. A neutral white wall can have summer vibes when paired with warm natural lights of less than 5000K. On the other hand, they can look cold and unnatural (which is not always bad) with colder lights of more than 6500K.
However, an article from the East West Eye Institute claims that colder lights, which emit a bluish tint, can potentially affect your sleep cycles and throw off your body's natural circadian rhythm.
Because of this, I suggest you only use warm lights to illuminate your hallways, especially if they lead to your bedrooms.
You should also choose ceiling lights with matching aesthetics to your theme. For example, classic designs can benefit from brass-colored light holders, while minimalists may opt for silver-colored holders.
Moreover, you should also illuminate centers of focus, such as a painting or sculpture, to highlight their beauty.
Best Ceiling Lights for Your Hallway
Here are some of my best picks for your hallway lights, depending on your theme. They're all available on Amazon.com.
This beautiful brass-colored ceiling light fits classic designs that focus on gold and warm themes. Its standard USA socket can accommodate one E26 bulb with a maximum power of 60 watts.
Depending on your preference, it can also accommodate a dimmable bulb to offer you warm to cold lights.
This type of ceiling fixture fits an industrial design with black-painted accents. The metal covers also add the practical bonus of guarding your bulb, which is especially useful if you live with kids. It also has a standard USA socket that can accommodate bulbs with extra safety.
This ceiling fixture is perfect for modern and minimalist designs. It has a remote control that allows you to conveniently adjust your light output from 3000K to 6500K. It's also equipped with a night light function that automatically and gradually turns off your lights after 30 minutes.
4. Put Up Some Art
Paintings and sculptures can bring more life to your hallway if added correctly. Art can make us feel strong emotions and, depending on the artwork, can bring relaxation.
Bigger frames can create an illusion of larger walls and deeper dimensions, much like how your wallpaper patterns work. They can also serve as "windows" that give you a glimpse of other points of view.
Sculptures work well when paired with particular designs and the right amount of space. For example, an abstract sculpture works well with postmodern designs, while solid and simplistic ones can fit with a minimalist's setup.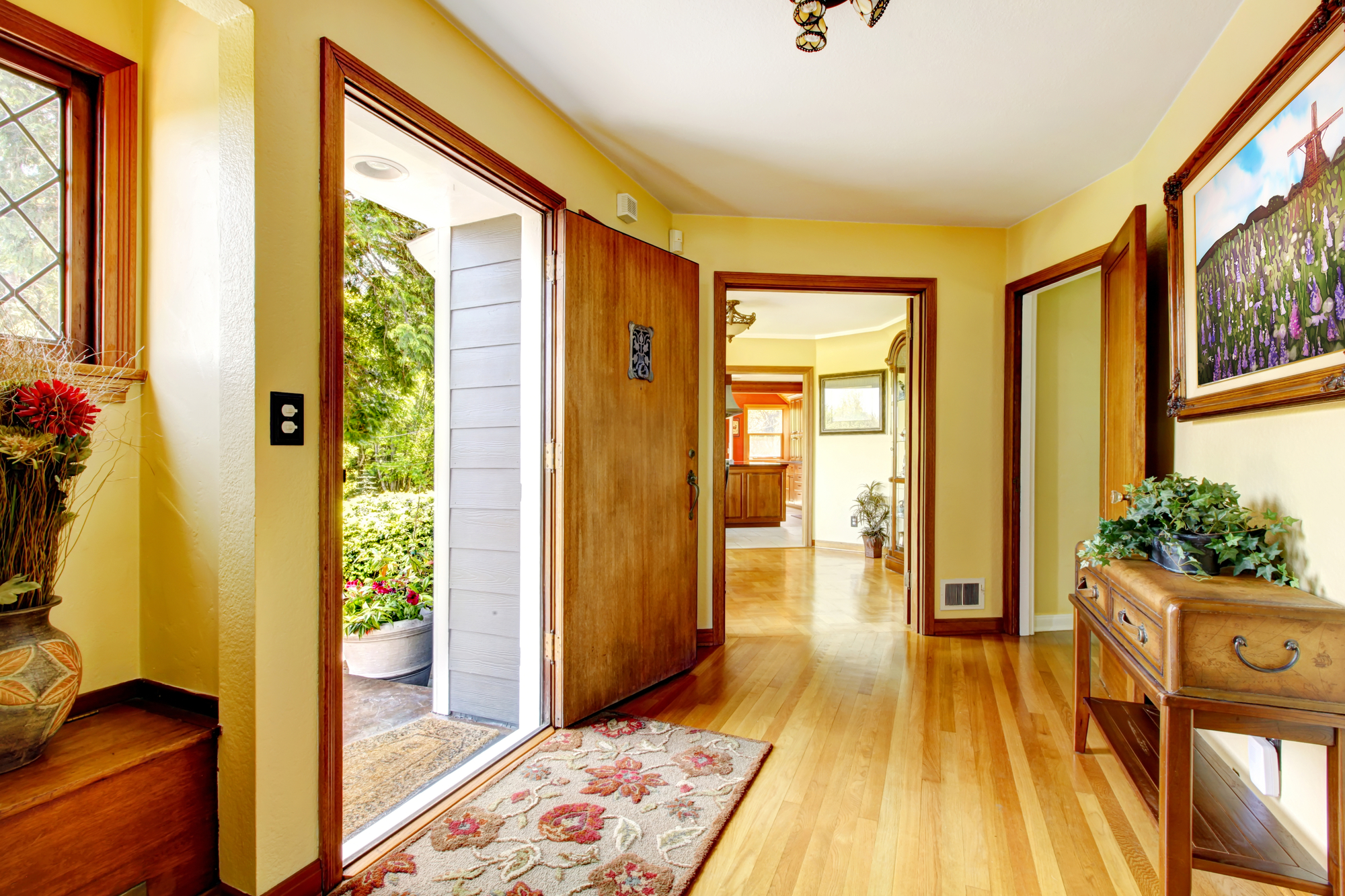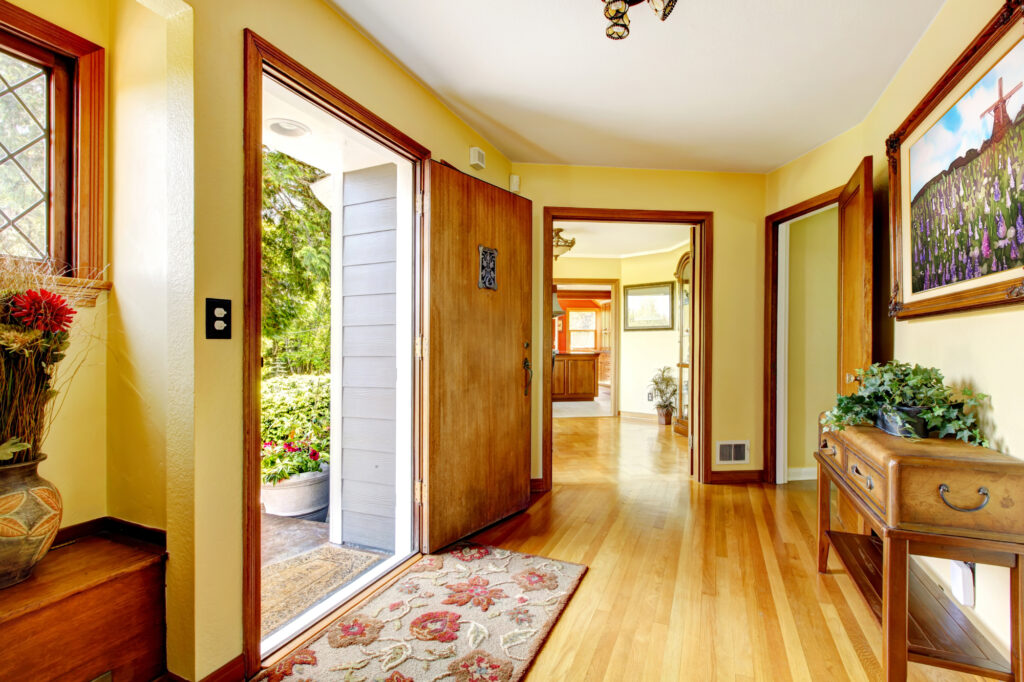 5. Add Plants in Aesthetic Pots
Adding plants to any part of your home is scientifically proven to cleanse the air and lift your mood. However, it's best to adapt your plant's pot to your chosen theme from a designer's perspective.
For example, a tall floor vase with a metallic silver design fits best in modern setups.
However, indoor plants are sometimes challenging to take care of, especially in areas with no natural light. If this is the case, I suggest you use artificial plants instead. They still give you that beautiful green look that natural plants have, but without the high maintenance levels.
Best Artificial Plants for Your Hallway
In case you want to add some greeneries to your hallway, I've picked some of my favorite choices for your hallway's artificial plants.
This 36-inch (91 centimeters) tall snake plant gives you vibrant leaves that look like the original. It comes with a white pot with a three-legged metal stand. Its overall design is perfect for almost any theme, but I personally see myself putting this on a minimalist or modern-themed hallway.
This artificial plant and its vase are perfect for rustic-themed hallways reminiscent of tropical forests. The vase is an artwork on its own, as it features intricate designs of basket weaves and grape vines.
This little artificial plant is 66 inches (168 cm) tall and comes in a nice pot with a cool-looking geometric pattern. Because it was created by skilled designers, it fits well with most modern designs, is easy to assemble, and you have 36 different variants to choose from.
6. Unroll a Carpet or Vinyl Runner
Just like patterned wallpapers, carpets or vinyl runners can give your hallway a sense of depth and personal touch.
They're the most uncomplicated design add-on to set up in this list, so installation shouldn't be a hassle. They also come in different designs, so I'm sure you'll find something to fit your chosen theme.
Aside from providing your hallway some renovation, they also protect your floors from wear and tear.
Best Floor Runners for Your Hallway
Frankly, there are almost unlimited choices for your hallway runners, but these three are what I can personally recommend based on their designs, price, and quality.
This floor runner features a vintage floral pattern for classic and traditional themes. It has a non-slip coating made of high-quality thermoplastic rubber (TPR) at the back, so you don't have to worry about slipping.
Its fibers are also lint-free, so you won't have a hard time vacuuming surrounding areas. A vacuum cleaner or a washing machine can easily clean this runner.
This floor runner has a simpler and more streamlined design that allows it to fit almost any theme. It also has a high-quality TPR anti-skid mat at the back to avoid accidents. It's also made with premium low-height olefin fiber that easily resists stains coming from day-to-day use.
It's also easily cleaned with a vacuum—however, it's not machine washable.
This runner rug is perfect for Viking or Roman-themed hallways. It comes in four colors and four design variants that total 16 different variations. Its knot-styled variants are reminiscent of the Vikings' Celtic knot, while the double-square and cross-like variants are reminiscent of Roman designs.
Moreover, its look allows it to fit in with modern themes of similar palettes.
Like the others, it has a rubber backing to prevent slipping. It traps moisture and dirt that can harm your flooring—especially if they're wooden. It's also easily cleaned with a vacuum, wet towel, or washing machine.
7. Go Easy on the Furniture
You shouldn't go overboard with furniture placements, especially with limited space. However, if you can't help it, use a multilayer cabinet instead of a one-layer table that only holds a vase or valet tray.
You can also use your furniture to hide a protruding radiator. Not only will you remove a design obstruction, but you'll also have something to place your additional tabletop designs on.
You can also make a custom vertical storage cabinet that displays what's inside, such as shoes, books, and small vases. This works well when placed at the end of your hallway.
Alternatively, if you don't like cabinets obstructing your hallway's path but still need additional space, you can put up floating shelves.
8. Decorate Your Doors
Remember when I said that mayhem sometimes works for some designs? Well, this is one of those moments.
Doors can represent the personality of the room's owners, so no one's stopping you from making one door stand out from the rest.
If you want to maintain uniformity but still want some personalization, you can hang or put small decorations on your door that fits the hallway's overall aesthetic.
If you're keen on showcasing your theme, you can customize your doors and their door knobs. This could also be your chance to experiment with some wood materials. For example, white pine doors are treasured for their grain patterns and naturally white exterior.
Doors can also be fitted with a metal doorknob of your choice to accentuate your featured designs even more.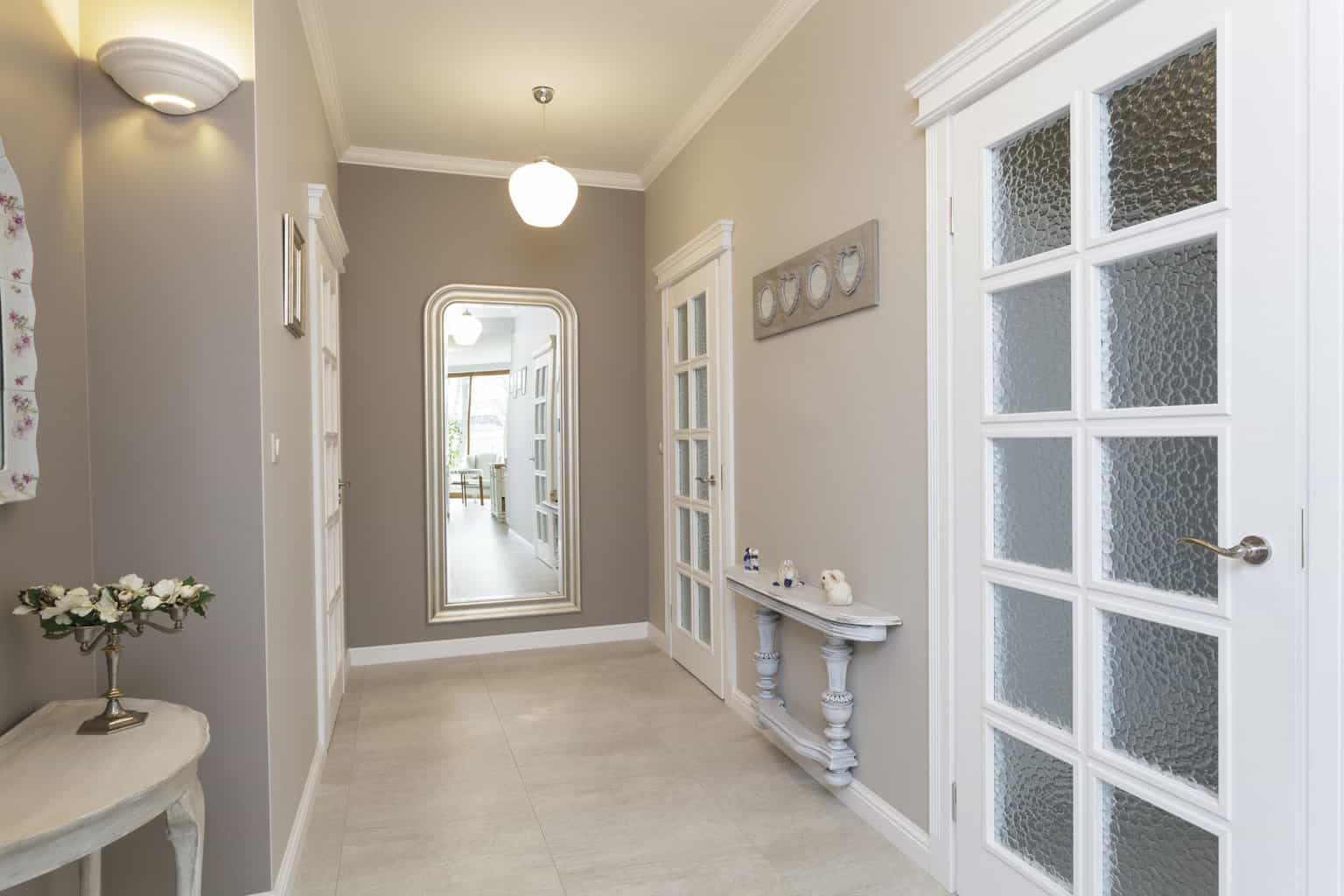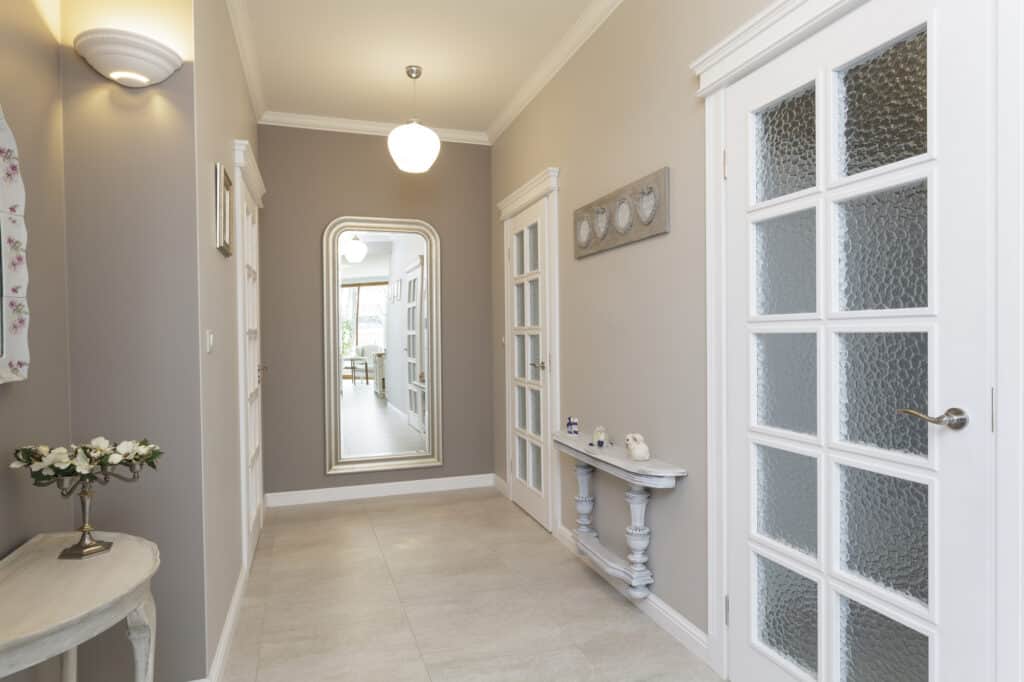 9. Hang a Mirror by the Hallway's Entrance or End
Mirrors are the most incredible optical illusion for your hallway if you want them to look more spacious than they are. While a mirror placed on the hallway's entrance serves a more practical purpose, those placed at the end can give an "infinite rebound" effect.
Moreover, mirrors look great as a statement piece on their own, depending on their frame, size, and material. Some cultures even believe that putting mirrors in certain places brings fortune and wards off evil spirits.
10. Avoid Unnecessary Clutter
Now that you've decorated your hallway beautifully, you should try your best to maintain, if not add, the beauty of its finished look.
Pick up any clutter that disturbs your theme, such as a misaligned book from your multilayer bookshelf or fallen leaves from your indoor plants. It would help if you also made it a habit to vacuum and dust your hallway at least three times a week.
Of course, you can still change some things with your finished setup. Your mind may change on some of your decorations' placements, or you may want a different theme altogether. If so, you can always refer to this article for a guide.
Final Thoughts
You pass by your hallway almost every day of your life. It's only natural to make it less boring and fit your personality. Maybe seeing your hallway designs can brighten your mood after a long day at work.
Again, here are some ways you can make any hallway less boring:
Choose a theme to show more dimension and personality and light your hallway properly.
Put up some art and add plants in aesthetic pots.
Unroll a carpet or vinyl runner and go easy on the furniture placements.
Redecorate your doors if necessary, hang mirrors, and avoid unnecessary clutter.
Sources