Affiliate Disclaimer: This page may contain affiliate links.  As an Amazon Associate, we earn from qualifying purchases. We may also earn commissions if you purchase products from other retailers after clicking on a link from our site.
Decorating a headboard can make your bedroom look more luxurious than it already is. It offers your bed space for customizations and other decorations that enable you to apply your personal touches.
However, not all beds come with a headboard, but that doesn't mean you can't decorate your bed.
To decorate a bed without a headboard, you should focus on your background wall, match your bedsheets and pillowcases, and shape your pillows to look like a headboard. You can also form a 2D headboard and put up some wall art. Finally, you can hang tapestries and screw in some shelves.
Doing all this on your own can be daunting. Fortunately, I've prepared this detailed guide for you.
1. Focus on Your Background Wall Instead
Headboards look good on your bed because they bring shape and outline to some of your bedroom decorations. However, when you look at the bigger picture, headboards are just "containers" for your designs.
Don't worry too much about not having a headboard. Focus on your background wall and make this "container" using other methods available.
Moreover, once you realize that your design choices are not limited to having a headboard, you'll become more open to adapting more designs that you haven't thought of before.
2. Match Your Bedsheets and Pillowcases
While you do not have a headboard, you do have a bed to decorate, so I suggest you start with that first. Typically, you should match the color of your bedsheets and pillowcases while limiting their color shades to three.
I recommend sticking to simple designs since busier designs tend to make it harder for some people to sleep.
I also suggest that you stick with cooler colors. Yes, that's right, cooler, not warmer.
According to more recent research done by the University of Manchester, cooler lights in the evening make sleep better.
This contrasts with previous studies that said blue light adversely affects our sleep patterns.
Best Bedsheet and Pillow Set for Your Bed
Below are three recommendations to help you decorate your bed.
This six-piece bedsheet and pillow set are made with 1800 series double brushed microfiber fabric that provides you extra comfort in bed.
It's also equipped with deep pockets with elastics that can fit mattresses up to 24 inches (60 cm) for a better snug fit. They also won't shrink, no matter how often you wash them.
The fabric is more resistant to staining and wrinkling than other cotton sheets. Furthermore, the company offers a no-questions-asked return policy.
This choice is for you if you're looking for elegant sheets and pillowcases. They're made of pure satin polyester that feels silky to the touch.
The fabric's high thread count also lessens friction with your hair, so you'll wake in the morning with less hair frizz and breakage.
Satin fabrics are also known to retain your skin's moisture, allowing you to have brighter-looking skin, unlike cotton, a known absorbent.
This bed sheet set is for you if you like the feel of microfiber but don't like bulky designs. It's equipped with an all-around elastic pocket fitted sheet that allows the bedsheet to stay in place.
Its microfiber composition also makes it more durable than cotton and resists color fade, stain, and wrinkles more easily.
They also offer a no-questions-asked refund policy.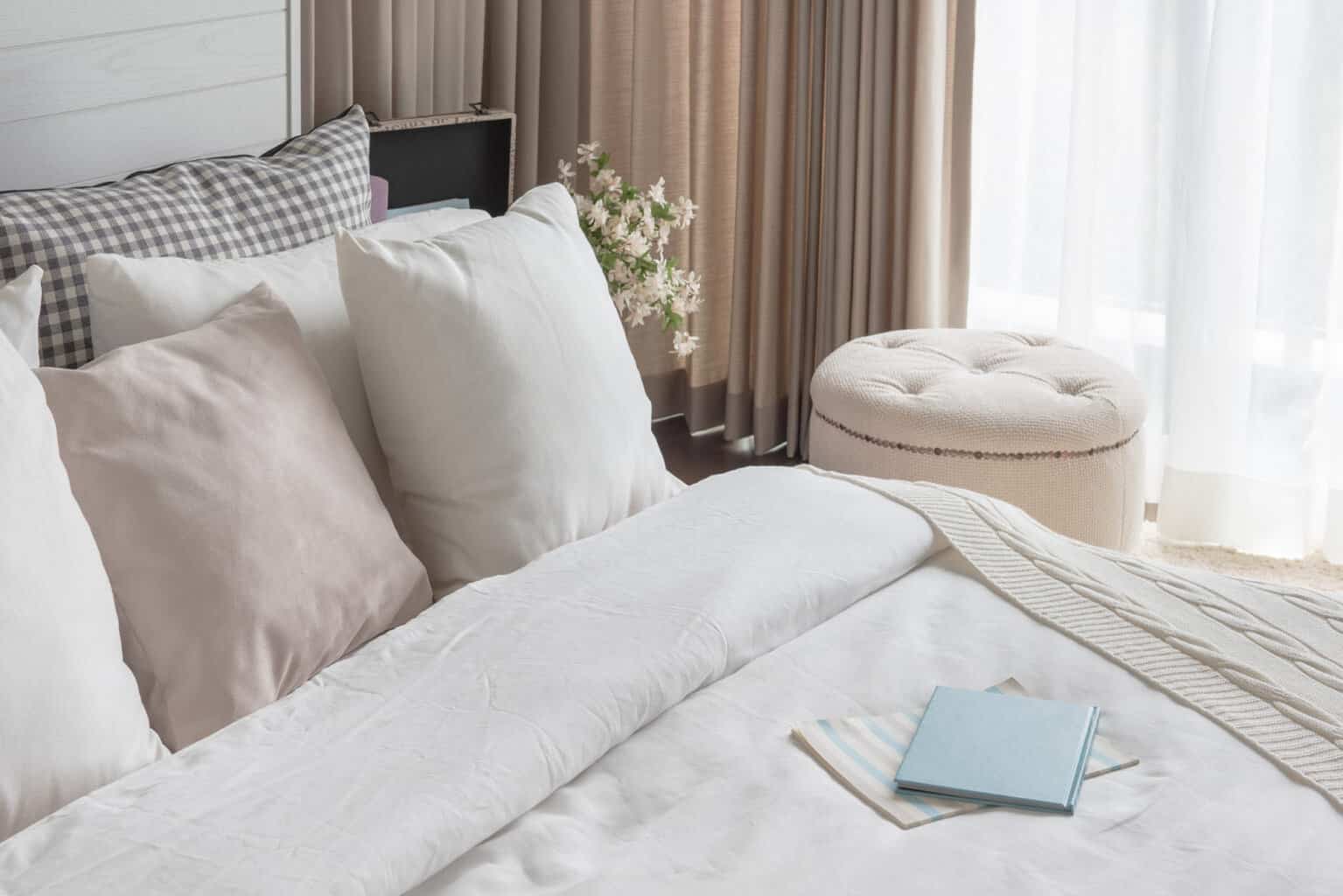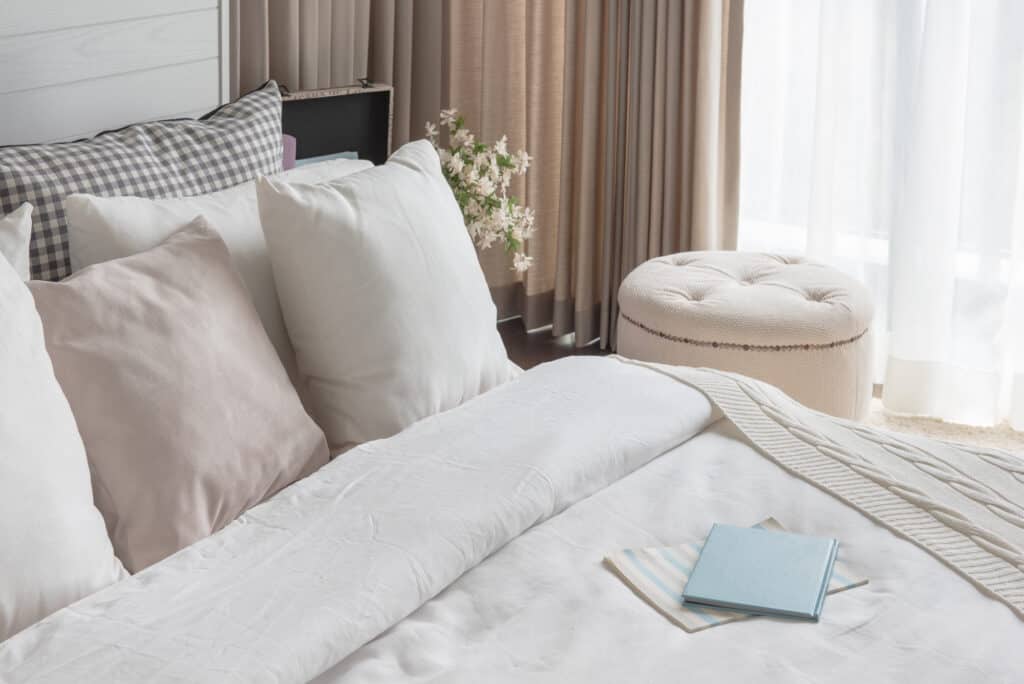 3. Shape Your Pillows To Look Like a Headboard
No headboard? No problem! You can still quickly get that desired rectangular shape by placing two 60 by 60 centimeters (24×24 inches) pillows upright on both sides of the bed.
It works even better if you have well-designed pillowcases to add to your bedroom's overall aesthetics.
Furthermore, you'll be more motivated to fix your bed in the morning to get that desired look. Why would you want to do that?
According to US Admiral McRaven's speech, fixing your bed immediately after waking up will motivate you to finish more tasks.
Best Pillows To Decorate Your Bed
Below are three pillow recommendations to design your bed.
This pillow set is for you if you're looking for simple pillows to go with your bed's design. They're made with 100% polyester fillings, making them look plump even after long-term use.
Moreover, polyester pillows are easily washable and don't emit strange odors when newly bought.
This pillow set is for you if you're looking for pillows with genuine feather and down inserts and cotton outer fabrics.
The feather and down insert combo allow this pillow to provide superior comfort. They're also known for their durability and breathability.
Memory foam pillows are known for retaining their shape accurately even after long-term use, but they can be pretty uncomfortable to some because they tend to maintain their mold once it's set. Fortunately, this pillow set solves that issue.
They're made with shredded memory foam, which is more moldable according to the shape you want while reverting to their original form.
4. Form a 2D Headboard With Paint or Decals
Another easy way to design a bed without a headboard is by using paint or decals. If you're keen on having that headboard design, you can just make a 2-dimensional one with these materials.
Paint is a bit complicated and effortful to do but offers the most customization. Decals, on the other hand, readily come in different designs and sizes.
It's really just up to your preference which to choose, but essentially, decals can be easily removed, whereas paint is semi-permanent.
Best Wall Decals for Your Bed
Your bed needs high-quality decals. Here are some of my recommendations.
This wall decal is for you if you want to start your day with motivational quotes or bible verses. It comes in different colors, sizes, fonts, and designs, so you'll have plenty to choose from.
It's also easily applied as it comes with its adhesives.
This decal is also made of high-quality vinyl with a matte finish. You can also easily peel it off if you want to apply new decals.
This decal is for you if you're looking for something that looks very close to an actual headboard. Its semicircle design gives you a traditional headboard look that accepts more designs on top.
It's made with high-quality vinyl, which makes it durable and waterproof. It also comes with an installation kit which includes metric tape, a smoothing tool, and a marker. It also features a matte finish.
This decal's design is for you if you're looking for more intricate designs reminiscent of Eastern settings.
It's made from easily-applied self-adhesive PVC material that doesn't damage your wall's original paint. Moreover, it's also durable and water-resistant.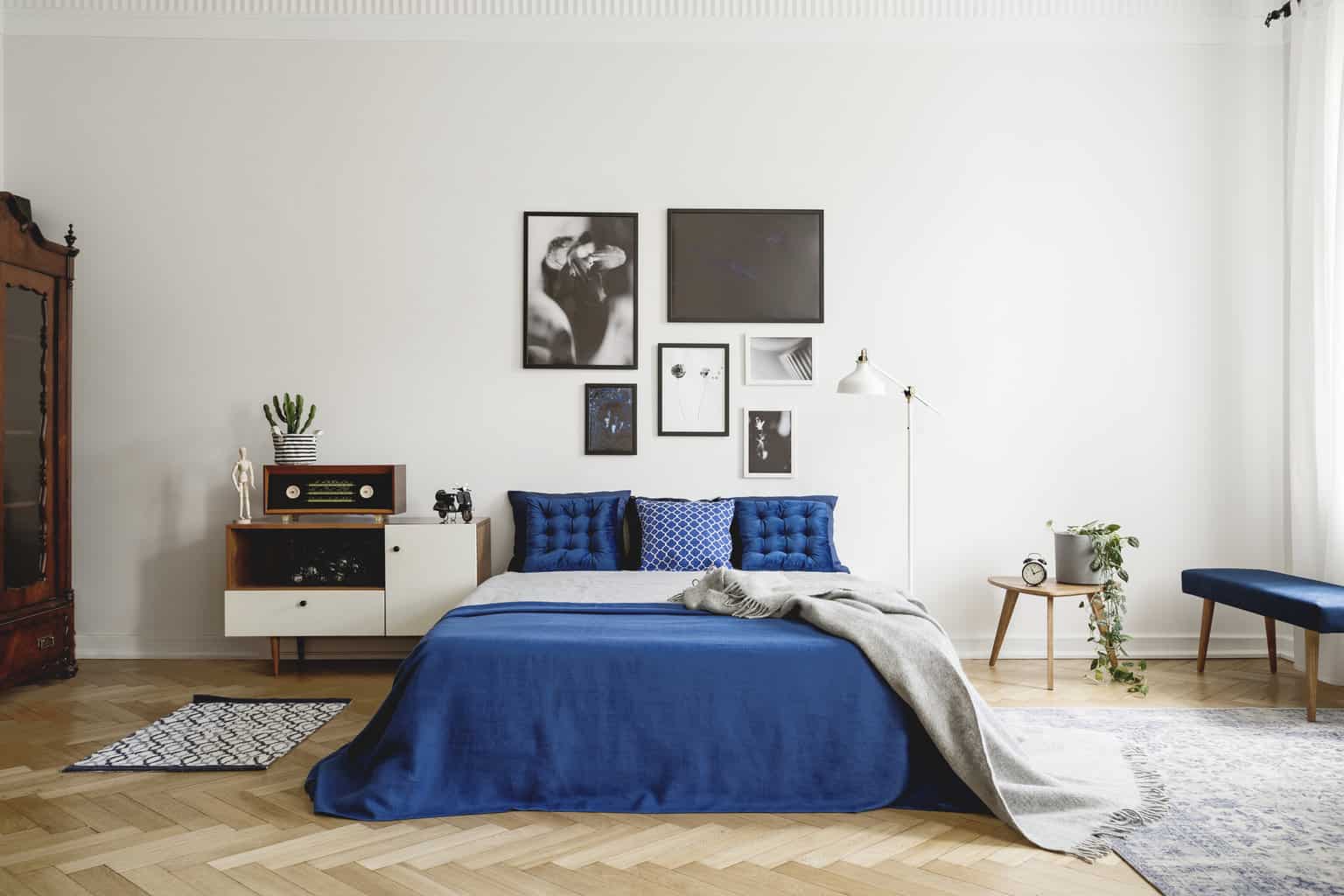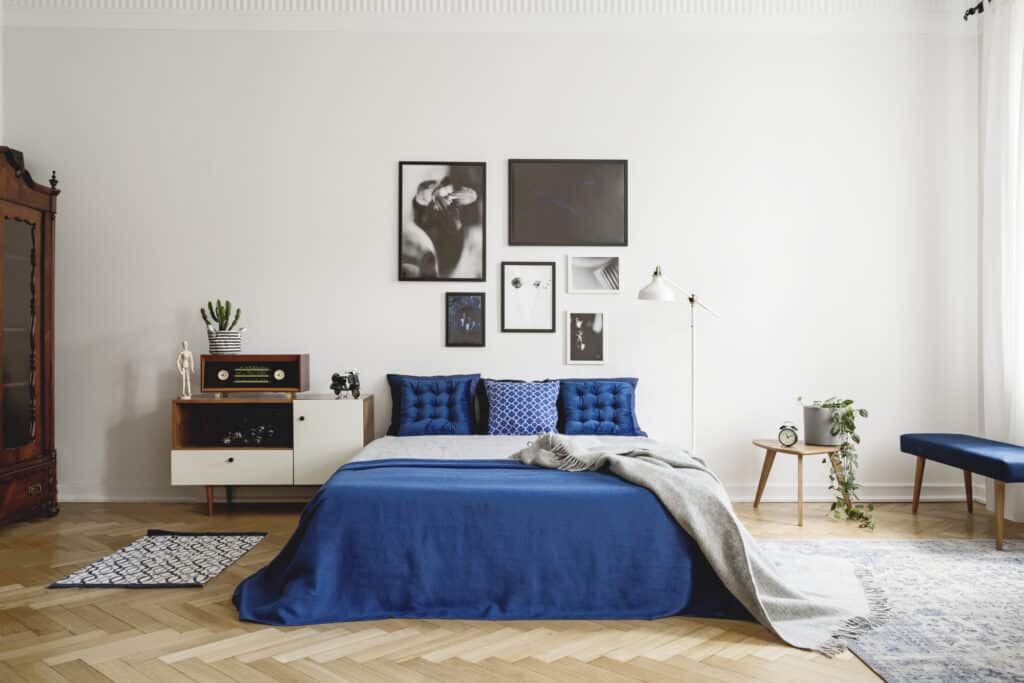 5. Put Up Some Wall Art or Photo Collage
Nothing spices up your headboard space more than putting up some wall art or photo collage. It could be one large frame with a width equal to your bed's width or an assortment of frames with photos or art that follow a similar theme.
If you're going the art route, I suggest you try creating your wall art decorations. According to an Am J Public Health article, creating art or exposing yourself to artistic influences provides emotional well-being.
6. Hang Some Tapestries
Hanging tapestries in the background is another way to spice up your bed's aesthetics. They come in lots of colors and designs so you won't have any choice shortages.
Tapestries are also historically associated with royalty, proving how awesome they look in bedrooms.
There are two ways you can apply tapestries to your bed design. You can hang two tapestries on either side of your bed or one huge tapestry in the middle to encompass the bed's width.
Both options give you a headboard-like space, but only the former gives you more room to redecorate.
Aside from colors and designs, you'll also have to choose the fabric used for your tapestry. Ideally, it would help if you looked for fabrics with considerable durability. After all, its aesthetic value is only good while the fabric lasts.
Types of Fabric for Your Tapestry
Cotton
Tapestries made of cotton look more understated and typically cost less than those made of silk or synthetic silk. They're also easily cleaned and are machine-washable.
However, most cotton fabrics, especially those with untreated dyes, have a hard time withstanding prolonged exposure to sunshine without fading.
Polyester
Polyester fabrics are a common substitute for more expensive materials such as silk. They have considerably thicker and stronger strands making them ideal for showcasing brilliant colors in exchange for finer details.
Although they're not as easily cleaned as cotton, they're usually more reasonably affordable and fade-resistant.
Silk
Tapestries made of genuine or synthetic silk are frequently the most expensive tapestries you can buy for your home. However, their smooth surface allows for more light reflection making your room somewhat brighter.
Their fine strands also make designs more apparent and more detailed.
Best Tapestry for Your Bed's Design
Now that you know the different fabric types to choose from, below are my recommendations for the best tapestries.
This mandala tapestry features rich and intricate designs fit for boho aesthetics. It's made of 100% polyester, durable, and weather resistant.
With high-definition, digitally-printed designs, you're sure to see the smallest patterns.
It's also easy to apply as it comes with two double-sided tapes, four hooks, and four installation clips.
This tapestry also fits boho designs but with a more minimalist feel. Its bohemian construction is made of flannel (a material primarily made of cotton), making it pleasant to touch.
It also uses high-definition digital printing for its designs, so the details are crisp and clear.
Each package also comes with two traceless thumbtacks, two mountain tapes, and two mounting tapes.
If you're looking for that premium feel only silk can offer, this tapestry is your best bet. It's made of genuine Indian saree silk, the same silk they use for celebratory garments.
Their lightweight and thin construction make light easily pass through, creating a colored light that looks fabulous in the mornings. Due to this feature, this tapestry is best put against a window.
However, due to silk's inherent delicate nature, you can only wash this by hand.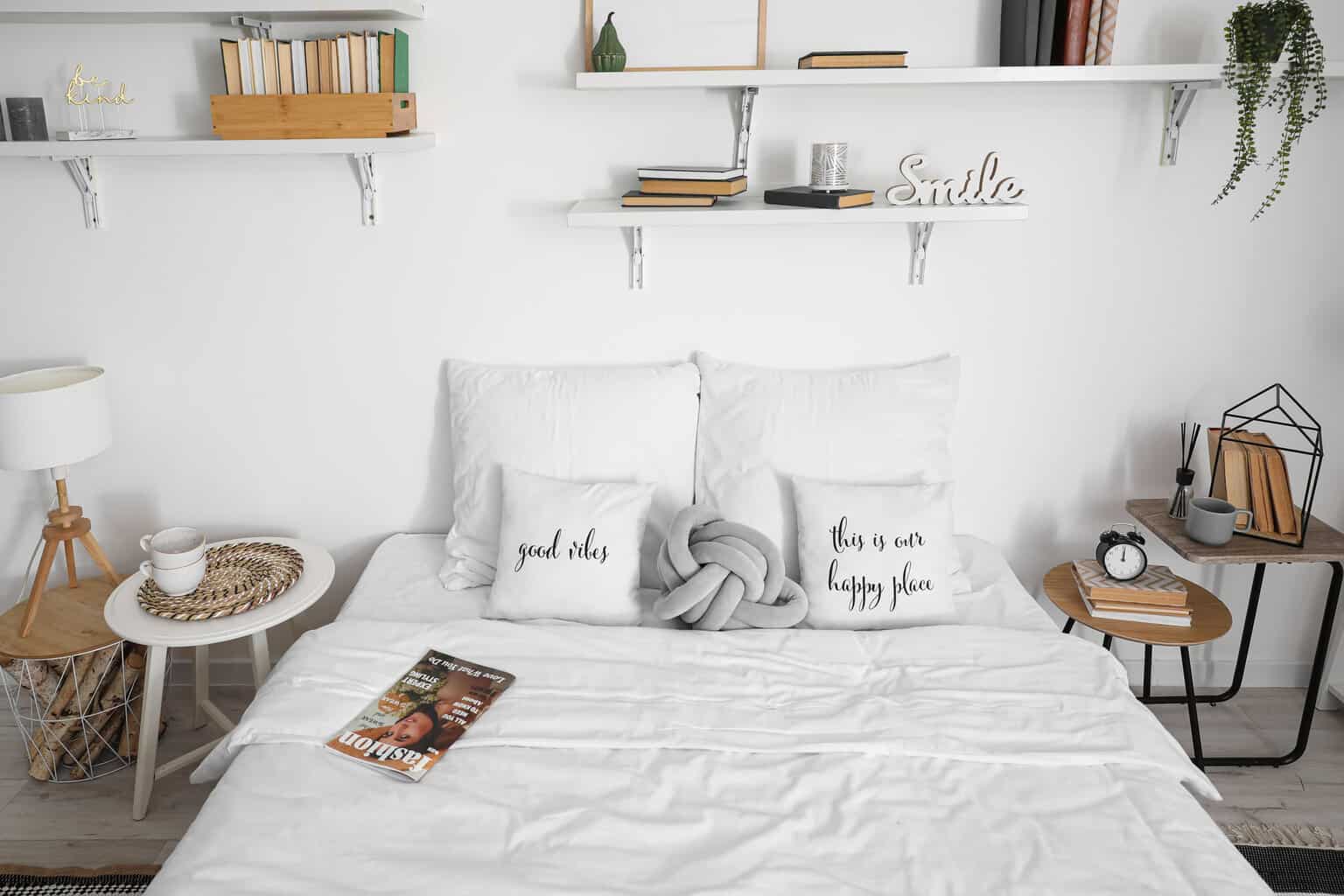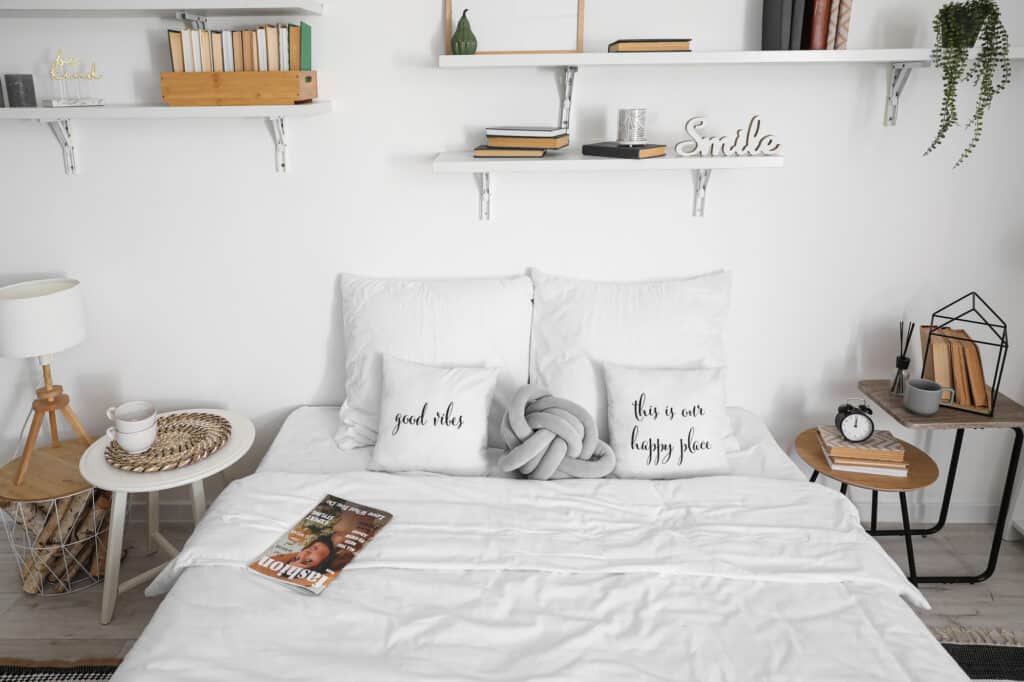 7. Screw-In Some Shelves
You can easily decorate your bed with shelves as a substitute. You can fill them with plants, books, shoes, or other collectibles that can give your design a hint of your personality and taste.
Again, making a geometric pattern visible would be best so you don't have to put shelves directly over your head.
You can put two high shelves or cabinets of the same design beside your bed to look like pillars and give you that rectangular headboard look.
For safety reasons, you should also invest in high-quality bolting mechanisms for your shelves and their contents.
Take some time to affix your shelves to your walls, and if you can, install clip angles for better earthquake-proofing.
You should also brace your shelve's contents, especially if they contain fragile items such as glass or ceramics. You can do this by applying heavy-duty double-sided tape or glue at the bottom of the items.
Final Thoughts
Decorating your bed without a headboard isn't necessarily a difficult task. There are many ways to do this without breaking the bank or compromising your chosen design.
Here are some things you should consider when decorating your bed without a headboard:
Focus on your background wall instead since all you need to do is simulate the geometry that comes with a headboard.
Match your bedsheets and pillowcases since it adds to your bed's overall aesthetics.
Shape your pillows to look like a headboard to showcase their colors and designs.
Form a 2D headboard with paint, decals, and wall art.
Sources
Giovanni Valle is an architect, designer, internet entrepreneur, and the managing editor of various digital publications including BuilderSpace, Your Own Architect, and Interiors Place. He is the founder of BuilderSpace LLC.