Affiliate Disclaimer: This page may contain affiliate links.  As an Amazon Associate, we earn from qualifying purchases. We may also earn commissions if you purchase products from other retailers after clicking on a link from our site.
So, you have a small living room to decorate. Whether it's yours, a family member's, a friend's, or a client's, one thing's for sure: you want it done correctly. Fortunately, choosing curtains for a small living room is not that hard once you understand the basics.
To choose curtains for a small living room, you must first match your curtains with the room's motif and function, select your curtain's design, and size your curtain rods properly. Then, pick your desired curtain style and choose a fabric that matches the rest of the decor.
The process might seem overwhelming at first glance, so in this article, I've compiled a list of some fool-proof tips and tricks on choosing the perfect curtains for your small living room.
1. Match Your Curtains With Your Room's Motif and Function
Like any other design project, you should always match your curtains with your room's motif, no matter their size. Check for the common elements and colors in your living room's design and choose curtains that complement them well.
For example, because you have minimal space to work with, let's say you went for a more minimalist and modern design. The right choice for a curtain would be something equally minimal and straightforward. The only exception is if you want to make the window a focal point in your living room – then you can use relatively more robust patterns.
Additionally, look at your living room's main function. Do you want it to serve as a formal room for your business guests? Then you'd do well to choose longer curtains since they exude more elegance and formality.
Perhaps you're going on a more casual or informal route? Then, I suggest that you go for shorter curtains, but not too short. I'll talk more about proper sizing later on in this article.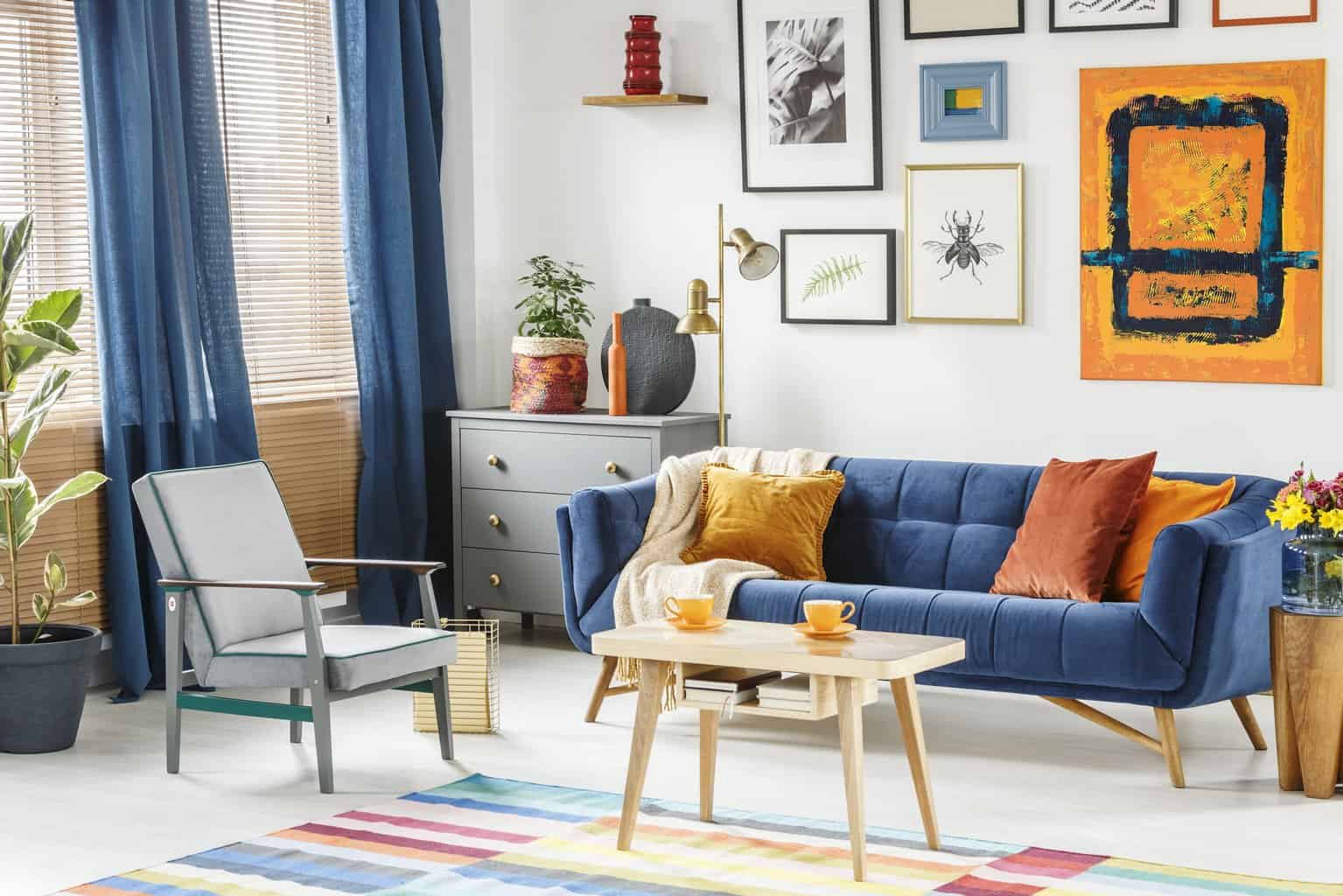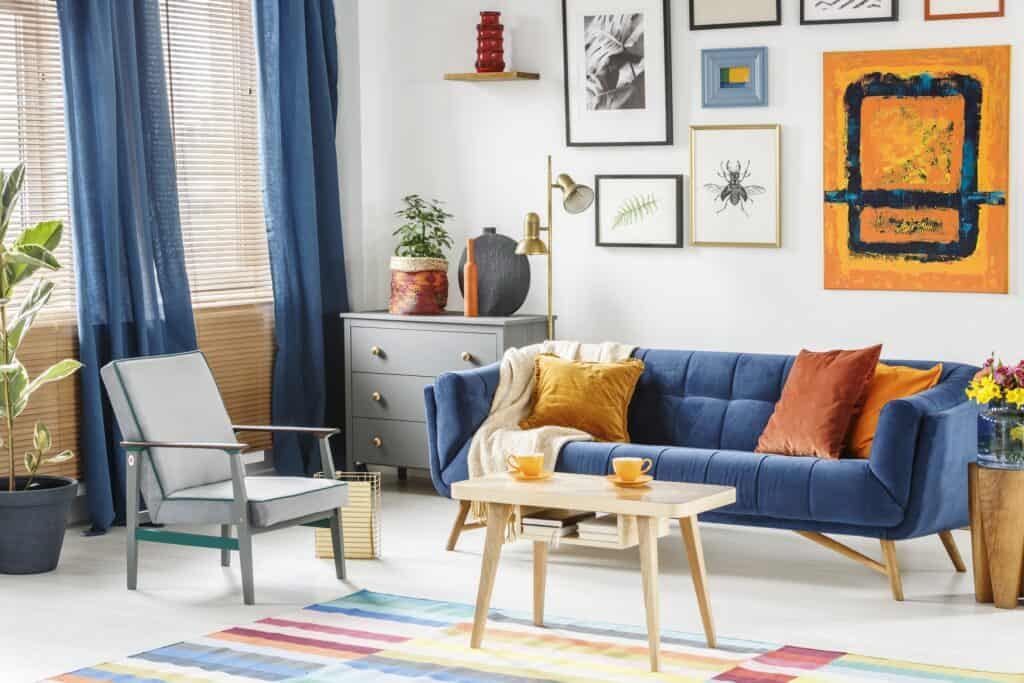 2. Choose Your Curtain's Design: Color and Pattern
Now that you know your living room's motif, you can choose your curtain's design.
Typically, your two main design choices are either going for solids or patterns. Solids are curtains with no design. They only have a single color throughout their length, making them excellent for minimal or modern motifs. They also take the main attention away from your windows or curtains and towards other focal points in your living room.
Patterns, on the other hand, are self-explanatory. They can be printed or embroidered onto your curtains to create a specific design. Patterns can either be repetitive such as the Greek meander, or unique, such as a zebra's stripes.
Generally, I advise you to use solids instead of patterns when choosing curtains for a small room. An article published in the Quarterly Journal of Experimental Psychology states that solid and lighter colors make rooms look bigger since light colors trick the eye to believe there's more space. On the contrary, darker colors make the room look more constrained.
Patterns are typically only advised for larger patterns placed in lower areas, such as runners or carpets. Moreover, pattern designs limit the light that passes through your windows– something you don't want in smaller rooms.
3. Size Your Curtain Rods Properly
Before you determine your curtain's size, you should first determine the size of your curtain rods. Since the curtain naturally draws the eyes upwards, you should place your rods higher to make ceilings appear taller. Doing this makes your room appear bigger and cleaner.
The general rule is to leave one-third of the space from your ceiling to your window or three-quarters of an inch (1.9 cm) below your crown moldings. However, it's still up to you how high you want to put up your curtains.
The rods should also be four to six inches (10.16 cm to 15.24 cm) wider than your window frame. This allows the curtains to be styled without blocking the natural light coming from the windows. It also makes the windows look more prominent since it's framed appropriately.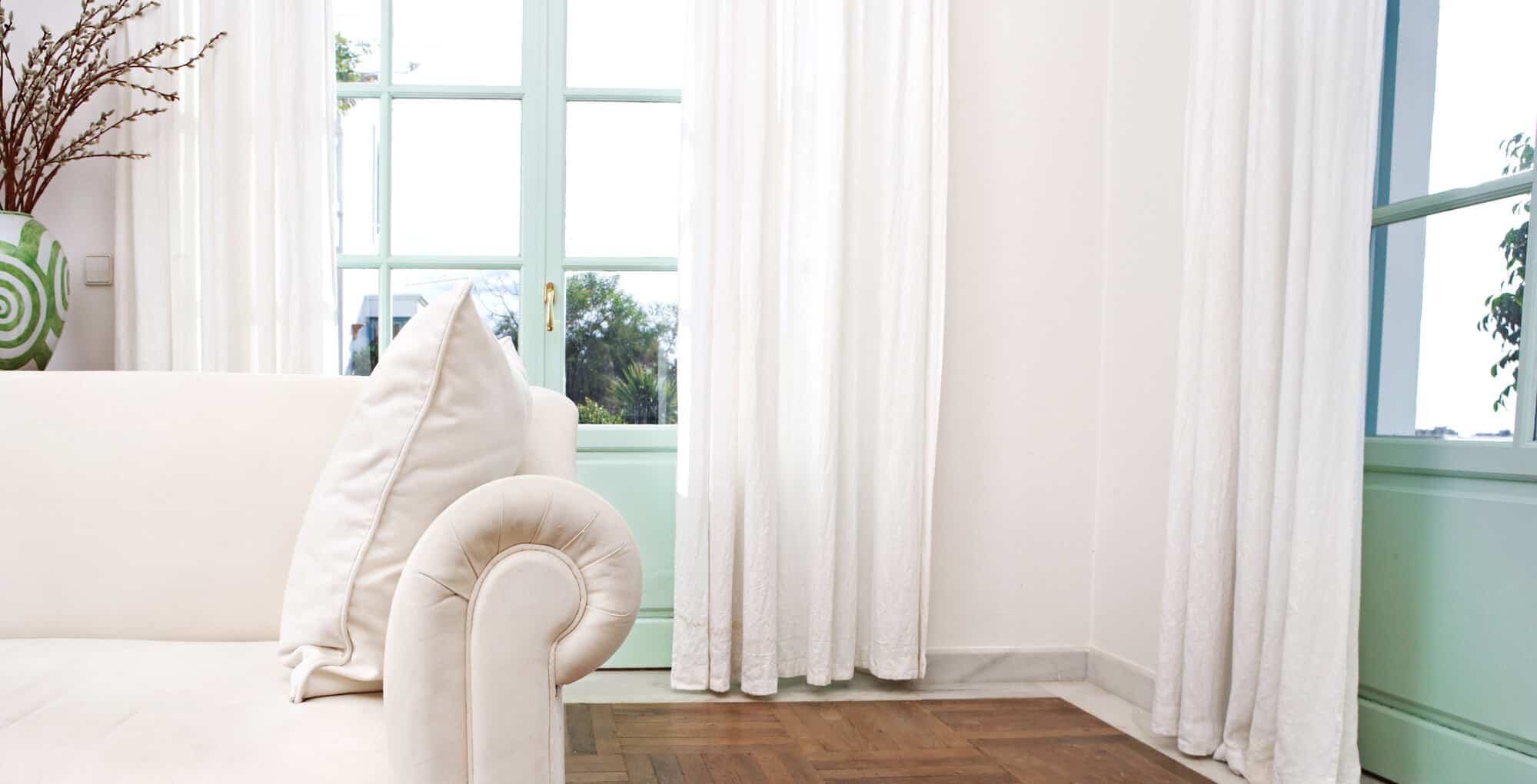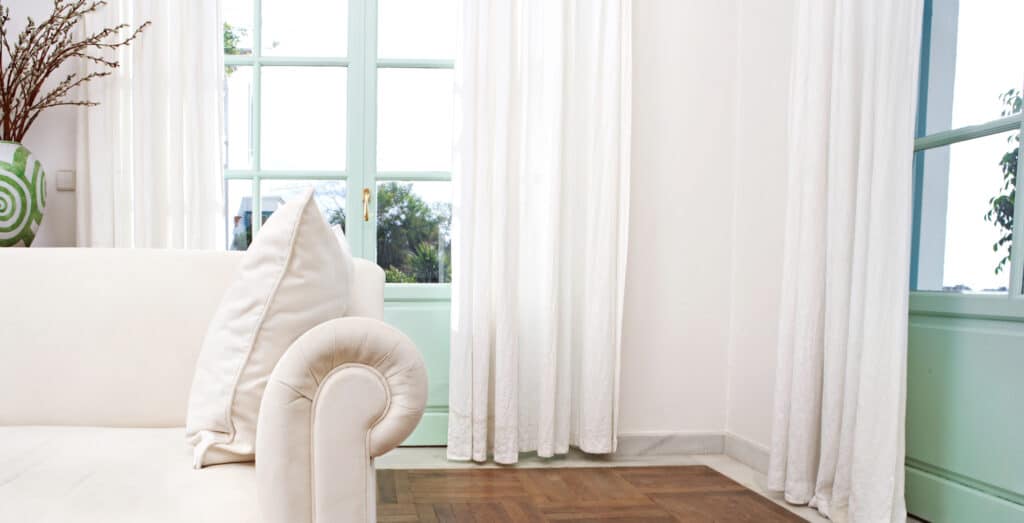 4. Determine Your Preferred Curtain Style by Sizing
While it's true that the motif and function of your room play essential roles in styling your curtain, you should also pay attention to the curtain's length and width. As a rule of thumb, longer curtains are for formal functions, while shorter ones are for casual use.
Below are some of the curtain styles you can use for your living room:
Kiss
The Kiss style is named since the curtains "kiss" the floor and ideally hover over it. This style requires accurate measurements that can be hard to pull off perfectly, so it's not usually recommended for beginners. However, this can look highly luxurious and perfect for formal or informal events when done correctly.
Due to its versatility and spacious look, this style is recommended for small rooms.
Puddle
The puddle style has you drop your curtains to the ground with four inches (10.16 cm) of excess curtain length to make the curtain "puddle". This produces a dramatic effect; however, it can make it challenging to keep the material clean since it is in constant contact with the floor, so earth or dark tones are recommended.
Thicker fabrics such as velvet or vinyl are recommended since they "flow" better than thinner fabrics. However, remember that excessive puddling is not okay and can be a safety hazard when placed in a busy area.
Since dark-colored fabrics are recommended to maintain cleanliness, the puddle style may not be for your small living room since dark colors can make it look even smaller.
Break Puddle
The break puddle style is for those who want to use the puddle style while minimizing the dirt and grime accumulated in the material. You can think of this style as a compromise between a Kiss and a Puddle.
With the break puddle, you should leave around half an inch (1.27 cm to 2.54 cm) of curtain excess. This creates a dramatic effect without making your curtains as easily dirtied.
Float
The float style is arguably the most popular option since it's also the easiest to pull off. It gives you a modern and clean look suited for less formal functions. It's also practical if you tend to open and close the drapes frequently or have carpets that may damage the curtain's hems.
To execute this style, you should leave at least one inch (2.54 cm) of space between your curtains and the floor.
Pro Tip: To get beautiful pleats, each curtain should be at least one and a half times or twice the size of the window's width.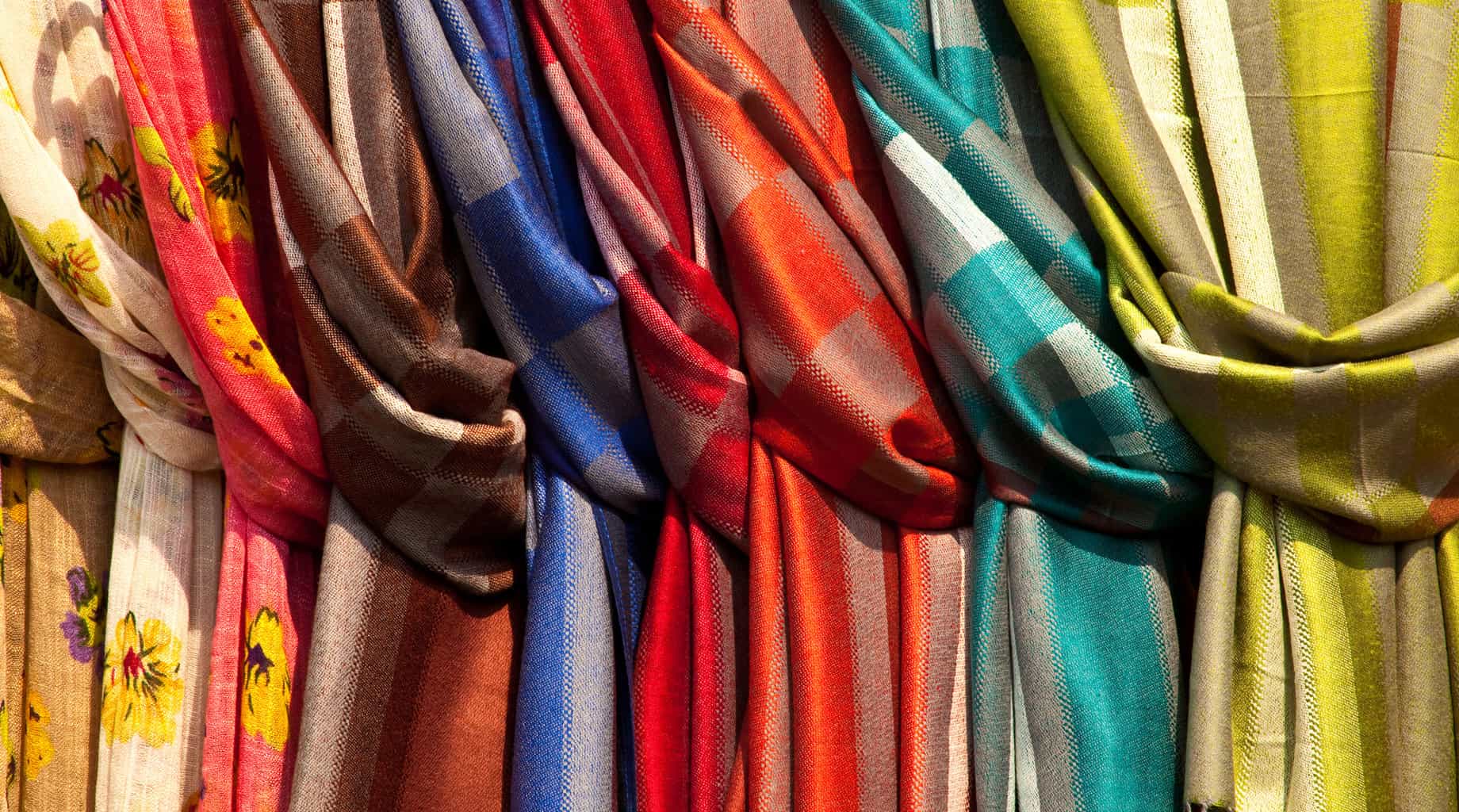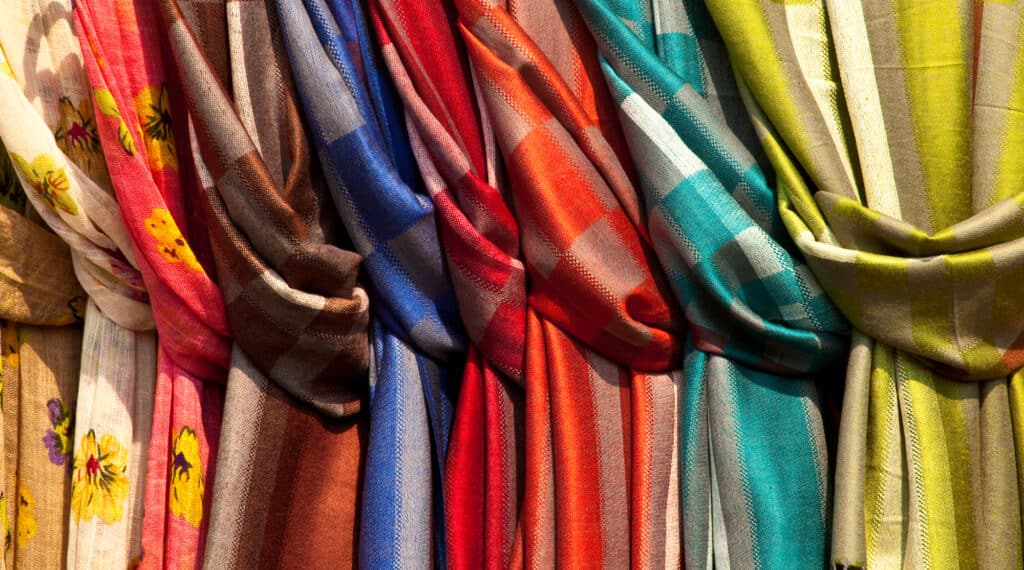 5. Choose the Right Fabric Type
Plenty of fabric types are available in the market, and choosing the right one can be pretty challenging. However, it becomes easier once you learn more about different fabric types and their proper uses. Some of these can even help make your living room look more spacious.
Common Fabric Types for Your Curtains
Below are some of the everyday fabric types you can choose from, along with some of my recommendations for each one.
Silk
Nothing says "luxury" quite like silk. Their somewhat thick strands look quite romantic when flowing in bedrooms or formal dining rooms.
However, silk isn't practical if you're looking to put your curtain in a busy area. Moreover, silk is notorious for being vulnerable to sun damage, and its cleaning process isn't the easiest either. For a fabric with more durability, you might want to use polyester that looks like silk.
If you're keen on using silk on sunny windows, however, I suggest you protect them by lining them with a lighter-colored panel or installing a roller blind underneath.
If you like how silk looks, but doesn't want to spend much, you can opt for faux silk fabrics. I recommend the HOME IDEAS 2 Panels Silver Gray Faux Silk Curtains from Amazon.com. It's made of high-quality silk satin fabric, which, although not genuine, still delivers the luxurious silky feel and look at a significantly lower cost.
The curtain's fabric also looks thicker compared to some competitors. The company uses a black thermal insulated fabric sewn between two layers which effectively blocks out up to 99% of light and UV rays. As a bonus, this thermal insulation prevents heat loss during winter to keep you warm and cozy.
Cotton
Cotton's versatility is one of its most vital assets. It comes with many colors and designs to create a fresh, clean feel that complements traditional and contemporary styles. It's also reasonably affordable, which is a plus if you're on a budget.
Cotton curtains can be thick enough if you want to block some of the natural light without resorting to dark colors. Their thickness also adds some weight, making them hang beautifully and hold pleats better.
If you're interested in using cotton curtains, I recommend this Beer Valley Farm House Curtain-Cotton Textured Slub Fabric from Amazon.com. It's made of 100% pure cotton with slub weaving that gives a traditional look up close. You also won't need hooks or rings for this curtain since it can easily slide onto your rod.
This cotton curtain also has thermal insulating properties to maintain its warmth. Moreover, it's easily washable and requires little maintenance.
Velvet
Velvet is another fabric type that offers great luxury. Unlike cotton or silk curtains, velvet can be made from a composite of materials such as polyester, cotton, or silk. The common distinguishing characteristic is that velvet has a "peach fuzz" surface that is pleasant to touch and reflects light elegantly.
Velvet fabric is typically heavier than others and will hang attractively and maintain its shape. The weight will assist in maintaining proper curtain turning as well as maintaining the firmness of the pleats.
It's also a thick fabric, so it'll filter more light and give you better privacy. This thickness also makes velvet great for colder climates as it better purifies cold air from outside. However, I wouldn't suggest using velvet curtains for busy or dusty areas since their fibrous surface makes it easier for dirt to catch on.
If you opt for velvet curtains, I recommend the Timeper Velvet Curtains from Amazon.com. This set includes two panels of high-quality thick velvet that can block up to 85% of light. It can also block some of the noise outside your window to give you not only visual privacy but also quiet relaxation.
This curtain is also easily cleaned and maintained, with almost no special care needed. You can simply machine wash or dry clean them with mild soap and water and flatten them with your regular clothes iron.
Linen
Linen is another fabric made of cotton. The difference between linen and cotton curtains is that the former has a different weave pattern making it more airy and see-through even with its thickness. This versatile property allows you to have more light without sacrificing privacy, making them one of the perfect choices for small living rooms.
Since linen has the properties of cotton, you can easily find different colors and well-printed patterns out there. However, they may come with a higher price tag.
However, as with other higher-end fabrics, linen curtains may require certain levels of care. Their rough texture also makes it easier for dust to accumulate, making linen curtains need regular cleaning.
If you want to choose linen for your curtains, I recommend this H.VERSAILTEX Linen Curtains from Amazon.com. This curtain is made from a natural open flax linen fabric that gives a naturally luxurious yet casual pattern.
As mentioned, it's thick enough to protect your privacy but not to block most of the natural light. This is excellent if you want to retain some of your living room's natural lighting. They're also easily cleaned and maintained, making them an excellent choice if you want to try longer styles.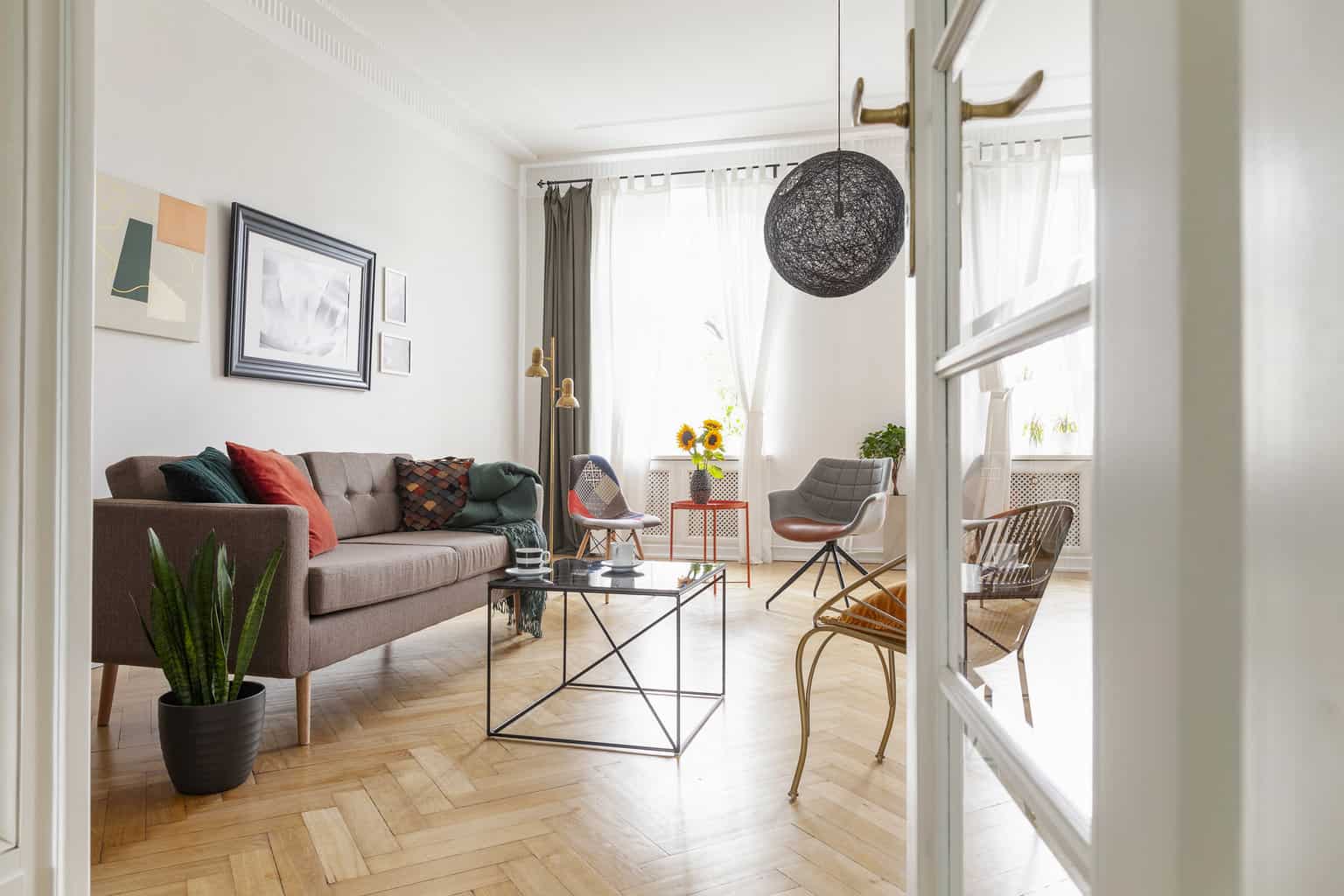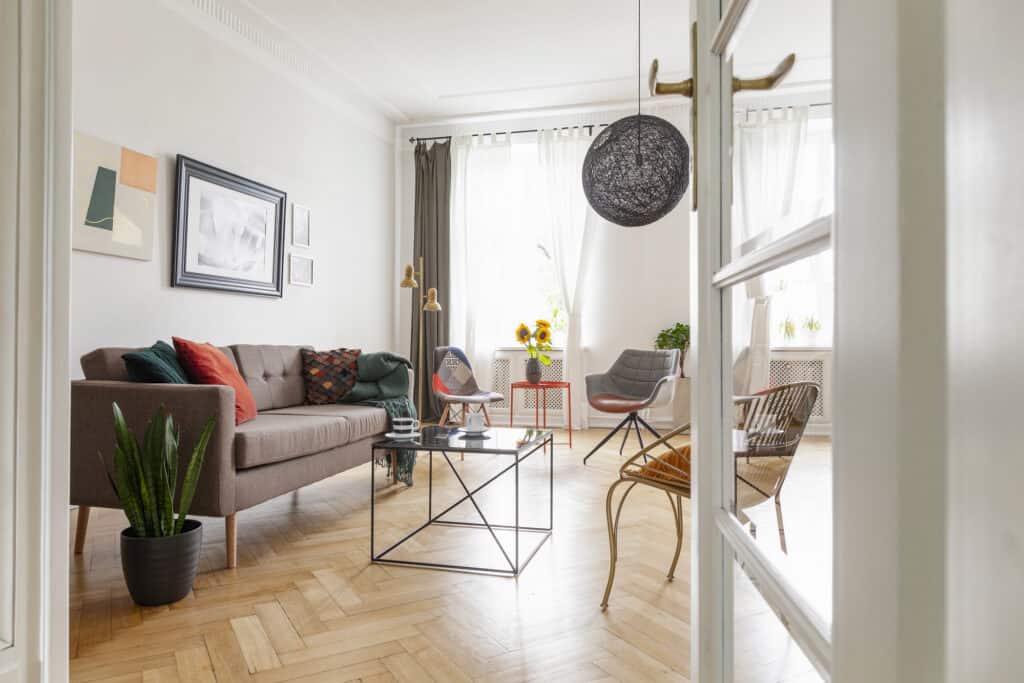 Conclusion
Designing rooms, no matter the size, is not that challenging once you learn which techniques work best, what to look for in a decor piece, and how to play with colors and dimensions.
Remember, when choosing your curtains for your living room, you must:
Match your curtains with the room's motif and function.
Choose whether you want solid-colored or patterned curtains.
Measure your curtain rods correctly to pick the proper styling.
Choose the right fabric type based on your preferences.
Sources
Giovanni Valle is an architect, designer, internet entrepreneur, and the managing editor of various digital publications including BuilderSpace, Your Own Architect, and Interiors Place. He is the founder of BuilderSpace LLC.