While the living room, dining room, and kitchen are used extensively for entertaining guests, the bedroom is the one room in the house that gets neglected or put on the to-do list for the future.
That's because it's a more private space that guests rarely visit. However, there is no reason that it has to be that way. You may want to decorate your room for various reasons, but regardless, the room deserves as much design attention as the main living spaces.
If you are decorating your room on a budget, there are a few things you can do to spruce it up without breaking the bank. Start by rearranging the room or removing furniture pieces that are just cluttering the space. Then move on to other approaches such as repainting, adding lighting fixtures, or new artwork. You can always find things on sale or pick them up at a garage sale or on an online discount marketplace.
Decorating your room on a budget can make the process a bit more challenging, but it also provides the opportunity to be more creative and personalize your room to your liking. Here are a few things to consider.
Rearrange the Room
Before you start decorating, begin by rearranging your bedroom. Just the act of doing this can give a room a fresh new look. More importantly, it will provide the foundation for you to work with when adding new items.
Think both functionally and aesthetically. How can you improve the flow through the room? Are there specific furniture pieces that you would like to feature, place them front and center so they become a focal point.
What about the bed and surrounding furniture? Do they make the room feel spacious and airy, or do they make it feel tight? Would moving the bed to another part of the room improve the flow?
Do you want to make the room brighter? Are there furniture pieces that are blocking natural light that you can move to another spot in the room? Do you need window treatments to soften the light coming into the room?
These are all important questions to ask yourself as you begin moving furniture around. Before you begin moving things around, it might be a good idea to measure items and even sketch out a plan to help you plan better.
If you are happy with the current layout, you don't necessarily have to rearrange things. Don't feel like you have to move things around. But chances are that if you feel your room needs a bit of a makeover, it's because the placement isn't quite right.
Accent Color Wall
Repainting a room can go a long way in refreshing the look, and best of all it's a fairly inexpensive investment. You can simply repaint the entire room, or alternatively, you can select a specific wall to feature in a different color.
Accent walls are a great way to highlight specific areas that you want to draw attention to. Maybe it's the wall that your bed is up against, to draw the eye to the focal furniture piece. Perhaps it's another wall in the room that you want to accessorize and bring to life.
When selecting a color, take into account the furniture and other elements in the room. You can either choose to compliment them or contrast them with bright colors. Accent walls work best with light neutral color schemes to add some pop.
Think about the mood you want the room to reflect. Is it a calm, soothing effect you are looking for? Do you want to create more energy in the space? Accent walls can help achieve this. Pick your colors to reflect the mood you want to portray.
Replace Furniture Hardware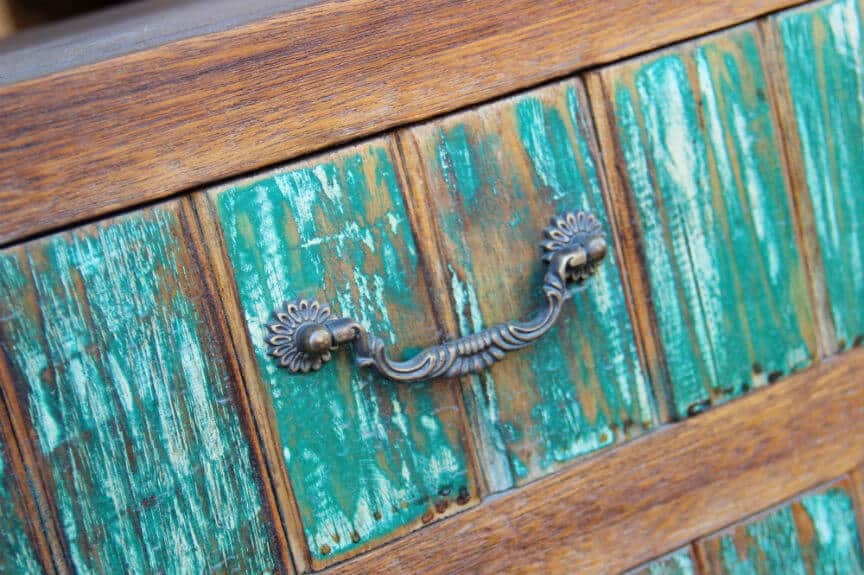 Updating the hardware on your furniture is an inexpensive way to instantly upgrade the look. Are the pulls on your armoire or dresser looking dated or perhaps a bit worn out? This is the time to replace them with something more modern and up to date.
Take a look at the handles or knobs on your furniture. Do they add to the piece or do they just look like they are there to perform their function. If the answer is no, you swap them with something more creative and eye-catching.
There are a few ways to go here. You can simply upgrade them with more contemporary materials or styles. You can also go for a bolder look with more colorful hardware, or you can opt for larger pieces that draw your attention.
Use your imagination and personalize the hardware to make it more appealing to you. If the decor in your home is of a particular style, try to think of ways to capture that theme in creative ways.
Decorate the Dresser
An easy and inexpensive way to add some interest and color to your room is to decorate the top of your dresser. You can either purchase new pieces or maybe borrow from other rooms in the house that appear overloaded with items.
The idea is to spruce up your dresser with some new visual interest. Find a centerpiece for the top of your dresser. This piece should be the focal point of the decor in terms of size and color or just an interesting accessory.
A few possible options include a nice mirror, artwork, sculpture, or even a large family photo. After you select your main centerpiece, you can build around it. Try to avoid cluttering the top with too many things.
If you add two more items, one on each side to help anchor the focal piece and provide some symmetry, this should be sufficient. Some items you can add include lamps, vases, candles, or a plant or fresh flowers.
Inexpensive Rugs
Rugs can add some interest and warmth to your room. You'll really appreciate them on cold mornings where the last thing you want to do is step on a cold floor. Best of all, they won't eat away at your budget too much.
Depending on the color scheme of the room, you can either decide to go with a subtle color that matches either the main colors of the room or the furniture. Alternatively, if your room has a lot of light neutral shades, you can add some color with the rug.
Think about the placement, size, and shape of the rug. A large rug can work in a bedroom that feels a bit empty and cold. If the room is small, a striped rug can help create the illusion of a larger space.
You can also opt for smaller rugs, and place them at the foot of the bed or in front of a bench if you have one. Alternatively, you can place small rugs on the sides of the bed for when you set your feet down in the morning.
Add or Replace Curtains
Curtains are a great way to add some visual interest to your room and help soften the natural light coming in. If your windows are bare or have old blinds, or if they are getting old or dated, you should consider installing new curtains
Curtains are available in various colors and patterns. They also come in opaque or more transparent materials that allow some light to penetrate the curtain. A combination of a sheer material curtain with a more solid fabric can also work well.
As with rugs, you should decide whether you want to emphasize them or allow them to blend in more with the predominant colors used in the room.
Generally speaking, you want to keep the curtains neutral, but you do have the option to feature them more by using accent colors.
Buy New Bedding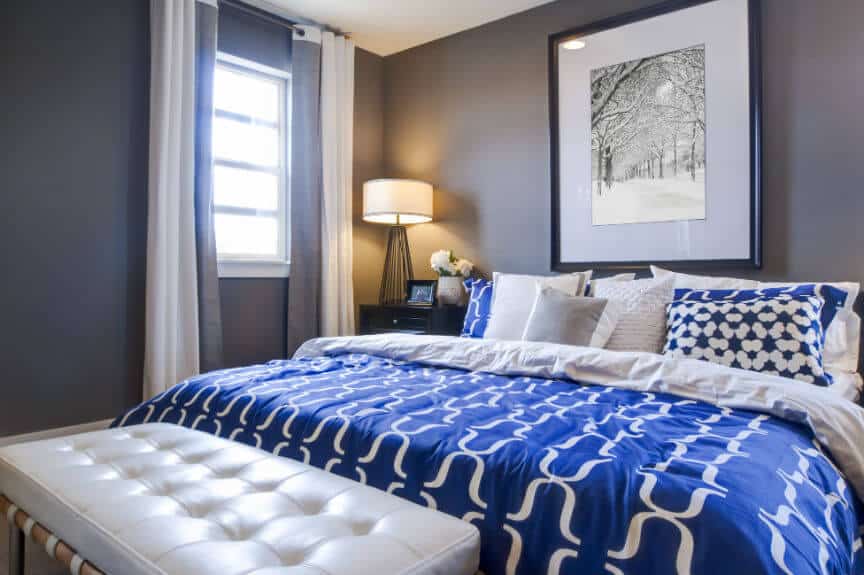 Fresh new bedding can help bring some life back to a room without breaking your budget. Available in a limitless range of colors, fabrics, and patterns, bedding adds a touch of personalization to the room.
You have the option of selecting a very neutral color to work with the color palette of the room, or you can choose to add some pop to an otherwise neutral-colored room through the use of bold colors or patterns.
Add a Headboard
Headboards help dress up your bed and can provide some practical benefits in serving as a backrest when sitting or reading in bed. Headboards come in all types of materials from wood to metal to leather.
Chose a material that works with the style of your room. Look to other pieces of furniture to get a sense of what works best. Usually wood is a good choice, though if most of your furniture has strong metal accents, you can choose a matching metal.
Leather headboards provide a comfortable surface for sitting or reading in bed. Wicker is another option you can consider for a cottage style look.
Both materials can work if they match the style of other furniture pieces in the room. A sitting chair or bench for example.
Add a Bench
Speaking of benches, nothing helps add some convenience, elegance, and visual appeal more than a featured bench at the foot of a bed.
From serving as a tray table when eating breakfast in bed to providing as a place to tie your shoes, the bench is a great addition to any room.
Like the headboard of the bed, there are many material choices you can select from. You don't have to pick the same materials used on other furniture as long as the bench compliments other pieces.
Nightstand Lamps
Nightstand lamps are both practical and can add some visual interest to your room without breaking the bank. Quick access to task lighting while in bed makes them a functional requirement for reading in bed or getting up at night.
Nightstand lamps can be found in all types of styles from modern to traditional to rustic. Chose a style that best fits the theme of the room or of your house.
Wall Mirror
Mirrors help a space feel larger and can also provide some visual interest to a room. If you pick one with a frame try to stick to the style and materials used on other furniture pieces.
It is possible to pull off using different materials or even styles as long as you find common elements that tie the pieces together, but it's more difficult to do.
Be mindful of the scale of the mirror as well. You don't always want it to overpower other accessories or furniture in the room unless it's your intention to feature the mirror as a strong centerpiece.
Wall Texture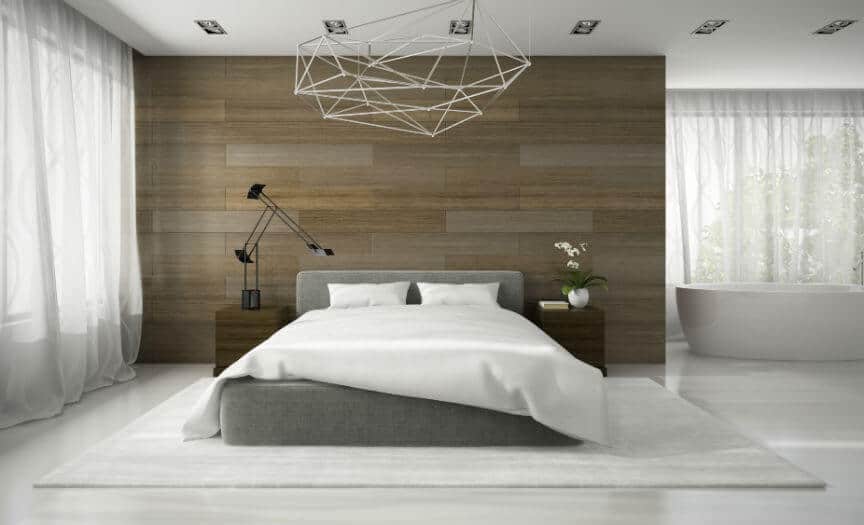 You can add texture to your walls to change the look and feel of the room. This doesn't have to be limited to wallpaper, although it is possibly the least expensive of all options.
More expensive alternatives include adding a thin brick for an urban loft look, stucco to add some granular texture, stone or even colored concrete. Wood paneling is also an available option.
You don't necessarily have to cover all walls within a room, though you certainly can. If you want to highlight one particular wall in a room, you can do so using different textures, similar to an accent wall.
Artwork
Artwork is a great way to enhance the look of a room. Not only does artwork add color and visual interest, but it is a personal expression of both the artist and the owner who selects the artwork.
Art pieces work at just about any location, but chances are you want to make it a focal point of the room. If this is the case, think about where you can place it to achieve this.
It might be directly above the bed, creating an obvious focal point or above other furniture such as the dresser. It is possible, particularly if the art piece is large to feature it on its own against a wall you want to highlight.
Ceiling Chandelier
A ceiling chandelier can make a big impact when used in a bedroom. It's not something you would expect to see, so it can create a "wow" effect on visitors seeing it for the first time.
They also make a room feel cozier in addition to providing ambient lighting. If placed in the center of the room, a chandelier can become a central focal point. Another option is directly above the bed.
Chandeliers come in a range of designs, materials, and styles. Modern chandeliers are often abstract and can resemble ceiling art more than lighting fixtures.
Clear Up Clutter
The most cost-effective way to improve your room is to clear it up from clutter. Take inventory of excessive furniture or other items in your room that are taking up unnecessary space.
If the items don't add to any aesthetic or functional value of the room, you may want to consider removing them or moving them to another space where they will be better used.
Every furniture piece or accessory in your room should have a purpose. Think quality over quantity. You'll get more out of your bedroom layout this way and enjoy the results much more.